The Beyond Down Gel Fiber Side Sleeper takes a crack at providing the cozy comfort of white goose down all while providing enough head and neck support for back and side sleepers. And it does a pretty good job of hitting all those marks. What else is there to know about this affordable pillow? Read on for my full review.
Key Features
Filling: gel fiber that mimics goose down (100% polyester fiber)
300 thread count, 100% cotton cover
4.5-inch gusset, with double-needle corded edges
Designed for side sleepers but can be comfortable for all sleep positions
Hypoallergenic
Made in the USA and Imported
King measures 20 x 36 x 4.5 inches
Care: machine wash and dryer friendly
Who Makes It?
The Beyond Down pillow is a registered trademark of Carpenter Co. – according to their website, Carpenter Co. – is the world's largest maker of polyurethane foam and the leading processor of polyester fiber for the bedding industry. Carpenter Co. also makes the Iso-Cool foam pillow, which we've also reviewed.
In addition to pillows, Carpenter Co. makes Beyond Down in a number of products, including mattress pads and comforters.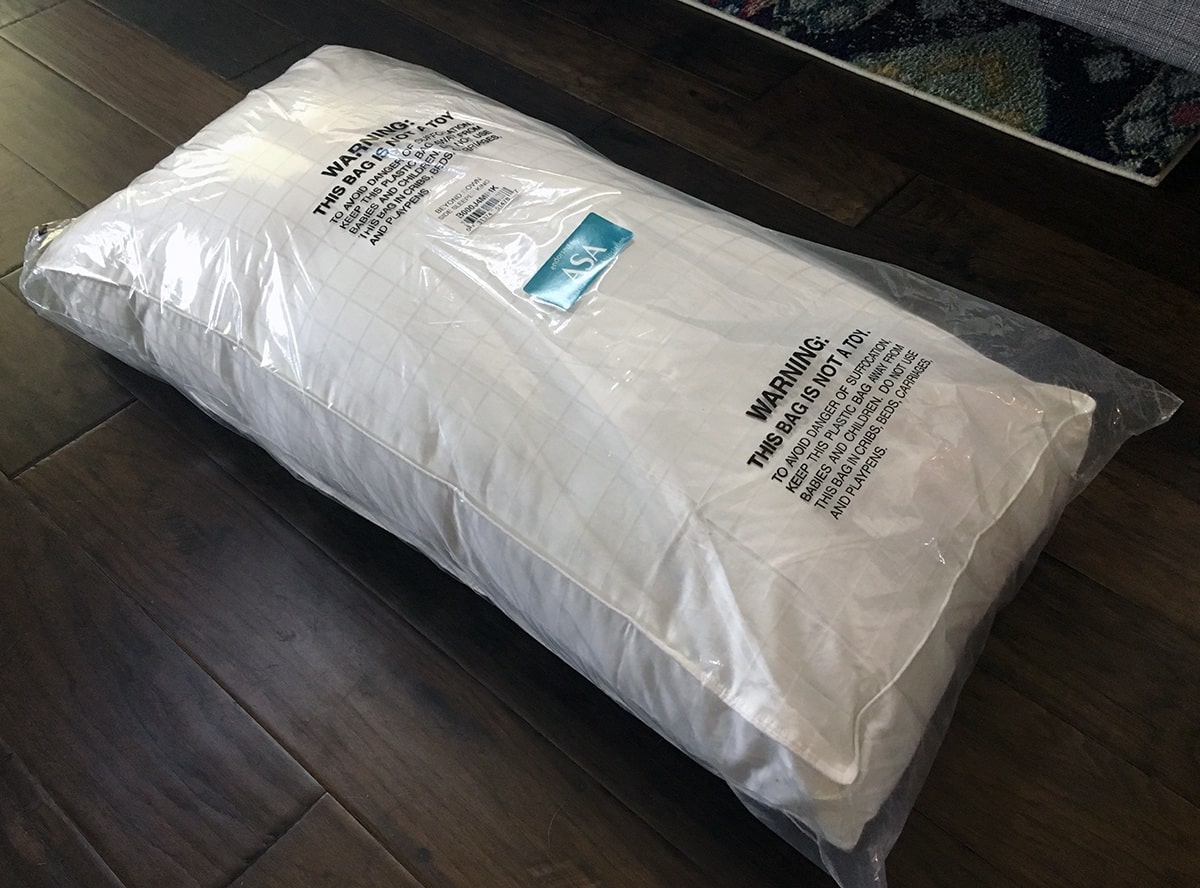 Pillow Construction
The Beyond Down bed pillow is a traditional shape (square or rectangle depending on size) but it does have a 4.5" wide gusset on the side, which gives it a good amount of loft, making it ideal for side sleepers who want a little bit of support. I reviewed the King size, but it also comes in Standard and Queen sizes.
The outer cover is 300 thread-count and 100% cotton and white in color. It has a subtle square pattern but the texture is barely noticeable and probably wouldn't be felt underneath a pillow cover.
The pillow is filled with extra-fine polyester fibers that are intended to emulate high-quality white goose down, according to Carpenter Co. (makers of the pillow).
It feels like the pillow is stuffed – if not slightly overstuffed – to provide enough support and loft for side sleepers.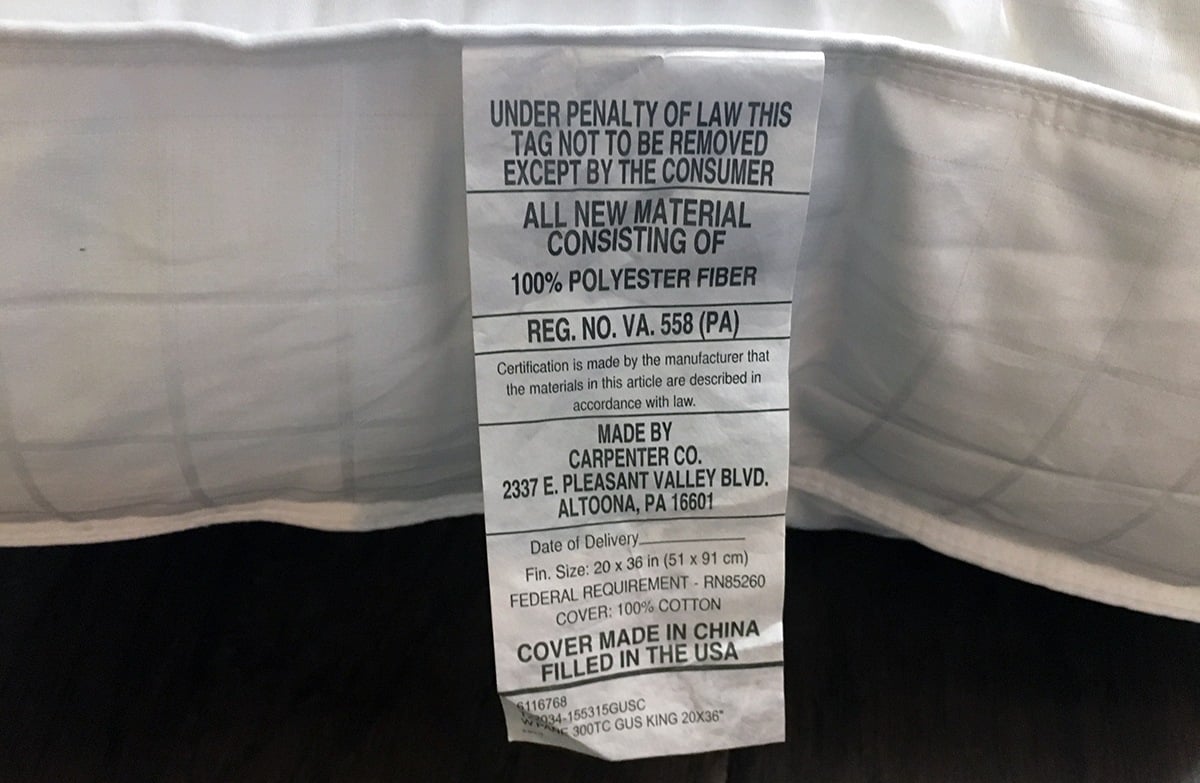 Pros
Machine washable and dryer friendly
Hypoallergenic – good for those with allergies
Enough filling to support side and back sleepers
Affordable
Cons
Will need to be re-fluffed and shaped over time
May be too firm for stomach sleepers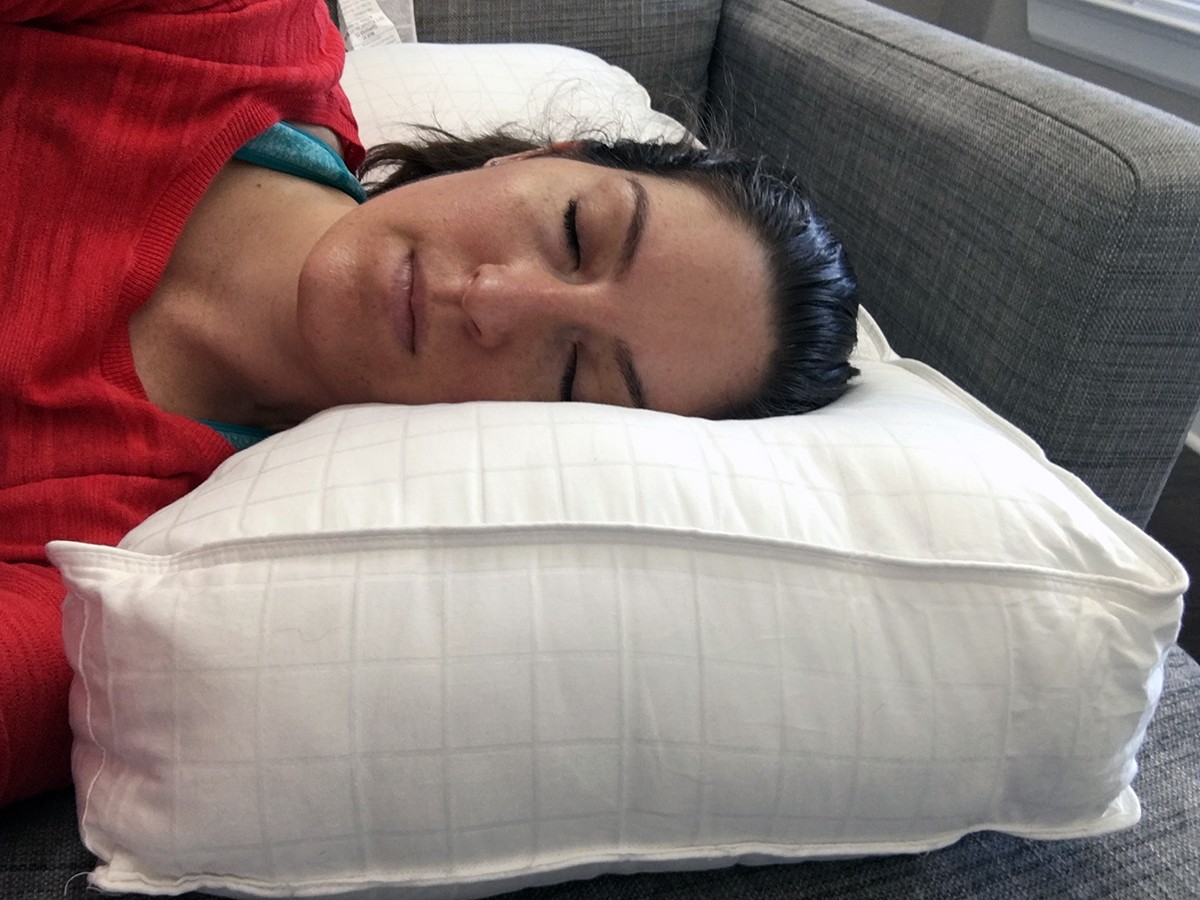 My Experience
As a natural side and back sleeper, I am always curious about down or down alternative pillows that promise enough support for proper head and neck alignment.
The makers of Beyond Down pillow say that this pillow is a match for customers who want the cozy feel of goose down but not the dust and odor associated with naturally filled bed pillows.
Beyond Down's pillow is designed with a 4.5" gusset, allowing for plenty of room for additional loft. It comes significantly over-stuffed and does have the same "squishy" feeling that down pillows offer.
My pillow arrived fully expanded and I did not detect any odor or off-gassing. There are no specific care instructions on the pillow tag or packaging, but it is machine washable and dryer friendly.
I simply washed my pillow with some sheets to even the load and keep it balanced. I dried it on a low tumble dry – it took over an hour but it was completely dry.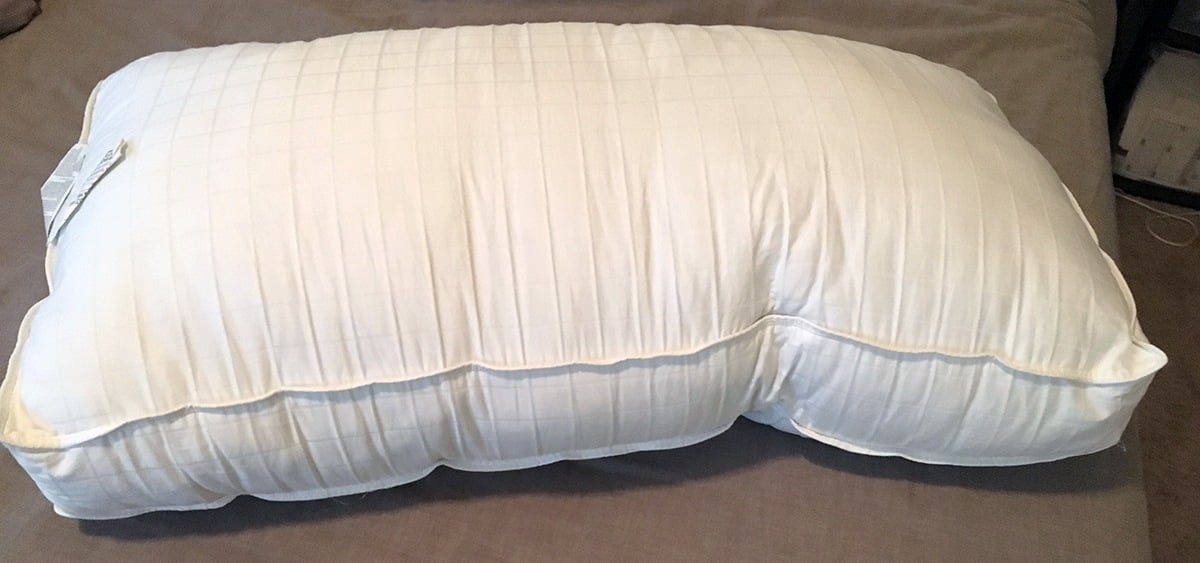 My head did sink into the pillow – only slightly- when I laid my head down. There was enough fill in the pillow so that my head was cradled but there was nothing blocking my nose or mouth when I laid on my side.
My head and neck remained comfortable and supportive each night that I used my Beyond Down pillow. There was a slight indent from my head when I woke up in the morning but it barely needed to be smoothed out before it was back to its original shape.
Over time the pillow should be reinvigorated by taking a spin in the dryer; it'll help keep the loft and distribution at a comfortable level. I did not feel that I needed to throw my pillow into the dryer during my review, which lasted several nights. It maintained its loft well.
There is enough substantial filling in this pillow – and a gusset for height – that I think this pillow is better suited for back and side sleepers over stomach sleepers. It may just be too full for comfortable neck alignment for stomach sleepers.
RELATED: Best Mattress for Side Sleepers
Overall
Based on my experience, I think the Beyond Down Gel Fiber Side Sleeper Pillow is a successful down alternative that can keep back and side sleepers happy while providing the cozy feeling of goose down.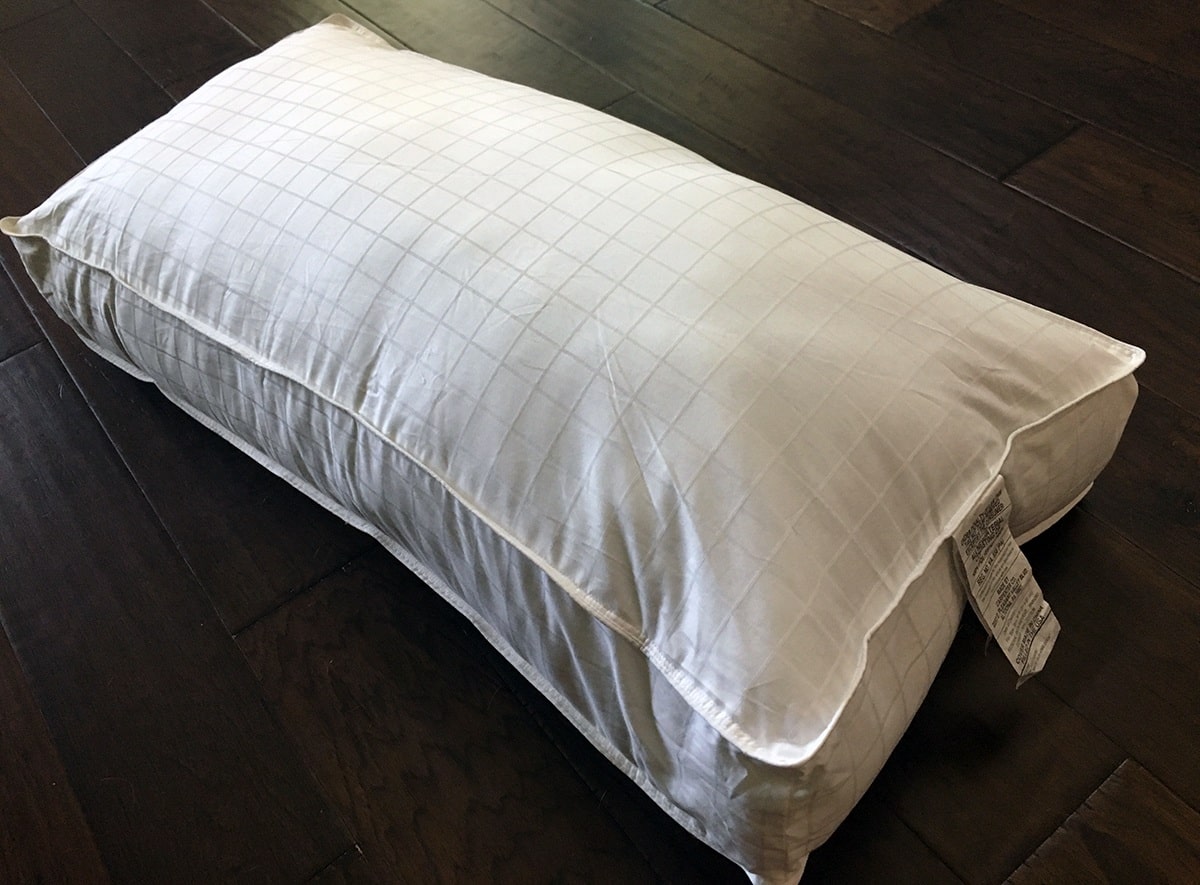 It may have too much loft and fiber filling for some stomach sleepers, but could still work for most combination sleepers as the filling tends to collapse slightly over time, potentially reducing instances of neck strain.
There is no trial period for this pillow but since it's offered at many retailers make sure to check on individual return policies.
Katie Golde
Katie manages the day to day operations of the Mattress Clarity news site and reviews sleep products in addition to writing and editing sleep news. She hails from Austin, where she lives with her growing family. She is a Certified Sleep Science Coach and has a master's degree in Journalism from Northwestern University and has a background in health and science content. Her work can be found in print and online publications like Discover Magazine, USA Today and The Huffington Post.