Just walking down the bedding aisle, a number of strange words are thrown at customers: duvet, comforter, quilt, pillow sham. It seems like someone needs a thesaurus just to make sure they're checking out with the right product.
A thesaurus necessary to understand the differences between quilts and comforters. I've put together a guide to help confused shoppers decide which type of bedding is right for their bedroom.
In this quilt vs comforter guide, we'll discuss the similarities and differences between quilts and comforters. By the end, most readers should know exactly which one they should buy!
What is a Quilt?
To start, what exactly are we talking about when we say "quilt"? A quilt features three layers: a top layer, batting, and a bottom layer. The top layer makes the quilt stand out. Going to grandma's house or watching an old John Ford Western, these are the patchwork creations found hanging over a chair or lying across a country bed.
With a classic quilt, the top layer is made of different pieces of fabric sewn together in a grid or a more complex design. More modern quilts made my machine and not the hands of Great Aunt Sally, there might be a very simple, monochromatic grid.
The inner batting is the quilts fill and it can be made of materials like wool, down, or polyester. The bottom layer is usually a single piece of fabric that doesn't look like the top layer of the quilt.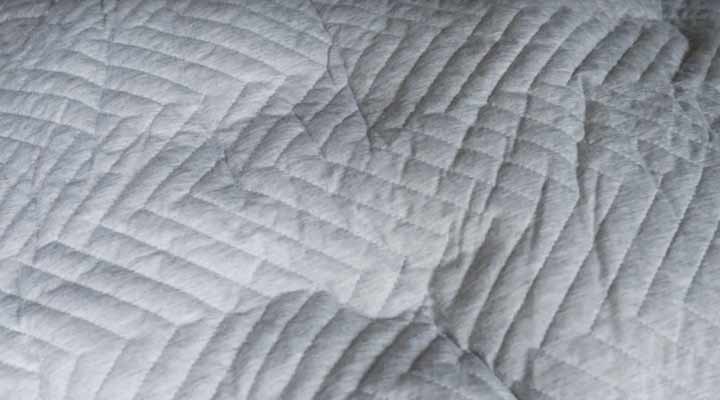 What is a Comforter?
A comforter consists of two pieces of identical material, sewn together in a grid format. Comforters can feature a sewn-through or baffle box construction. Sewn-through is when the stitching goes all the way through both sides of the comforter. With a baffle box construction, there are extra pieces of fabric between the top and bottom layers of the comforter. This creates a more three-dimensional shape in which the comforter's fill can expand more.
Inside each square or box will be some type of fluffy fill such as down or down alternative. The down comes from animals such as ducks or geese, and the down alternative is made of some type of hypoallergenic material like polyester.
Things get confusing because the terms "duvet" and "comforter" are sometimes used interchangeably. "Duvet" can be another term for "comforter" or it can mean the cover that one puts over a comforter. For more information about the differences between duvets and comforters, make sure to check out our comparison.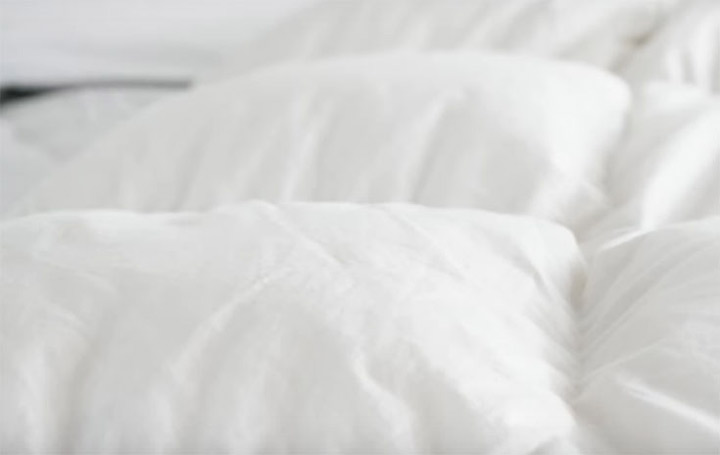 Comparing Quilts Vs Comforters
Looking at quilts and comforters, there are a few similarities between the two. Both types of bedding can contain cotton in their top and bottom layers, and they can contain fill like down or polyester. Both feature a similar gridded design.
That being said, there are a number of differences between comforters and quilts. Generally, comforters are going to be loftier than quilts. Quilts are usually a flatter type of bedding lying more flush against the bed. However, some of the best comforters can be more cloud-like and fluffy.
With this extra fluff and loft, comforters should be warmer than quilts. Especially when we are talking about heavy, fluffy down comforters with a baffle box design, there's better insulation than what we find with a thin quilt.
The style of comforters and quilts can be quite different as well. While some modern quilts might feature a simple design with one color in the top layer, others can have more ornate, flamboyant styles. This is more common when we are talking about classic and classic-style quilts. They can feature a patchwork of disparate colors, images, and fabrics. Comforters are usually one color and one type of fabric.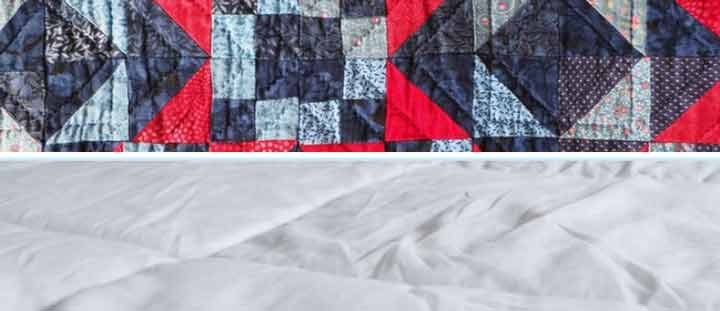 Comforters and quilts are different when we consider their uses. A comforter is only found on a bed and used for sleeping and napping. Quilts will also be found on beds, but they can also act as couch throws or even tablecloths.
Who Should Pick A Quilt?
Hot sleepers. People who sleep hot and want something light to give them just a bit of insulation will most likely prefer a quilt. Quilts are thinner than comforters and shouldn't make sleepers overheat so much.
Those who want to change the look of their bed. Quilts can be stylish and add a much different look to any bed or bedroom. A quilt can provide a new rustic look or just something more colorful to liven up the room.
Fans of layers. To get enough warmth, a quilt should be paired with another quilt or other types of bedding. This might not be a drawback for those who prefer to sleep under numerous pieces of bedding.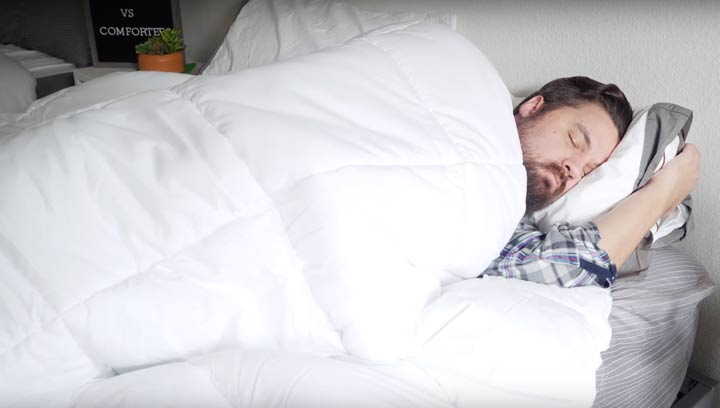 Who Should Pick A Comforter?
People who need bedding for colder nights. As I said above, comforters are usually warmer than quilts, so they should be a better match for those colder nights and colder months. The larger amounts of insulating fill should keep most sleepers warmer at night.
Those who want something fluffy and cloudlike. If sleeping underneath a big cloud sounds preferable, a comforter is probably the way to go. Most comforters are going to be fluffier than quilts, so they will offer that fluffy sleeping experience.
Those who want something to use by itself. While quilts usually need to be paired with another piece of bedding in order to offer enough warmth, a comforter does not need to be paired with any other bedding, save a top sheet. People who want a simpler, non-layered look on their bed should consider a comforter.
Final Thoughts
Hopefully, at this point, most readers have a good idea of whether they should choose a comforter or quilt. They both have a lot to offer so keep this information in mind, and it should be easy to choose!
Featured image: CreatewithClaudia/Shutterstock
FAQs
What is the difference between a quilt and comforter?
There are quite a few differences between quilts and comforters. Quilts are thinner than comforters and are rarely as warm as comforters. Quilts usually feature more elaborate flamboyant designs than comforters and are usually paired with other pieces of bedding.
Is a quilt lighter than a comforter?
In general, quilts are lighter than comforters. They usually have smaller dimensions than comforters and aren't quite as warm.
Can you put a quilt over a comforter?
A quilt can indeed go over a comforter. It can add a bit of extra warmth and create a more layered look and feel. Just make sure the quilt is not too heavy as it can negate some of the comforter's fluff.
Is a quilt better than a comforter?
A quilt is not better than a comforter, but it is better for different types of sleepers. Quilts are a better match for hot sleepers, those who like to sleep under numerous layers of bedding, and those who want to give their bedroom a different look.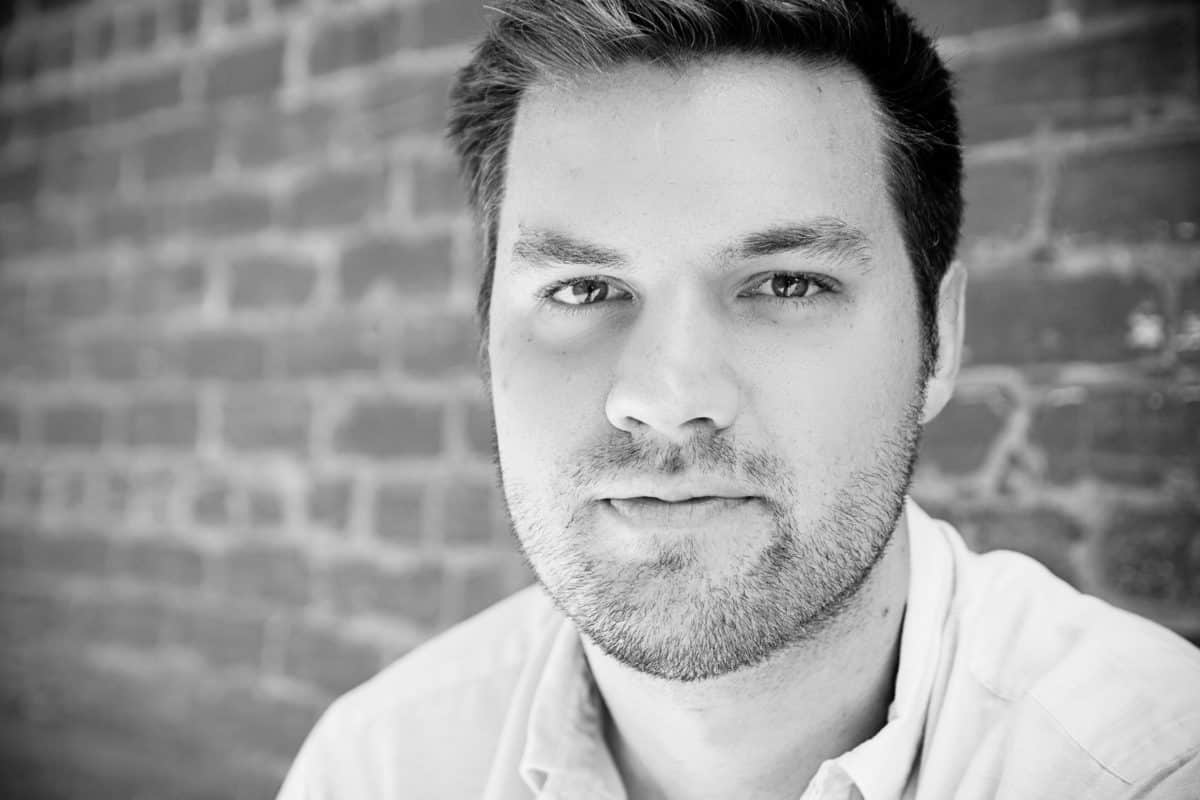 Marten Carlson
Marten is the Lead Reviewer at Mattress Clarity. He is a Certified Sleep Science Coach and covers the mattress industry as well as sleep science news. He is specifically interested in the connection between sleep and overall health. Marten has written for media publications like Consequence of Sound and received a master's degree in Film Studies from Emory University. He comes from Franklin, Indiana, and spends all the time he can writing, directing, and acting in films.