Sometimes down alternative comforters are just too hot for year-round use. But luckily there are materials that are better at being temperature regulating, like wool, believe it or not.
Nest Bedding makes a machine-washable comforter that combines a cotton cover and a wool filling that keeps you cozy without making you overheat. In my unbiased Nest Wool comforter review, I go over all the materials that go into this comforter, my testing experience with it, price and more. Keep reading to find out all the details.
Nest Bedding Wool Comforter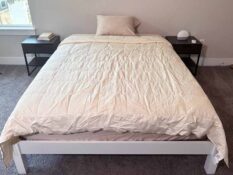 The Nest Wool Comforter combines cotton and wool to create a cozy comforter that is perfect for year-round use.
Nest Wool Comforter Overview
If you haven't heard of the brand before, Nest Bedding is a mattress and bedding company that makes eco-friendly mattresses, sheets, pillows and more. We've reviewed the Nest Sparrow mattress, the Nest Easy Breather pillows and the Nest Silk Cloud comforter in the past. All exemplify Nest's dedication to high-quality, Earth-friendly materials.
This review will focus on one of Nest's other comforters, the Nest Wool comforter. Here's a quick overview the comforter to help you decide if this is the comforter for you:
| Who Might Like the Nest Wool Comforter? | Who Might Not Like Nest Wool Comforter? |
| --- | --- |
| People who want a machine-washable comforter | Fans of bamboo fabric and bamboo comforters |
| Fans of cotton comforters | People who prefer large, fluffy comforters |
| People who want a comforter for year-round use | People looking for color options |
Nest Wool Comforter Materials
Let's take a look at the high-quality materials that go into the Nest Wool comforter to show how it makes this comforter feel.
Cover
On the outside of the Nest Wool comforter, there is a 100% organic cotton cover. This cover has been woven with the sateen weave, giving it a soft feel. It has a thread count of 300. Though the sateen weave makes cotton feel soft and smooth, I personally felt that this cover was a little crisp as well.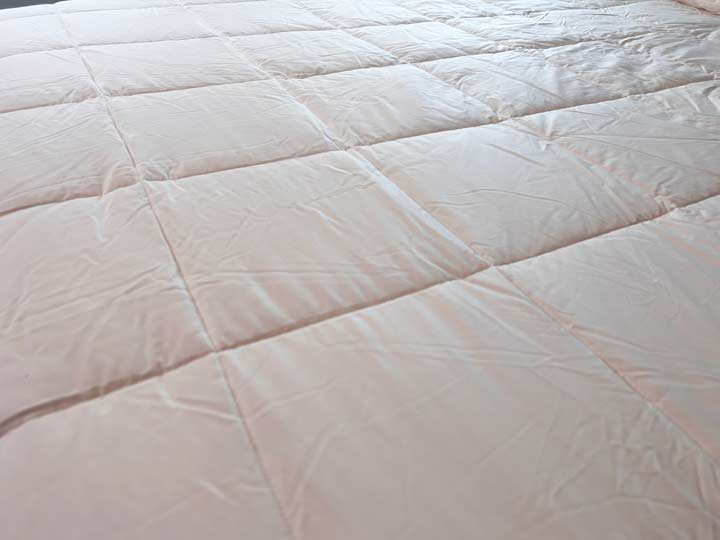 The thread count isn't so much of an indicator of quality, so don't let the low number fool you. Really it just aids in the breathability of the cotton. Lower thread counts allow for air to flow through much easier in a fabric.
This cover only comes in a natural cream color, but there are corner loops for you to attach a duvet cover to it if you prefer to add some color to your bedding. The cover is also sewn through which helps keep the fill evenly distributed.
RELATED: What's the Best Thread Count for Sheets?
Fill
Within the cotton cover is where you find the wool. Nest uses what they call washable wool fiber. This allows the comforter to be machine-washable and gives it some temperature regulating properties.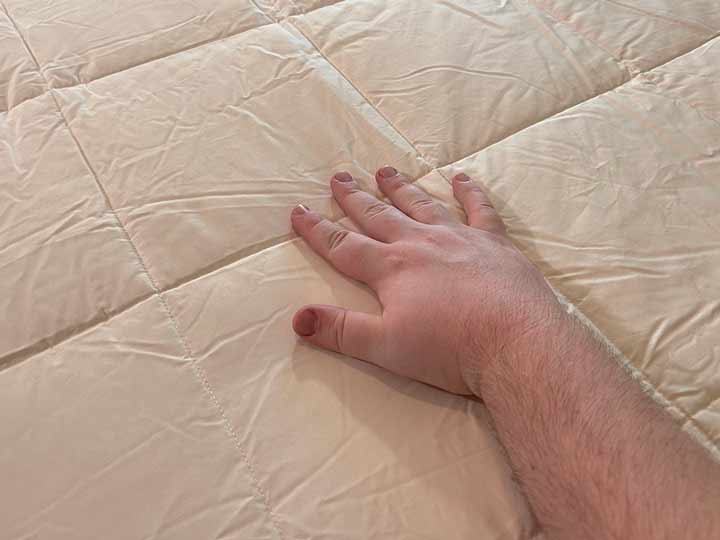 It doesn't get very fluffy, so it'll look a bit thinner than some other down or down alternative comforters out on the market.
Warmth
Though this might look like a lightweight comforter, the wool creates a perfect cozy environment. Because of wool's temperature-regulating properties, you'll feel quite comfortable using this comforter. Nest designed this comforter to be used year-round, so it'll stay warm during the cold months, but it shouldn't overheat during the summer months.
Allergies/Allergens?
Though this isn't listed as a hypoallergenic product, the Nest Wool comforter shouldn't trap any allergens in your sleep environment, nor should it trigger allergies. And the fact that you can wash this comforter helps get rid of anything that may land on the comforter.
30-60 Min with the Nest Wool Comforter
I'd like to start this section by saying that I live in Austin, and tested this comforter in the middle of summer. As someone who runs pretty hot most of the time, testing a comforter at that time usually means overheating almost immediately.
 When I first climbed into bed with this comforter, I did feel quite hot. However, with the fan on above me, I started to settle into the comforter. After about 30 minutes of resting in bed I wasn't kicking off the comforter. While this was a cooler comforter to use with a fan and AC than some other comforters I've tested, I wouldn't say it's the best cooling comforter either.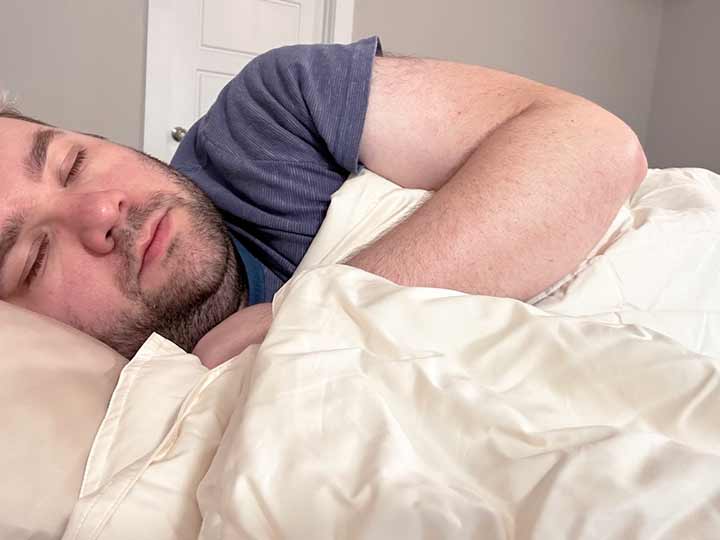 So when Nest says that this is a perfect year-round comforter, I'll back that claim up easily. I definitely felt nice and cozy with this comforter, but if I didn't have the fan on or the AC running, I certainly would have overheated.
This comforter's cover is woven into a sateen weave, which normally leaves cotton fabric feeling soft and satin-like, but I could have been fooled by how crisp this comforter felt. That's not to say it's a bad thing, but as someone who prefers the soft, silky feel of bamboo sheets, which are normally woven with a sateen weave, using this comforter felt much different.
All in all, this is a cozy feeling comforter that didn't leave me kicking it off after a quick nap. Personally I'd only use it in the wintertime, but if you live somewhere where the temperature isn't as extreme as it is here in Texas, I can see this being a great year-round pick.
Nest Wool Comforter Size & Price Chart
Take a look at our pricing chart below for information on the Nest Wool comforter. Note that this chart reflects the full price for the comforter at the time of writing, and does not account for seasonal discounts, which Nest may run throughout the year. I'm happy to point out that Nest does offer financing for those who may need to break the payment up, as well.
| | |
| --- | --- |
| Size | Price |
| Queen | $224 |
| King | $249 |
Editor's note: Nest does offer this comforter in a twin size, but at the time of publishing this review, it is currently out of stock and does not have a price listed.
Nest Bedding Wool Comforter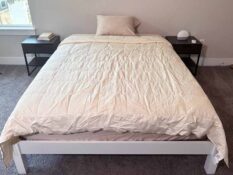 The Nest Wool Comforter combines cotton and wool to create a cozy comforter that is perfect for year-round use.
Caring for the Nest Wool Comforter
The Nest Wool comforter is machine-washable and here's what Nest recommends for care instructions:
Machine wash with cold water by itself on a gentle cycle with a mild detergent (do not use bleach)
Tumble dry on low heat (do not iron)
How does the Nest Wool Comforter Compare to Other Comforters?
If you're still on the fence about the Nest Wool comforter, it's always a good idea to do some comparison shopping. Let's compare the Nest comforter to two comforters made with more traditional down alternative fluff and a bamboo comforter.
Nest vs Saatva
If you're looking for a thick, fluffy down alternative comforter, the Saatva Down Alternative comforter fits the bill. When compared to the Nest Wool comforter, the Saatva comforter has that more traditional comforter look and feel thanks to its down alternative fill. But this makes the Saatva comforter perform a bit differently than the Nest comforter.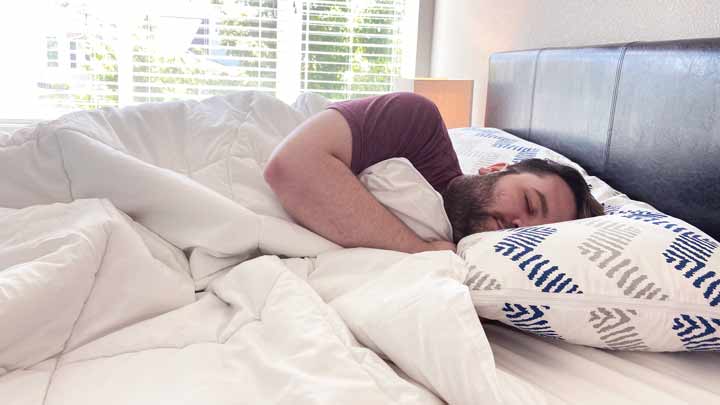 The wool inside of the Nest comforter is more hot sleeper-friendly because of its temperature regulating properties. The Saatva comforter will provide a lot of extra warmth, even in the All-Season model. You could certainly opt for the lightweight Saatva comforter, but the down alternative won't be as breathable or temperature regulating as the wool.
| | |
| --- | --- |
| Who Should Get the Nest Wool Comforter? | Who Should Get the Saatva Down Alternative Comforter? |
| Fans of thin comforters | Fans of fluffy comforters |
| Hot sleepers | People who get cold quickly |
Read our full Saatva comforter review.
Nest vs Nolah
Personally, bamboo bedding products are some of my favorites. This is because of how soft and silk-like they feel, and as a hot sleeper, they keep me cool. Both the Nest and Nolah comforters are good for hot sleepers, but I think the Nolah has a leg up over the Nest because it's made entirely out of bamboo viscose. Bamboo has the added benefit of being moisture-wicking, so extremely hot sleepers will find more comfort with the Nolah comforter.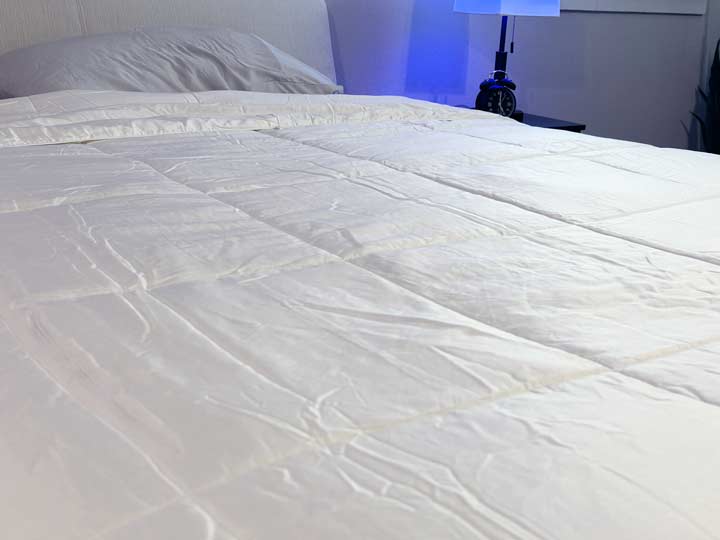 If you prefer a more traditional cotton feel to your comforter though, definitely go for the Nest Wool comforter. The wool is temperature regulating, and while this is a thinner comforter, it's not as lightweight as the Nolah comforter. That makes the Nest comforter better for year-round use, while the Nolah comforter is much thinner and might only work for summer months.
| | |
| --- | --- |
| Who Should Get the Nest Wool Comforter? | Who Should Get the Nolah Bamboo Comforter? |
| Fans of cotton comforters | Fans of bamboo comforters |
| People who want a comforter for year-round use | Extremely hot sleepers |
Read our full Nolah Bamboo comforter review.
Nest Wool Comforter Rating
See our Mattress Clarity rating for the Nest Wool comforter below.
Nest Wool Comforter Review
Company Policies for the Nest Wool Comforter
Here's what you can expect when you purchase the Nest Wool comforter from Nest Bedding.
Warranty
Nest offers a one-year limited warranty on all its bedding products. A limited warranty means that the warranty will only cover manufacturing defects. General wear and tear or other cosmetic damages will not be covered.
Nest also mentions that the warranty is only available for the original purchaser of the product.
Shipping Information
Nest offers free shipping on all orders over $150. Nest also covers the shipping costs for returns and exchanges.
Trial Period
From the day the comforter arrives on your doorstep, you have 30 days to make return or exchange decisions. This effectively acts as a trial period for the comforter and gives you about a month to decide if this is the comforter for you.
I should note, it's during this time period only that you can make returns for a full refund.
Nest Wool Comforter FAQs
Are wool comforters worth it?

Yes. Wool might seem thick and like it'll cause excessive warmth, but it's actually temperature regulating and breathable. It can create a perfect, cozy environment when you use it, but you won't have to worry about overheating. The Nest Wool comforter strikes that perfect balance of being thicker than a sheet with some extra warmth but doesn't get too hot. This makes it great for year-round use.
How long will the Nest Wool comforter last?

Several years. Though the Nest Wool comforter comes with a one-year limited warranty, wool and cotton both are very durable materials. Barring an accident, the Nest Wool comforter should last you years with good care.
Are wool comforters heavy?

I found that the Nest Wool comforter was somewhere between a lightweight and super thick, fluffy comforter. It still felt like I was sleeping under a comforter, but it wasn't like the comforter was swallowing me while I slept. I think this is a good match for people who want a year-round comforter.