Anyone who suffers from snoring knows the condition commonly disrupts sleep — and so does their partner. Now, a new sleep mask promises to help snorers (and their partners) enjoy sounder sleep.
The Hüpnos Sleep Mask consists of two active components, Hüpnos CEO and Founder Curt Ray told Mattress Clarity via email. These components work in concert to reduce active snoring in several ways. The sleep mask can also be synced with a dedicated app that yields additional sleep insights.
The sleep mask recently debuted at the International Consumer Electronics Show (CES) and was spotlighted on Indiegogo as a "Team Favorite." We connected with Ray to learn more about how this innovative sleep mask might help snorers and their partners obtain better sleep.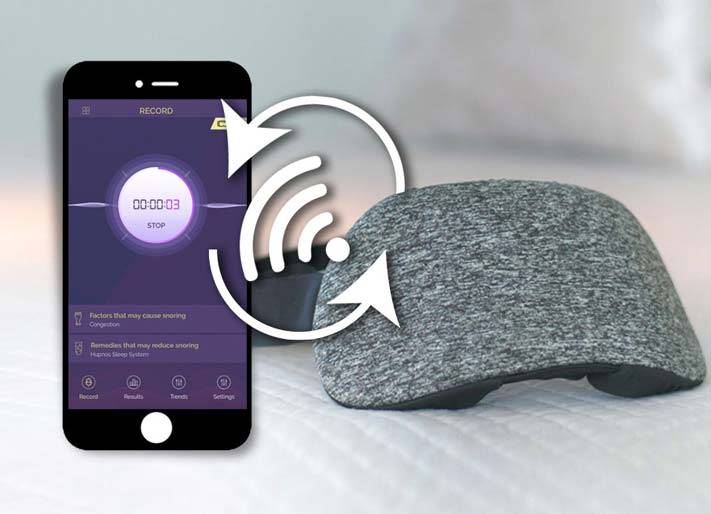 How The Hüpnos Sleep Mask Works
The concept for this sleep mask was borne out of Ray's own issues with snoring.
"I wrestled with snoring for a decade and tried almost every snore-reduction device on the market and none of them worked," he says. "As a result of my snoring, I suffered from sleep deprivation and of course my wife's sleep was also disrupted. I have a background in engineering and consumer product innovation, so I spent two years analyzing core technologies and clinical research that eventually led to the creation of the Hüpnos Sleep Mask."
Per Ray, that research led to the use of two different mechanisms which together decrease the odds of snoring:
A built-in accelerometer that syncs up with the Hüpnos smartphone app via Bluetooth. This accelerometer "monitors your movement to detect when you are sleeping on your back and snoring," Ray says. "Hüpnos then delivers gentle vibrations to cue you to change positions." The simple act of changing positions may be enough to end someone's snoring for the night.
If snoring continues even after someone has changed positions, then Ray says the sleep mask "will increase expiratory positive airway pressure (EPAP) using your own breath to gently open airways so that you breathe without snoring."
These two mechanisms are designed to decrease snoring without diminishing sleep quality. "While every snorer is different, early feedback indicates that Hüpnos users experience snore-free sleep without fully waking," Ray says.
Users can also choose to employ the Hüpnos Sleep Analysis App. "The [app] provides users real-time data revealing body position, snoring duration, and snoring intensity via audio recordings," Ray says. "Users also have the ability to log factors that contribute to snoring, such as caffeine, stress and alcohol, so that they can analyze their own data."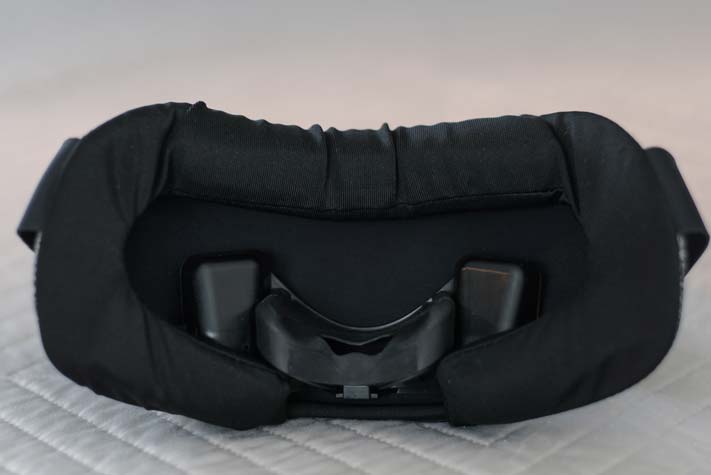 Crowdfunding The Sleep Mask
Ray's invention got its start thanks to a crowdfunding campaign on Indiegogo.
"We are very grateful for the 500 early backers who supported our Indiegogo crowdfunding campaign and helped us exceed our goal," Ray says. "Through this round of funding, we've been able to accelerate the manufacturing process, begin shipping to the general public and continue the product development process with feedback we received from early backers."
The product's popularity on Indiegogo is perhaps a testament to the number of snorers desperate for a solution to their sleep woes.
In addition to provoking sleep deprivation — which can lead to impaired cognitive, emotional, and physical performance — snoring has also been associated with cardiac risks among women and is a common sign of obstructive sleep apnea (OSA), which can further disrupt sleep and may lead to additional health complications.
While more research is necessary to determine the overall efficacy of the Hüpnos Sleep Mask, one thing is certain: Snorers are ready and willing to try innovative solutions in the pursuit of better sleep.
All images courtesy of Hüpnos