In late 2020, avid Shark Tank (2009-present) fans were introduced to the newest innovation in sleep: the Hug Sleep Pod. This unique sleep product caught everyone's attention and it's become a hit!
I received one of my own, and in this Hug Sleep Pod review, I'll give you the full rundown. You'll learn just about everything, from how it works, what it is, and how I felt while I used it.
Hug Sleep Pod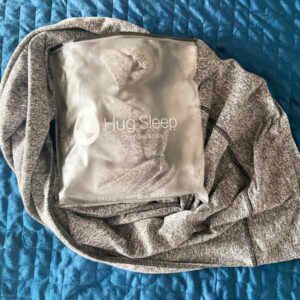 The Hug Sleep Pod is a cocoon-style compression blanket that is meant to help alleviate stress and anxiety.
Read Full Review
Hug Sleep Pod Overview
Debuting on Shark Tank in October 2020, the Sleep Pod was pitched by Matt Mundt and Angie Kupper as a means to help improve sleep.
With a combination of mechanical engineering, psychology, and the science of deep pressure touch therapy, the Sleep Pod was born. The Sleep Pod is, in essence, an adult swaddle. It looks like a thin sleeping bag that you can use to cover your entire body.
RELATED: Weighted Blankets Pros & Cons
This is a rather unique blanket–also called a compression blanket–so here's a quick overview on who might like the Hug Sleep Pod, and who might want to stick with more traditional bedding:
Who Might Like the Hug Sleep Pod?
Anyone who wants to experience the effects of a weighted blanket without the added weight
Anyone who prefers to swaddle themselves in their sheets
Back and side sleepers
Who Might Not like the Hug Sleep Pod?
People who toss and turn
People who prefer traditional sheets or blankets
Stomach sleepers
Hug Sleep Pod Video Review
See it in action and check out our video review below.
Sleeping With the Hug Sleep Pod
Before I get too detailed with my experience, I need to preface: I am a side sleeper who switches sides a lot while I sleep. Because of this, sleeping with the Sleep Pod was an interesting experience to say the least!
This unique blanket is designed to cover your entire body, but you can leave your arms out if you'd like. To fully test this out, I tried resting with my arms inside the Sleep Pod. This proved to be a bit of a challenge for me, since I do tend to switch sides very often during the night.
Moving my arms outside of it helped me sleep a little more comfortably. It also features a small hole at the bottom to put one foot out to help with temperature regulation.
As a hot sleeper, the first time I put the Sleep Pod on, it did seem to feel stuffy and I was worried it was going to retain heat. However as I relaxed, and as my body temperature adjusted, I began to feel comfortable.
It was worth it to try out but, personally, I might stick with regular bedding and sheets.
What is a Compression Blanket?
The Hug Sleep Pod has created a new term in the sleep market: compression blanket. And you may be asking yourself "what is a compression blanket?"
It's a good question! A compression blanket takes the science behind weighted blankets, that deep pressure touch, and removes the weighted element.
Due to its unique design, the Sleep Pod utilizes stretchy material that will provide gentle compression all around you as you use it. This will mimic that calming pressure–in other words, that hugging sensation–that weighted blankets are known for.
The stretchy material used in this blanket lets you get into it easily. Because the material wants to compress, it can help you feel much more at ease, sleep deeper, and wake up feeling refreshed.
If you love weighted blankets but find that they're too hot or maybe want to try something lightweight, a compression blanket, like the Sleep Pod, is a good alternative to look into!
Hug Sleep Pod Feeling
The Hug Sleep Pod feels soft to the touch. Think of a soft, stretchy dri-fit T-shirt, and you'll have something similar to the way this feels.
When I put it on, it compressed and provided some gentle pressure. However, I still found it easy to move around in, if I had my arms out.
If you were to have your entire body in the Sleep Pod, it would feel like a hug! Because this compression blanket acts similarly to a weighted blanket, this is an important feature to mention!
Hug Sleep Pod Size Options & Prices
Size
Price
Small
Size 00 to 4 (women's), Waist 22″-27″ (men's). Max height: 6′
$72.99
Medium
Size 6 to 12 (women's), Waist 28″-32″ (men's). Max height: 6'4″
$72.99
Large
Size 14 to 22 (women's), Waist 33″-42″ (men's). Max height: 6'4″
$72.99
Hug Sleep Pod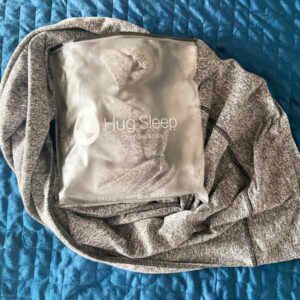 The Hug Sleep Pod is a cocoon-style compression blanket that is meant to help alleviate stress and anxiety.
Read Full Review
Hug Sleep Pod Performance
I've given a little bit of my general experience sleeping with the Hug Sleep Pod, but let's talk about some other key categories.
Sleeping Hot or Cold
The Sleep Pod is designed to be breathable — for temperature regulation, there is a hole at the bottom to let you stick one foot out if you feel yourself getting too hot.
Overall, I don't see overheating being too much of a problem because of this. However, it doesn't feature any moisture-wicking properties. Like any sleeping bag, you may feel a little sweaty inside.
Care Instructions
This may be a unique blanket, but its care instructions aren't! It's machine washable!
Hug Sleep says you can wash it just like you would normal clothes. But more specifically, they recommend washing with warm water, with the Sleep Pod turned inside out. This will help prevent pilling on the outside.
From there, tumble dry on medium in the dryer.
Allergies/Allergens?
The Sleep Pod isn't marketed as a hypoallergenic product, and due to the synthetic materials in its construction, it might not be the best option for people with sensitive skin or allergies.
Hug Sleep Pod Construction
The Hug Sleep Pod currently has two models: the Hug Sleep Pod Classic, and the Hug Sleep Pod Move. For this review, I received the classic model.
The classic model is made with something called four-way polyspan material. Specifically, this material is composed of a blend of polyester and lycra. This gives the Hug Sleep Pod a good amount of stretch, and will cocoon your entire body.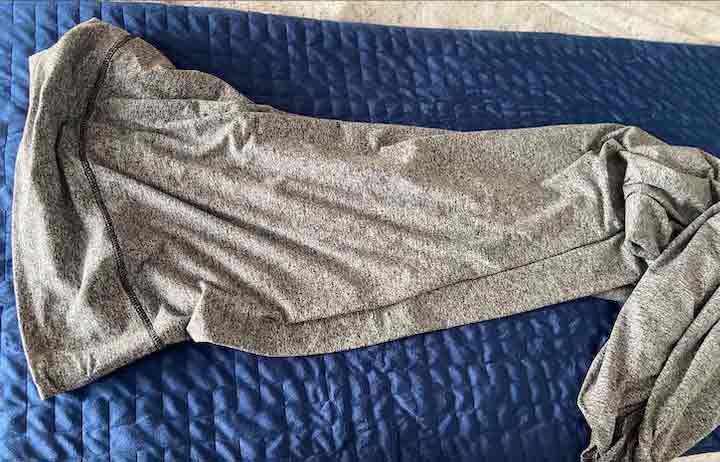 The classic design has a single hole at the bottom to allow you to stick one foot out if you're getting too hot.
If you're looking to use the Hug Sleep for lounging and want to move around without removing it, the Sleep Pod Move has a hole big enough for both feet to stick out so you can walk around.
Company Policies
I want to make sure you know what to expect if you purchase a Hug Sleep Pod!
Trial period
Hug Sleep offers a 30-night sleep guarantee. This acts as a trial period.
Return Policy
If you decide that the Hug Sleep Pod isn't for you, you can return it for a full refund during that 30 night guarantee. However, before you do send it back, Hug Sleep strongly recommends you try it out for 10 days.
Hug Sleep also does not cover return shipping fees.
Our Hug Sleep Pod Review Ratings
Check out our Mattress Clarity score for this Hug Sleep Pod Review!

FAQs
I covered a lot of information about the Hug Sleep Pod, but I've also taken the time to answer some of the most frequently asked questions I've seen online about it!
How do you wash the Hug Sleep Pod?
It's super easy! Invert the sleep sack and then wash it like you would a normal set of clothes. Hug Sleep recommends a warm water cycle with the detergent of your choice, then tumble dry on medium.
Is the Hug Sleep Pod any good?
Overall, the Hug Sleep Pod is a unique blanket that could work as a lightweight version of a weighted blanket.

The makers of the Hug Sleep want customers to get a good night's sleep, and they've taken the science of deep pressure touch to design their compression blanket.

If you like the idea of the calming and anxiety reducing qualities of a weighted blanket, but don't want to deal with the extra weight or warmth they're known for, the Hug Sleep Pod is a good alternative!
Where is Hug Sleep manufactured?
Hug Sleep manufactures its Sleep Pod right here in the US! The company is based in Milwaukee.
How is Hug Sleep doing after Shark Tank?
In a later episode of Shark Tank, the company had reported $4 million in sales since the initial air date.
Tony Klespis
Tony is a staff writer at Mattress Clarity where he analyzes sleep products and appears in review videos. He earned a B.A in English from Sam Houston State University and a M.A in Mass Communication from Texas State University. When he isn't writing about sleep products, Tony loves to unwind with a good book or can be found playing Pokemon Go outside with his friends, or cuddling with his cat, Penguin. He's always down to try a new, local restaurant and try new foods.