If someone has done just a little bit of mattress research, they have probably come across Tuft & Needle's Mint mattress and Purple's original mattress. They each have some hilarious commercials and are both very popular for good reasons.
Well, I have tried them both, and I can say they are fantastic bed-in-a-box mattresses that contain high-quality materials and are very comfortable.
This mattress comparison will go over the construction of both mattresses and then highlight the key similarities, differences, and takeaways in order to help consumers make a more informed purchasing decision.
CHECK PRICES

Mint

Click the button for a great deal on the Mint 
A good match for light- and medium-weight side sleepers
Features a balanced foam feel

CHECK PRICES

Purple

Click the button for the best deal on Purple 
A supportive option for back sleepers and stomach sleepers
Has a unique firm yet pressure-relieving feel
Key Similarities
The Mint and the Purple are both very popular bed-in-a-box mattresses for good reasons.
They are sold for almost the same price despite the different construction.
Both mattresses have three layers and feature a transition layer.
The base layers are pretty much the same on both mattresses and are pretty standard polyfoam layers seen elsewhere on the market.
They are both cooler-sleeping mattresses, meaning hot sleepers will find both to be an excellent fit.
Key Differences
The Mint contains an Adaptive Foam in its comfort layer, while the Purple contains a hyper-elastic gel polymer.
Light- and medium-weight sleepers should agree that the Purple is firmer than the Mint because of the way the gel grid functions.
The Mint has a balanced foam feel, but the Purple has a squishy yet firm gel feel that is unique and a little difficult to describe.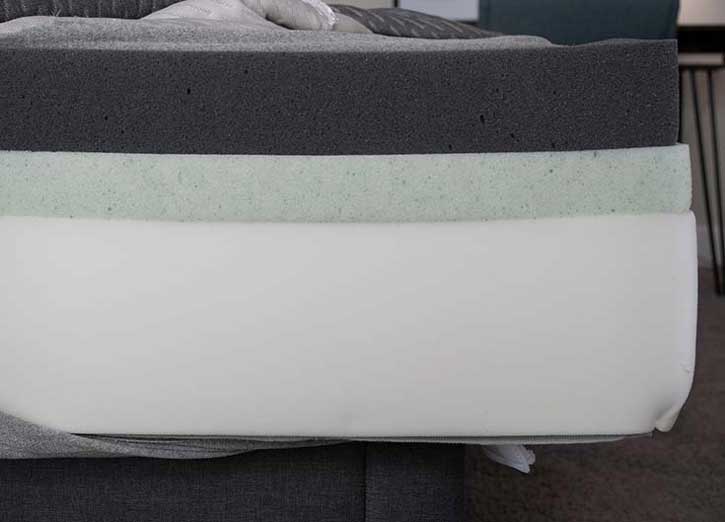 Mint Construction
The Mint is 12" tall and consists of 3 layers.
There is a soft and knitted cover on top of the Mint that contains antimicrobial protection.
Then, the first layer contains 3" of Adaptive Foam that combines latex and memory foam qualities in one foam.
Next, there is a 2" adaptive transition layer that helps ensure side sleepers won't bottom out and feel the firmer base layer underneath.
Finally, there is a 7" of standard base polyfoam.
Read the full Mint mattress review, available here.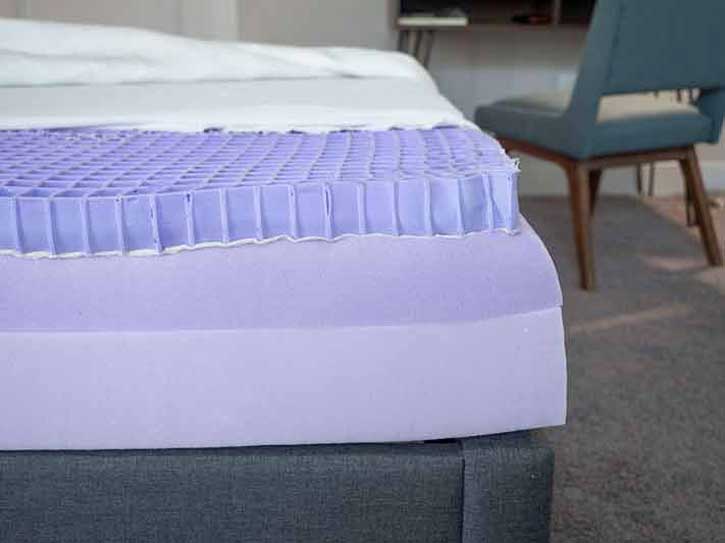 Purple Construction
The Purple is 9.5" tall and is comprised of 3 layers.
The Purple's cover is thin and very soft and also doesn't affect the overall feel of the mattress significantly.
On top, there are 2" of a Purple Smart Comfort Grid, which is unique to the company and provides a firm but pressure-relieving feel.
Below that, there is a 3.5" layer of Plush Comfort Foam that serves as a transition layer.
On the bottom, there are 4" of polyfoam that functions as the support layer.
Read the full Purple mattress review, available here.
Construction Differences/Notes
The Mint's Adaptive Foam is a fascinating material, because it is a softer foam that is easy to press one's hand into. At the same time, it bounces back into place once someone removes their hand. So, people will get some pressure relief from the Adaptive Foam, but they shouldn't have trouble moving around on the mattress.
Those people who have slept on memory foam mattresses know that the material can make them sleep hot, but the Adaptive Foam does not have this issue. It features an open-celled structure which makes the material more breathable and cooler.
Okay, so I said the Adaptive Foam is an interesting material, but the Purple's hyper-elastic gel polymer is about as unique as it gets. It forms a gel grid that is firm and supportive until someone presses in hard enough. Once you apply enough pressure, that specific area of the mattress will collapse.
This design makes the Purple a good match for combination sleepers. When someone is on their back, the gel grid will collapse under their butt, and when they are on their side, it will collapse under their shoulders and hips. Stomach sleeping, it shouldn't collapse at all.
The gel grid is also a very breathable material. Just looking at it, you can see there are huge spaces through which air can flow. I have tried a lot of mattresses and can say the Purple sleeps almost completely temperature neutral.
RELATED: Best Mattress
Firmness/Feel Differences
Let's talk about how firm these mattresses really are. At Mattress Clarity, we use a firmness scale of 1-10 with "1" being the softest and "10" being the firmest. The Mint feels like a 6/10, and the Purple feels like a 7/10.
I will say that someone might have a different experience if they are a larger person, because they could press further into the Mint and feel it be firmer. However, someone could activate the gel layer on top of the Purple and feel like the mattress is softer.
So, how does it feel sleeping on the Mint?
When back sleeping on the Mint, the mattress is pretty supportive, and my hips sinking in but not too far. The mattress is quite soft, but I feel decent on the Mint when I'm sleeping on my back.
Side sleeping on the Mint, the mattress is relieving most of the pressure on my shoulders and hips. I sink into the Adaptive Foam and into the transition layer and feel very comfortable.
When on my stomach, I am not getting enough support from the Mint. Again, this is a softer mattress, and stomach sleepers usually need something on the firmer side.
Now, here is how it generally feels sleeping on the Purple.
Back sleeping on the Purple, I feel more support than I felt on the Mint. My hips and butt collapse the gel grid layer, but the rest of the grid supports me. Between the two, it is the best mattress for back sleepers.
When I move to my side, the Purple is giving me a bit of pressure relief. However, I think I'm almost too light for this mattress. I am not heavy enough to get the most pressure relief from the Purple.
Stomach sleeping, the Purple is more supportive than the Mint. The gel grid does not give way under my hips.
These mattresses are different in terms of firmness, but they are even more different when it comes to how they feel. The Mint has a balanced foam feel with a bit of bounce. I sink into the mattress, but I have no issues switching positions. The Purple, on the other hand, has a unique gel feel. It is squishy but also firm.
See more about the Mint's firmness and feel in the video below:
Now, let's take a look at the Purple's firmness and feel with the video below.
Motion Transfer Differences
If you sleep with a partner, you've probably felt them moving around at night. This is what we call motion transfer. As your partner switches positions, their motion transfers to your side of the bed.
Some materials are better at isolating motion than others. For instance, softer foams like memory foam are known for cutting down on motion transfer.
While the top layer of the Mint is not memory foam, the Adaptive Foam does do well with motion transfer. I put a glass on one side of the bed, and then I pushed into the other side to mimic the motions your partner might make. I did not see too much disturbance in the water. When I did this on the Purple, I did see some more ripples in the water.
Also, I lay on the right side of both mattresses, and then Marten got in and out of the bed. I didn't feel like he was disturbing me on the Mint. However, on the Purple, I did feel some of his movements.
This makes me think the Mint could be a better mattress for couples who don't want to be disturbed by their partner's movements at night.
See how the Mint handles motion transfer in the video below.
Now, see how the Purple performs with motion transfer in the vide below.
Edge Support Differences
For you couples out there, edge support is also something to think about when buying a mattress. Edge support is basically a measure of how secure you feel sitting or lying down near the edge of your mattress.
Sitting near the edge of the Mint, I feel very secure, and the mattress actually features enhanced edge support. This also allows me to sleep toward the edge of the Mint without feeling like I am going to roll right off.
However, on the Purple, I don't feel quite so secure, because the gel grid, while supportive, does give way when lying very close to the edge.
People can see the edge support differences in the photos below.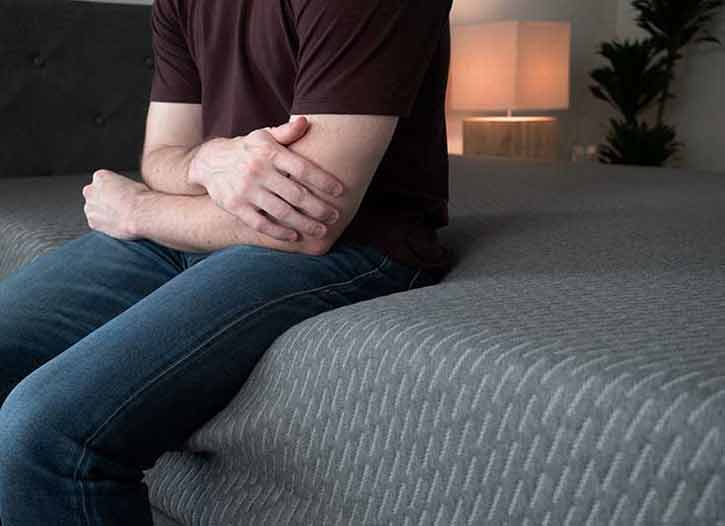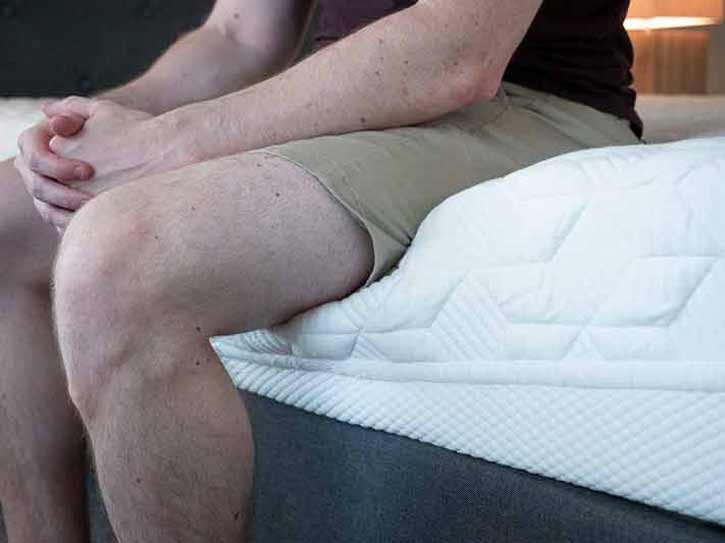 Marten's Take
There are so many things to think about when you're mattress shopping. One of the things you definitely want to factor in is your size and weight. Just because I feel comfortable on a mattress doesn't mean that a lighter or larger person will have the same experience.
To give you another perspective on these two mattresses, I asked Marten to help us out. I am 5'9" and weigh 160 lbs, but Marten is 6'7" and weighs 230 lbs.
Here is what he thought about the Mint and Purple mattresses and how appropriate they are for heavier sleepers:
In terms of firmness, I thought the Mint was a 7/10, and the Purple was 6.5/10. I thought the Mint was firmer than Joe thought because I'm pressing further into the mattress. I am feeling some more firmness than Joe did, especially on my shoulders and hips.
However, on the Purple, my weight is activating that gel grid more than Joe's weight did. This makes the mattress actually feel softer to me.
So, how did it feel sleeping on the Mint?
While Joe got enough support on the Mint, the mattress is too soft when I am back sleeping. I feel like I am dropping into the mattress. I also need some more support in my lumbar area.
When side sleeping, I press pretty far into the Mint. Even with the Adaptive Foam and transition layer, I feel like I am hitting the base layer. This is causing me to feel some pressure on my shoulders and hips.
When I am on my stomach, the Mint is way too soft for me. Joe didn't enough support on the Mint, and I'm feeling even less support. I need some more support under my hips.
Here is how I feel sleeping on the Purple.
The Purple is a fantastic match when I am back sleeping. As Joe mentioned, the gel grid is designed to only collapse under the heavier parts of the body. So, the mattress is giving way under my butt and hips, but I feel supported everywhere else.
Side sleeping, I feel almost no pressure on the Purple. Again, the mattress is only collapsing under the heavier areas, in this case, my shoulders and hips. I almost feel weightless side sleeping on the Purple.
Moving to my stomach, I am definitely getting enough support. The gel grid does not collapse at all, and I feel nice even support across my whole body.
In general, I think the Purple is going to be a better match for heavier people in all three sleeping positions. However, some heavier sleepers might get enough support back sleeping on the Mint.  
It is great to get Marten's perspective on these two mattresses, and as I mentioned above, larger people might have a different experience on the Purple. Marten's account lets me know that the Purple is indeed the best mattress for heavier people.
RELATED: Most Comfortable Mattress
Pick Mint If:
You are a light- or medium-weight side sleeper- For side sleepers, pressure relief is the name of the game. People want to make sure they aren't feeling pressure on their shoulders and hips. As long as they are not too heavy, people should feel superior pressure relief on the Mint. It is a softer mattress and the Adaptive Foam and transition layer should give people all the pressure relief they require.
You like to sink into your mattress- Some people prefer to sleep on top of their mattress, while others like to sink in and feel their mattress envelop them. If someone falls into the latter category, the Mint should be right for them. Lying on the Mint, most people will sink in more than they will on the Purple.
You like a softer mattress- If someone is not a larger person, they should agree that the Mint is a softer mattress than the Purple. If they like a mattress that is comfortable and easy to press into, the Mint is an excellent choice.
RELATED: Purple vs Tuft and Needle
Pick Purple If:
You are a back sleeper- Back sleepers usually want to find a mattress that will support them while still allowing their hips to sink in, and the Purple definitely has these features. Back sleeping, people will feel supported while the gel grid only collapses under their hips and butt.
You are a stomach sleeper- On the other hand, those who need the best mattress for stomach sleepers want something that doesn't collapse at all. With its interesting gel grid design, the Purple is very supportive for stomach sleeping, and it shouldn't give way under the hips, so people should feel well-aligned.
You have extra support needs- If someone is a larger person or just needs more support, the Purple should be a better choice than the Mint. The gel grid is a very unique material that will support people in a number of positions.
Overall
Again, the Tuft & Needle Mint and Purple are both very high-quality mattresses, but they really are right for different types of people. Light- and medium-weight side sleepers who like to sink into their mattress will like the Mint, and back sleepers, stomach sleepers, and those who like to sleep on top of their mattress will like the Purple. Consumers should read this article through a few different times, assess their own needs and preferences, and then they can make a more informed decision.
Still not sure which mattress is best for your needs? Make sure to check out our other popular Tuft & Needle and Purple mattress comparisons like Tuft & Needle Mint vs Casper and Purple vs Helix.
Joe Auer
Joe Auer is the editor of Mattress Clarity. He mainly focuses on mattress reviews and oversees the content across the site.
He likes things simple and take a straightforward, objective approach to his reviews. Joe has personally tested nearly 250 mattresses and always recommends people do their research before buying a new bed. He has been testing mattresses for over 5 years now, so he knows a thing or two when it comes to mattress selection. He has been cited as an authority in the industry by a number of large publications.
Joe has an undergraduate degree from Wake Forest University and an MBA from Columbia University.