The TEMPUR-Flex collection aims to provide the best of both worlds with memory foam and springs. This was the company's first attempt to stray away from all-foam mattresses. The Flex Supreme is the second most affordable mattress in the collection. I was excited to dig in and see what the mattress is all about.
Editor's Note: Tempur-Pedic no longer offers this model. Take a look at our Tempur-Cloud mattress review for a good alternative!
Construction
Like other Tempur-Pedic mattresses, the Flex Supreme has a thin and stretchy cover. The top part of the comfort layers is a layer of TEMPUR-ES material. ES means and extra soft and this is the material that you would also find in the Cloud collection models. Below the ES layer is a layer of TEMPUR-Response foam. This foam is quick to respond, meaning when you move around, the foam moves around immediately with you.
The support layer is a system of individually wrapped coils. This is a highly durable and supportive system for your lower back.
The company does not disclose the density of its foams or the individual thickness of its layers. However, I do know for a fact that the company uses high-quality, high-density foams, and in this case the spring system is durable and of good quality. The mattress overall is 11.5 inches thick.
Find current Tempur-Pedic pricing here.
Firmness Level
Tempur-Pedic very explicitly tells you the exact firmness level of its mattresses. In this case, the Flex Supreme has a medium softness that is right in the middle compared to other models.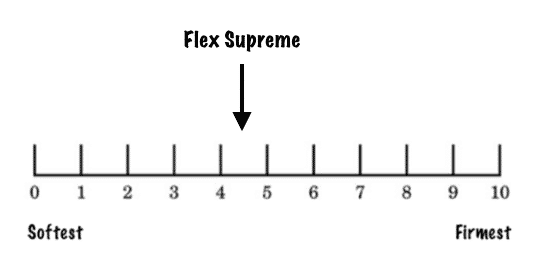 You Might Want To Pick This Mattress If:
You Sleep In Multiple Positions– This mattress has a middle-of-the-road firmness. That makes it best for people who sleep in multiple positions throughout the night.
You Are Of Average Weight– Because of the middle-of-the-road firmness level, this mattress is probably best suited to people of average weight.
You Want Memory Foam But Faster Response– If you like the concept of pressure relief that memory foam provides without the feeling of slowly sinking into the mattress, then the Flex Supreme could be a good option for you. It's much springier and responsive than the average memory foam mattress.
You Might Not Want To Pick This Mattress If:
You Only Sleep In One Position– If you just sleep on your back or stomach, you may want to get something that's a little firmer. Similarly, if you just sleep on your side, you may want to look at another model that is a little bit softer.
You Weigh Either A Lot Or A Little– Those who weigh very little may think the mattress is too firm, and similarly, those who weigh a lot may think the mattress is a little too soft.
You Like Slow-Moving Memory Foam– Tempur-Pedic is generally known for its slow-moving memory foam feel. The Flex collection is the exception to this. If you are looking for that type of feel, then you should take a look at either the Contour or Cloud collections.
RELATED: Best Tempur-Pedic Alternatives
Most Common Pieces Of Praise/Complaints
This is a very new model. It didn't come out until mid-2015. As a result, we don't have the benefits of hundreds of reviews from people who have had the mattress for years. Therefore, it's probably too early to say what actual mattress owners like/don't like the most about this mattress.
Why Would Someone Pick This Model Over The Other Tempur-Pedic Mattresses?
You sleep in multiple positions
You want the benefits of memory foam but don't like the feeling of getting stuck in your mattress
You are of average weight
Find Current Pricing on Tempur-Pedic's Website
Overall
I like the concept of the Flex collection and think it will only rise in popularity. If you are looking for a memory foam mattress without the slow-moving feel, this could be a good option for you.