Sleep Number's Innovation Series mattresses are the top of the line when it comes to Sleep Number beds. The I-8 and I-10 models offer many similarities but it's their comfort layers (and price) that make a big difference.
This handy guide will lay out the details in each mattress and go over the main similarities and differences between the two mattresses to help consumers make a more informed decisions.
See our general Sleep Number review.
Key Similarities
Both come with a Duvet-style pillowtop that includes: 2" of Hypersoft Quilting Foam for a plush surface and Outlast temperature balancing technology to minimize temperature swings
PlushFit foam on both mattresses that has 7 zones specifically designed to contour to the head, shoulders, lower back, hips, knees, lower legs, and feet
Mattress fabric is made with a polyester/polypropylene blend fabric that is designed to be soft and breathable
Sleep IQ Technology included
Both come with this optional feature:
FlexFit™ Adjustable Bases

Key Differences
I-8
13" mattress profile
1" foam base pad underneath the air chamber(s)
3" of proprietary PlushFit foam – supportive foam is designed exclusively for Sleep Number to naturally conform to the curves
Comes in Twin XL – FlexTop Cal King (more size options)
Single or dual air chamber options
$3,499.98 for a Queen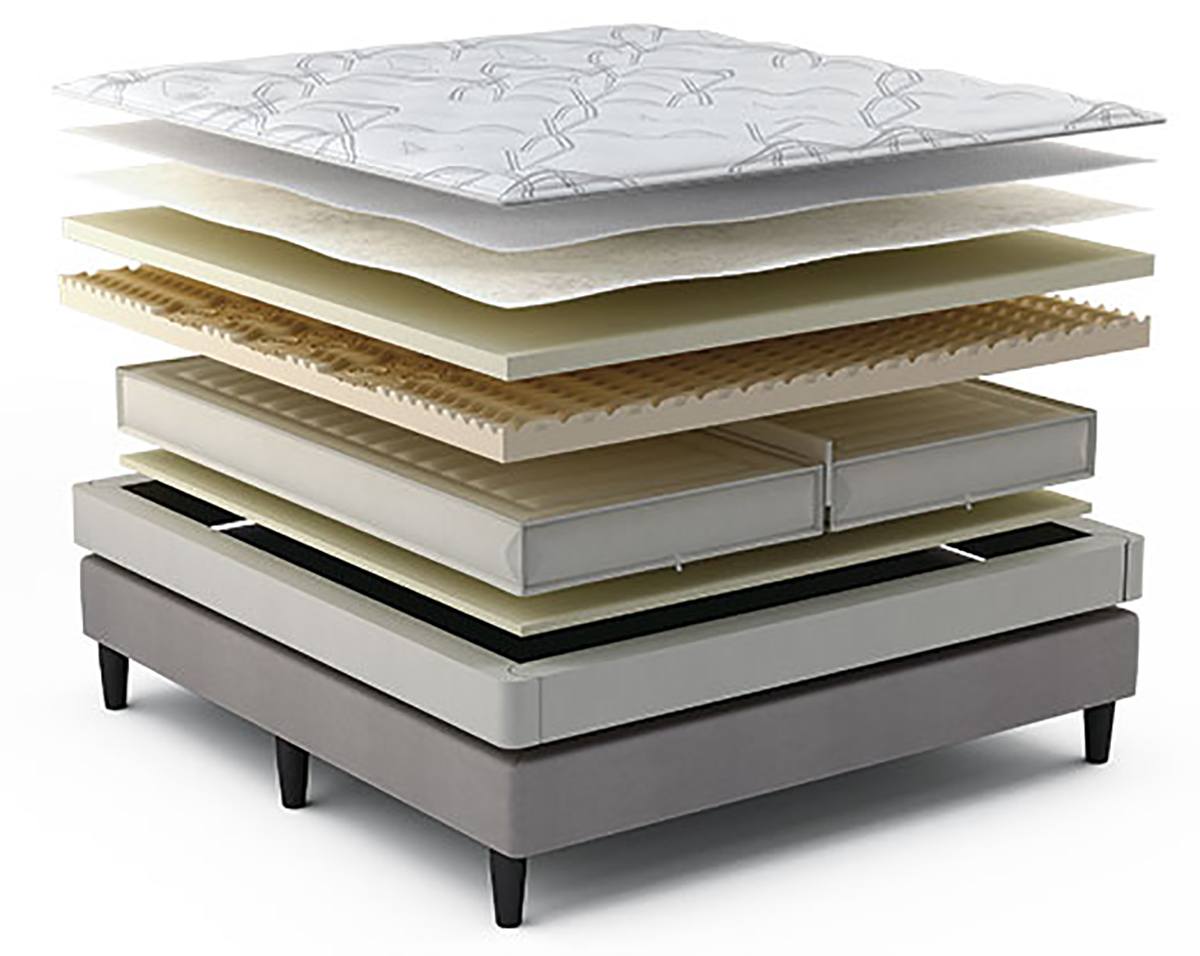 I-10
15" mattress profile
2" foam base pad underneath the air chamber(s)
4" dual-layer design: Memory Foam reverses to PlushFit foam with 7 zones of contouring support
Comes in Queen – FlexTop Cal King
Dual air chamber option only
$4,999.98 for a Queen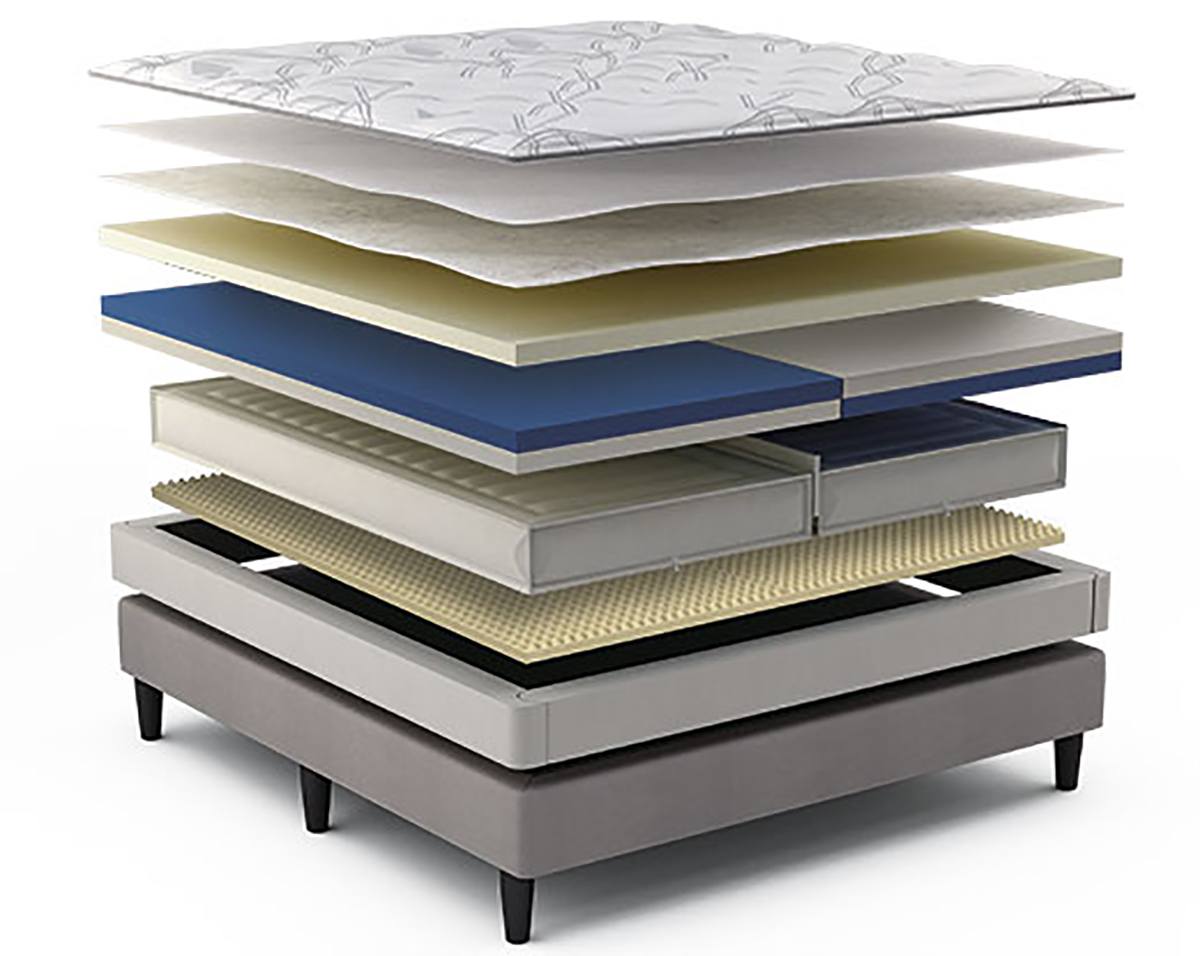 What Happened During Several Live Chat Sessions
After speaking with Sleep Number Customer Service representatives, a few extra details and clarifications became clear that may help people decide between an I-8 or an I-10 mattress.
Highest Rated: A representative stated that the P-5 model is the most popular but the I-8 is the highest rated. After being asked why he thought it was so highly rated he said: [The I-8 is] a pillowtop bed that will provide great support and pressure relief and the feature is the cover of the mattress. It's made with a temperature balancing material that absorbs excess heat to help keep people cool through the night.
Design Difference: The biggest design difference in the I-8 vs. the I-10 mattress is the foam comfort layer. Here is how the Customer Service representative for Sleep Number described the main differences: The I-10 will be thicker and more pressure relieving than our I-8 model. The I-10 offers 2″ of memory foam and 2″ of PlushFit™ foam that are interchangeable based on people's preference.
Which Mattress People Should Pick
I-8 if…
People Want Comfort But Don't Want To Break The Bank. The 3" PlushFit comfort foam layer in the I-8 is designed to relieve pressure in 7 areas of the body. It also has a luxurious Duvet-style pillowtop with thermo-regulating fabric. This top-rated model has a lot to offer and comes in at $1,500 less (for a Queen) than the I-10 model.
People Sleep Alone. The I-8 can be purchased in Twin XL – Cal King sizes, while the smallest I-10 mattress consumers can buy is a Queen. The I-8 can also be made with single or dual air chambers (up to a Queen). This is ideal for those who want a big bed with adjustable firmness but prefer to sleep alone. The I-10 comes in dual air chamber option only.
Read our full Sleep Number I-8 review
I-10 if…
People Want The Ultimate In Pressure Relief. The I-10 features the innovative dual-layer design that lets people flip their comfort layer to either 2" of memory foam or 2" of PlushFit foam (for a total of 4″ of foam). Here is how Sleep Number describes their foam layer: Ergonomic, reversible design lets people individualize their comfort. Conforming memory foam reverses to PlushFit foam featuring seven zones for superior pressure relief and gentle support where people need it most: head, shoulders, lower back, hips, knees, lower legs, and feet.
People Sleep A Sleep Partner. The I-10 model is only made with dual air chambers. That means that each individual can control his/her side of the bed with their own air chamber customized to their individual Sleep Number setting. The foam comfort levels are reversible and can be flipped so either partner can enjoy memory foam or PlushFit foam support.
People Want All The Options. The I-10 mattress is really the complete package and combines nearly all the features that Sleep Number includes in their mattresses. The I-10 offers a pillowtop surface, thermo-regulating cooling technology, dual air chambers, and separate reversible foam comfort layers for complete individualized comfort. It also includes Sleep IQ Technology so people can track their sleep at night.
Read our full Sleep Number I-10 review
Both if…
Someone Is A Hot Sleeper. The I-8 and the I-10 models feature Outlast technology in the mattress surface. This technology is designed to pull moisture away from people and redistribute it throughout the night. This can be a great feature for those who frequently wake up hot or have trouble stabilizing their body temperature at night.
Personal Opinion
There is a lot to like about both the I-8 and the I-10 models in Sleep Number's Innovation Series of mattresses. There are three main reasons why someone would choose the I-8 over the I-10 model.
Rating. The Customer Service representative told me that the I-8 is Sleep Number's highest-rated mattress. This is important because it means that customers must really like the mattress if they took their personal time to come online and write a positive review.
Single vs. Dual Air Chambers. The I-8 offers more size options than the I-10 and has the option to let people purchase a Queen size mattress with a single air chamber. Many reviewers noticed a gap in between the dual air chambers and separate foam pieces in the I-10. This made it uncomfortable for them to enjoy the center of their bed (people can read more about I-10 reviews here). The I-8 has one foam piece and can be made with one or two air chambers.
Price. The I-8 mattress is $3,499 for a Queen size and the I-10 is $4,999 for a Queen. Both mattresses are an investment but the added features of the I-10 are not enough to justify the $1,500 price increase.
While they are both similar, the comfort level and price point of the I-8 make it a better choice for me than the I-10 mattress.
Katie Golde
Katie manages the day to day operations of the Mattress Clarity news site and reviews sleep products in addition to writing and editing sleep news. She hails from Austin, where she lives with her growing family. She is a Certified Sleep Science Coach and has a master's degree in Journalism from Northwestern University and has a background in health and science content. Her work can be found in print and online publications like Discover Magazine, USA Today and The Huffington Post.