Sleep Number and Saatva are both well-established brands in their own corners of the mattress world. Sleep Number is known for their adjustable air beds and Saatva is one of the first bed-in-a-box companies and one of the only ones to deliver innerspring mattresses to your door.
Which one could be your next bed? With so many options we've put together the biggest factors to consider when looking at Sleep Number and Saatva.
Up To $800 Off

Sleep Number

Click to save up to $800 on Sleep Number
Adjustable mattresses for many types of sleepers 
Durable, high-end mattresses

$200 Off

Saatva

Click to save $200 when you spend $1000 or more
A comfortable innerspring mattress 
Features a more traditional design
What They're All About
Sleep Number:
Sleep Number may be best known for its adjustable air beds, which allow you to change the firmness and support of the bed to meet your needs via a remote.
There are four different types/series of beds, starting with the Classic Series and ending with the 360 Smart Beds. There are numerous models that offer different comfort options within each series.
The beds tend to be the best for couples because they can be made with dual air chambers, so each person can adjust to their preferred setting without compromising.
Prices range depending on the series and model of each bed. The most basic model (c-2) retails for $899 for a Queen while the i-10 360 SmartBed will run you $4,999 for a Queen.
Sleep Number mattresses come with a 100-night sleep trial (read the fine print for exclusions).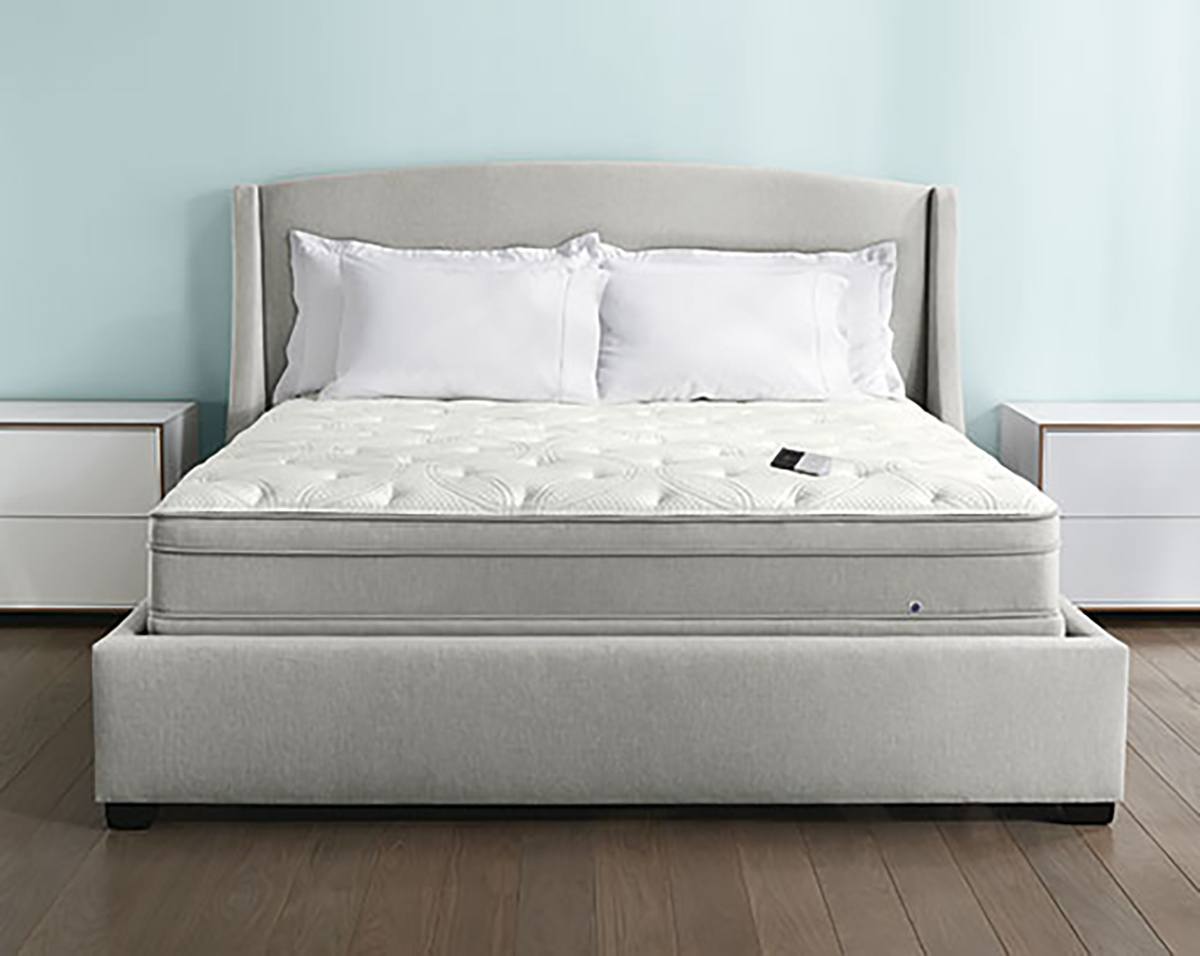 Sleep Number's popular p-5 model (see a full review of the p-5 mattress)
Saatva:
Saatva is one of the original online-only mattress retailers. While many bed-in-a-box companies offer foam mattresses delivered to your door – Saatva sells an innerspring mattress.
This mattress features a unique "coil on coil" system that helps promote airflow and provide excellent support (we reviewed the Luxury Firm comfort level). The cover is also 100% organic cotton and many of the materials within the mattress are eco-friendly.
There are 11.5" and 14.5" models available. A Queen size bed is 60" x 80" and sells for $999 (for both 11.5" and 14.5") . There is also a 120-day home trial available.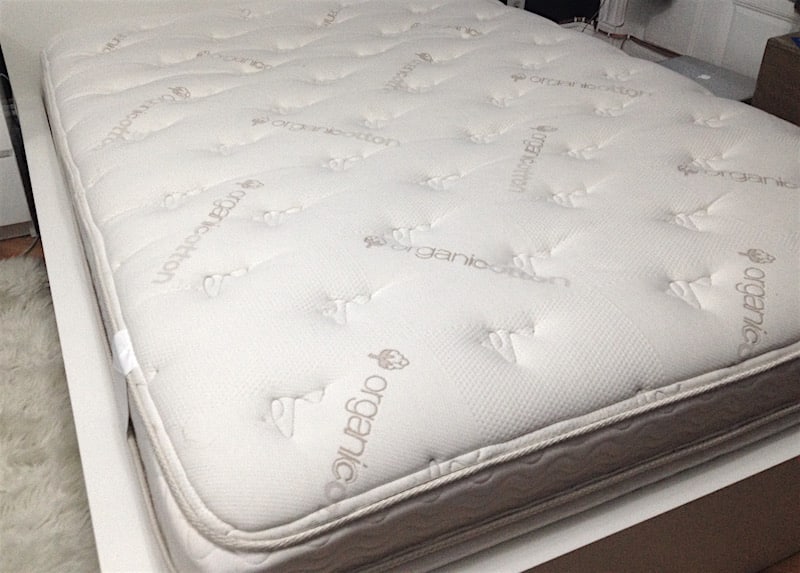 Saatva mattress (Luxury Firm)
Up To $800 Off

Sleep Number

Click to save up to $800 on Sleep Number
Adjustable mattresses for many types of sleepers 
Durable, high-end mattresses

$200 Off

Saatva

Click to save $200 when you spend $1000 or more
A comfortable innerspring mattress 
Features a more traditional design
Construction Differences
Sleep Number:
Sleep Number offers several models organized into four categories: Classic Series, Performance Series, Innovation Series and 360 Smart Beds.
The air chamber/dual air chamber option with adjustable settings and your personalized Sleep Number will be incorporated into all beds and make up the base of the Sleep Number bed.
Each series essentially builds off the other. The Classic Series beds, the c-2, c-4 and cse, offer the most standard options with minimal layers between the air chamber(s) and the mattress top. The Innovation Series and 360 Smart Beds will have the largest, thickest layers and most added features.
Some of the additional features that come with the higher-end models like those in the Innovation Series and 360 Smart Bed series include:
Additional comfort layers (Plush Fit, Exclusive Fit and Dual Gel Memory Foam)
Temperature balancing sleep surface
5-7 zones of contouring support
SleepIQ Technology included
Beds that automatically and effortlessly adjusts to you (Smart Beds)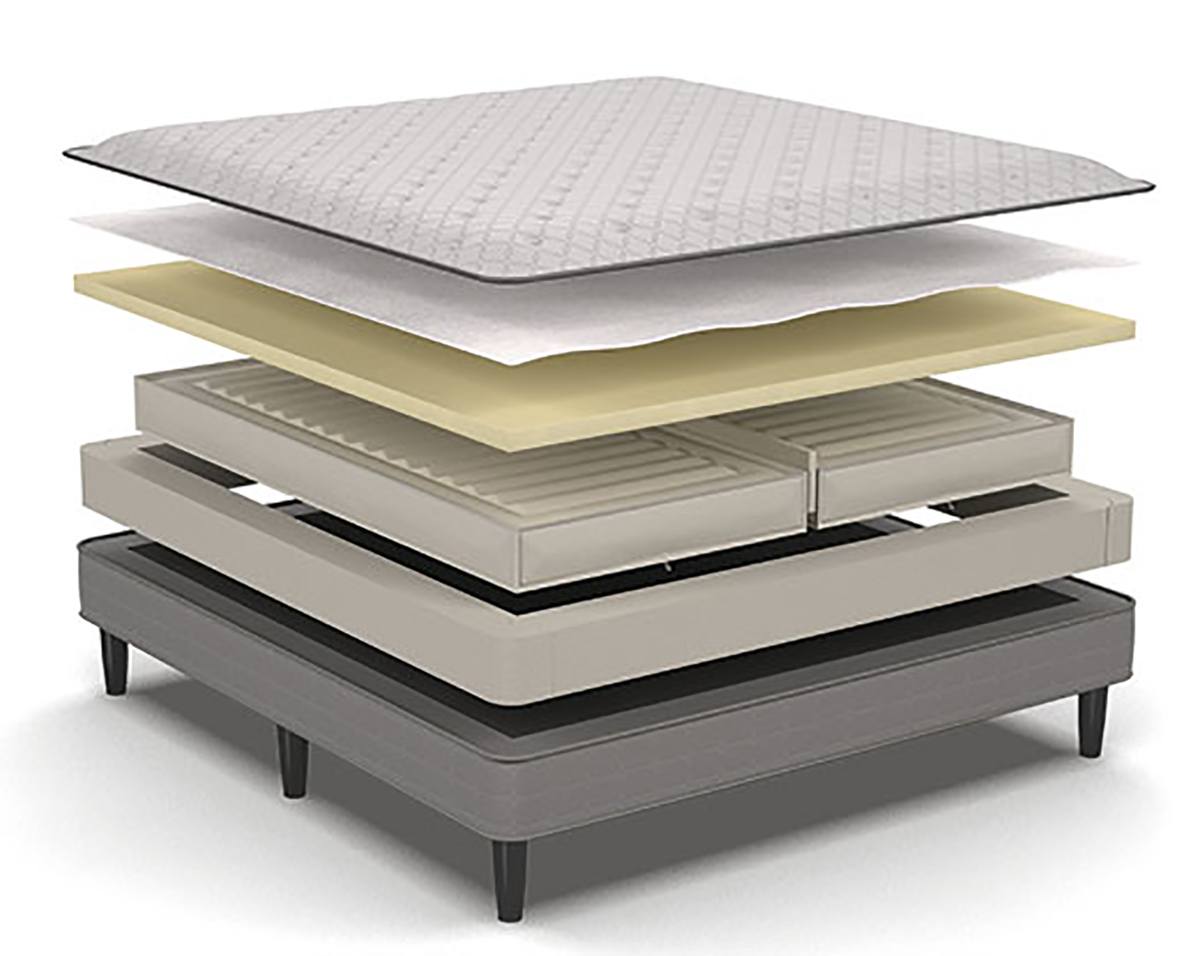 Sleep Number c-2 model
See a breakdown of the most basic Sleep Number bed, the c-2 mattress.
Saatva:
Here is a list of the materials that can be found in the Saatva mattress:
Organic Cotton backed with hypoallergenic fibers
Plant-based Natural Thistle which consists of wood pulp and a polyester bonding agent
Cotton, foams of 30% soy and corn oil coupled with polyurethane and Dacron
Recycled steel springs/ coils
Eco-friendly Visco memory foam
Rayon
Kevlar thread
Saatva has a unique "Coil on Coil system" within the mattress. The components are as follows:
Individually wrapped comfort coils: These coils are designed to contour to your body and are featured in the top portion of the mattress.
Dual Perimeter Edge Support System: The edges of the mattress are encased in foam, adding support to the edge of your mattress helps increase durability and stop potential sagging.
Lumbar Support Enhancement: A layer of memory foam is used to help provide pressure relief, reduce stress and tension in your lower back.
Steel Coil Base Support System: All mattresses are made with a tempered steel support lower coil base. This will increase durability and prevent sagging as well.
Organic Cotton Cover & Euro Pillow Top: Compared to a regular pillow top, the Euro PillowTop offers more cushioning and padding materials. It's also inserted below the outer cover for a more pleasing and luxurious look.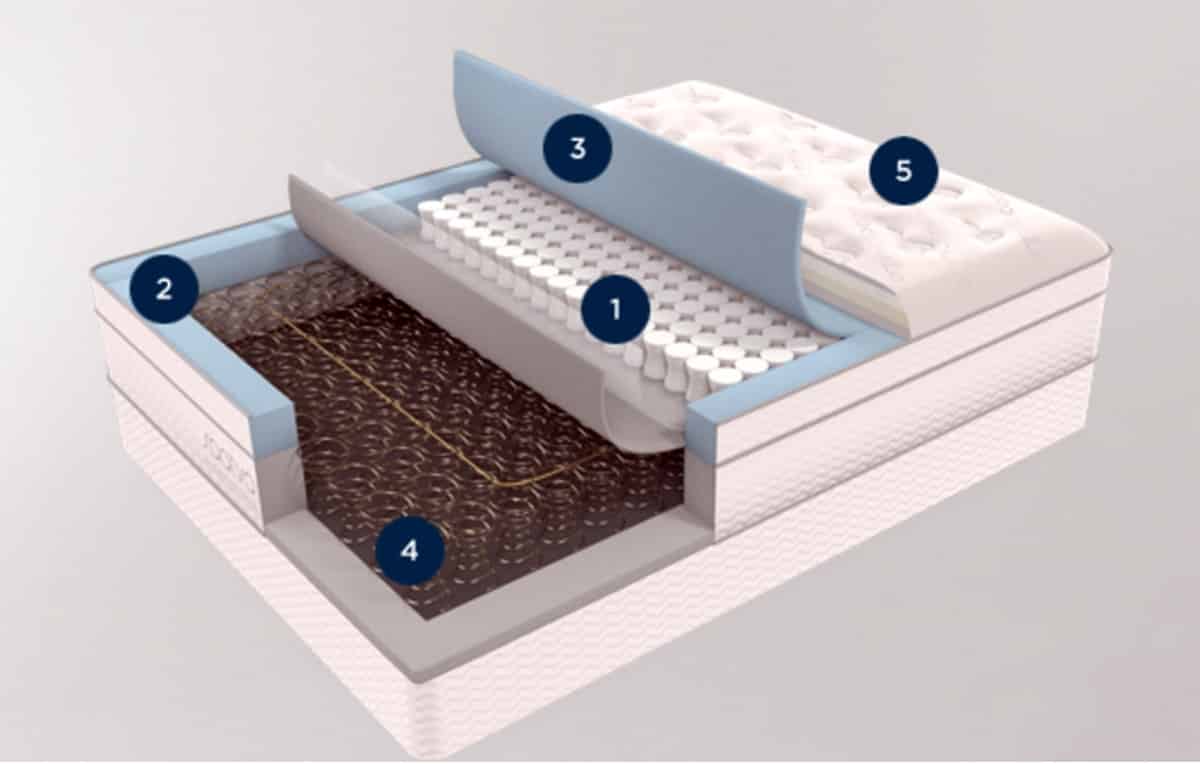 SaatvaMattress.com
For more details on the construction of the Saatva Luxury Firm mattress, click here.
You Will Love Sleep Number If…
You want to adjust the firmness and support of your mattress on any given day.
Sleep Number is all about this Dual Adjustability feature that comes with their mattresses. It allows you to adjust firmness, comfort and support on each side of the bed to your individual Sleep Number setting. If you don't like the current setting, it's easy to change the comfort level with the remote that comes with the bed.
You've got a bigger budget.
The most basic Sleep Number bed starts at $899 for a Queen and can go much higher than that. Sleep Number also has other accessories, like FlexFit Adjustable Bases or sheets, that you can buy to complement your mattress. If you have the means, you can go all out and look at their 360 Smart Beds or other more luxurious models.
You want to see how the bed works, first.
Sleep Number has showrooms across the country where you can go and test out different mattresses. They'll even walk you through finding your personal Sleep Number and make suggestions on the type of mattress that could work for you.
RELATED: Sleep Number vs Helix 
You Will Love Saatva If…
You are looking for a bed of average firmness – nothing too soft or too firm.
Based on our experience with the Luxury Firm comfort-level, it is a great fit for someone looking for a medium-firmness that's found in traditional innerspring mattresses.
You want to buy a more traditional mattress online.
Saatva is one of the few innerspring companies that sell exclusively online and their "coil-on-coil" system is a major step up from other innerspring competitors. The online-only sales model lets Saatva compete very well on price compared to more mainstream innerspring brands, like Beautyrest or Stearns & Foster.
You are a hot sleeper.
Saatva is an innerspring mattress, which means it already promotes airflow internally as compared to all-foam mattresses. Here is how Saatva describes the breathability of their mattress:
Due to the dual coil construction of our mattress, all our Saatva mattresses naturally sleep cool without the use of chemicals or gels, no matter which comfort level you are interested in.
Aside from our 100% organic cotton cover, (which by its nature has tiny holes throughout which will allow for consistent airflow), our foams are biobased and will not retain heat the way you would expect with a memory foam product.
RELATED: Saatva vs Nectar
Firmness Comparison
Sleep Number:
One reason why people tend to like Sleep Number beds is that you can adjust the firmness and support of your mattress (or your side of the mattress) at any given time using a remote that comes with the bed.
Your Sleep Number number (also called your Sleep Number setting) corresponds to your ideal firmness and support. Numbers range from 0 to 100 and the higher your number, the more air/firmer your Sleep Number bed will be.
Sleep Numbers are personal to you and can change when your sleep needs change. The model you choose will also affect your firmness and support. Picking a model with plush layers between the mattress top and the air chamber will feel different than a more standard model.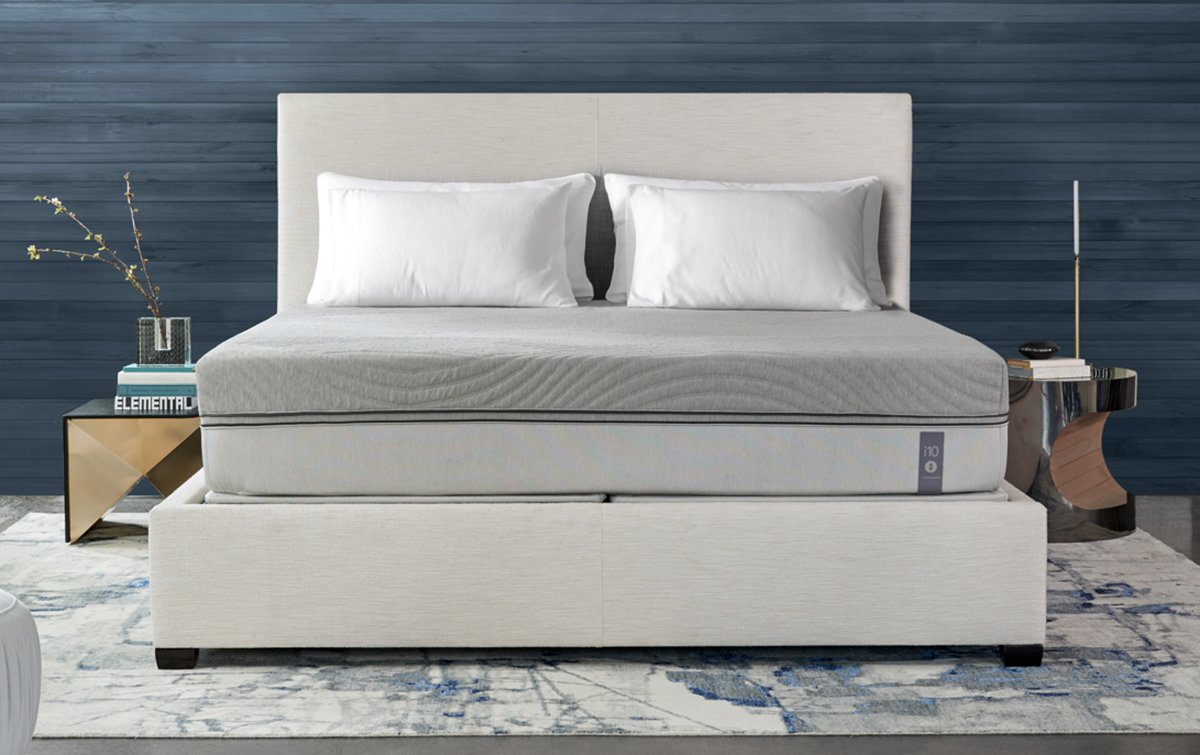 Sleep Number i-10 360 Smart Bed
Saatva (Luxury Firm):
Saatva's mattress comes in three comfort levels: Plush soft, Luxury Firm, and Firm. We reviewed the Luxury Firm version of the Saatva mattress – the one that 80 percent of customers prefer over the Plush Soft or Firm options. Saatva refers to the Luxury Firm as their "Flagship Level."
Based on our experience with the mattress, the Luxury Firm is fairly resilient and has good edge support. It has just enough give to be pressure-relieving for side sleepers but it is supportive along the back.
Unless you really need a soft or firm mattress, it would be worth going with the Luxury Firm, in our opinion.
This mattress has a true innerspring feel, despite the layer of foam on top for lumbar support. Those who are used to foam mattresses may feel that they're laying on their mattress as opposed to in it.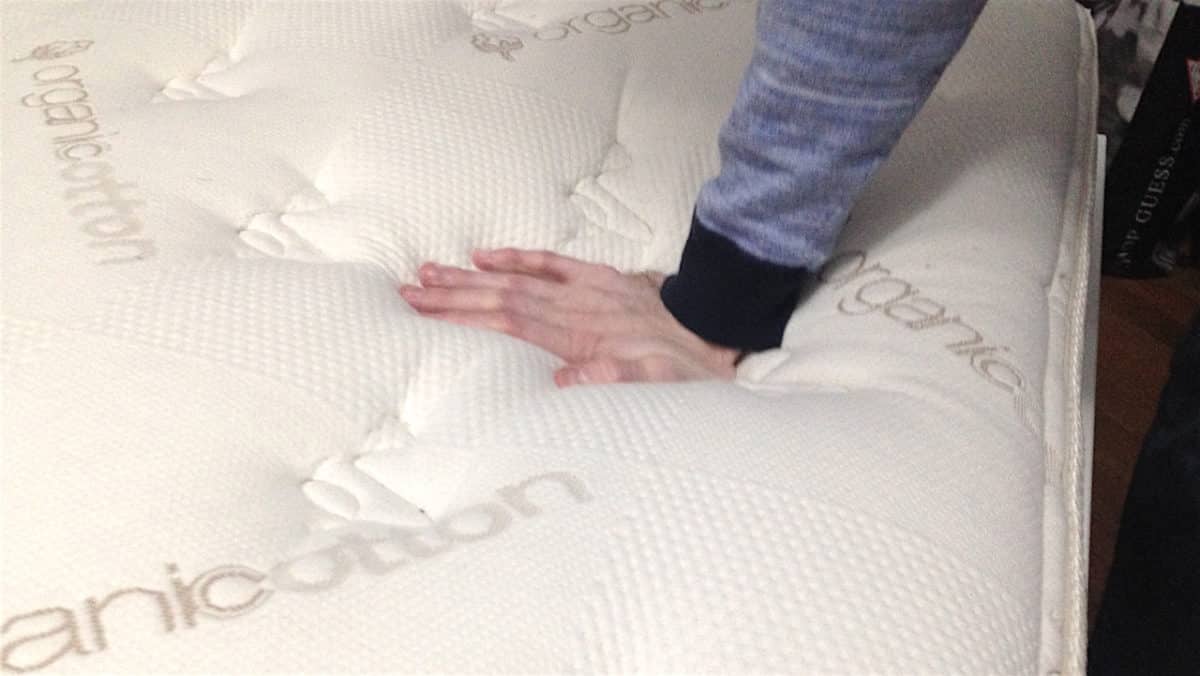 Saatva Luxury Firm
To see a video of how we assessed the firmness and feel of the mattress, click here.
Bottom Line
At their cores, Sleep Number is truly an adjustable air bed and Saatva has the feel of a traditional innerspring mattress.
If you have a decent budget and you want lots of options about what's within your mattress, as well as the ability to control your firmness and support at any moment, Sleep Number could be a great fit for you.
And If you like innerspring mattresses and you're looking at some of the higher-end luxury brands, the specs on Saatva's mattress are definitely comparable, making this bed a great value.
Sleep Number offers a 100-day trial period and Saatva gives you 120-days to check out their bed.
Don't forget to also check out our mattress comparisons page for more Sleep Number and Saatva comparisons like Sleep Number vs Leesa and Saatva vs Brooklyn Bedding. I hope this has been helpful.
Katie Golde
Katie manages the day to day operations of the Mattress Clarity news site and reviews sleep products in addition to writing and editing sleep news. She hails from Austin, where she lives with her growing family. She is a Certified Sleep Science Coach and has a master's degree in Journalism from Northwestern University and has a background in health and science content. Her work can be found in print and online publications like Discover Magazine, USA Today and The Huffington Post.