For many years, Casper has been near the top of the bed-in-a-box game. I have reviewed every Casper mattress, and I can say the company is one of my favorite mattress producers.
The Emma mattress is also very popular but, until recently, it was only available in Europe. Now that the Emma is shipping to the US, I was interested to pit it against one of the most popular online mattresses – Casper's original mattress.
Just quickly comparing these mattresses, they have a lot in common. They are both all-foam mattresses that feature a zoned construction.  If we look more closely, there are some notable differences.
When we take these differences into account, it should be easy for you to choose between the Casper and Emma mattresses.
Save $100

Casper

Use the code "MATTRESSCLARITY" to save $100 on your order!
A better match for heavier sleepers
A durable, long-term investment

CHECK PRICES

Emma

Click the button for the best deal on Emma
A more affordable option 
A good fit for lightweight people
Key Similarities
They are both a bit softer-than-average compared to other mattresses reviewed on this website.
They are both 12" thick and have a very similar construction and balanced foam feel.
They both feature a latex-like layer, memory foam, and a zoned construction.
Key Differences
The Casper should ship to your house more quickly, because the Emma is made in Europe.
The Emma is a cheaper mattress than the Casper, even after incorporating all possible discounts.
The Casper features an extra transition layer that is not found in the Emma.
The Casper weighs more than the Emma, so it may have better durability.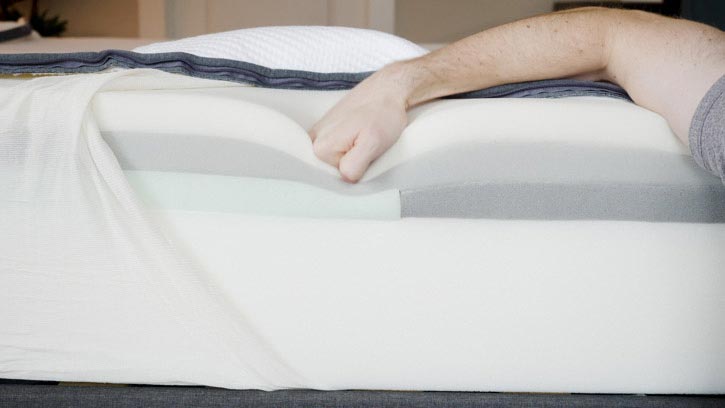 Casper Construction
The mattress is 12" tall and consists of four layers.
The Casper has a soft and thin cover that won't affect the overall feel of the mattress too much.
On top, there is 1.5" of responsive, open-celled foam that resembles latex.
The second layer is 1.5" of responsive memory foam that provides additional pressure relief.
Next, there is a 1.5" transition layer with Zoned Support that is firmer in the middle and softer underneath the shoulders.
On the bottom, there are 7" of support foam that is comprised of pretty standard polyfoam.
Read the full Casper mattress review, available here.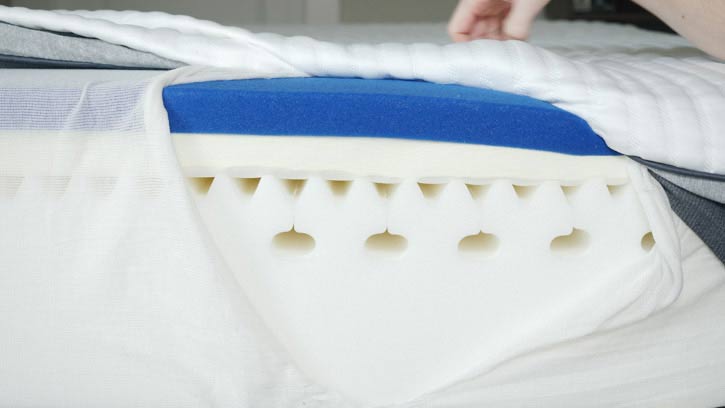 Emma Construction
The mattress is 12" tall and is comprised of three layers.
First, there is a Climate Regulating Cover that is thin and soft and won't affect the overall feel of the mattress too much either.
On top, there is a layer of proprietary Airgocell foam and a layer of memory foam beneath this.
The base layer features Adaptive Cut-out technology, which is what provides the zoning.
Read the full Emma mattress review, available here.
Construction Differences/Notes
The Emma's Airgocell's foam is soft and lets people sink into the mattress, and at the same time, it does have some qualities consumers usually find with latex. It is a responsive foam so after pushing one's hand in, it bounces back into place very quickly.
The Emma's Adaptive Cut-out technology creates some zoning, meaning the mattress is firmer toward the center (under the hips and lumbar area) and softer at the top (under the shoulder). As the name suggests, they actually cut pieces out of the base layer to make the shoulder area softer.
The Casper also features a zoned construction, but the design is different overall. First off, the Zoned Support is in the transition layer, not the base layer. Second, Casper uses a few pieces of foam with different firmnesses and where the center zone is firmer (under your hips and lumbar area).
The zoning on both mattresses should have a similar effect that makes both a great fit for multiple sleeping positions. When you're back-sleeping or stomach sleeping, the mattress should feel a bit firmer and more supportive. When you're side sleeping, you should feel some more pressure relief, and the mattress should feel softer and more comfortable.
The Casper features a transition layer, while the Emma does not, which should make the Casper a better option for mattress for larger people. Heavier sleepers often have issues "bottoming out" on foam mattresses, which happens when they press through the comfort layer and then into the support layers. This transition layer should ensure this doesn't happen on the Casper.
The Casper is a heavier, denser mattress, so with its quality construction and high-density materials, I would expect the Casper to be a very durable mattress. It might be a better long-term investment overall.
Firmness/Feel Differences
For me, these mattresses have a similar experience, and both feel like a 6/10, just a bit softer-than-average. I will say that these mattresses might feel softer or firmer depending on someone's sleeping position. They both have a zoned construction, so they could feel softer when people are on their side and firmer when they are on their back and stomach.
Also, someone's experience with the Casper and Emma is going to depend on their weight. I am 5'9″ and weigh 160 lbs. If someone is larger than me, they could push deep into these mattresses. Because of this, they could feel like the Casper and Emma are firmer than I thought.
Here is how it feels sleeping on the Casper:
The Casper is a very good fit for back sleeping. As mentioned above, the center of the mattress is actually firmer than the rest. This gives me the support I need for my lumbar area. I also feel my hips sinking in just a fair amount.
When I move to my side, the mattress feels softer than when I was on my back. The mattress is actually softer under my shoulder, so I am feeling very little pressure there.
Stomach sleeping, the Casper is supportive enough for someone of my size. The center zone is firmer and is providing support for hips. I feel well supported overall, and it is one of our best mattresses for stomach sleepers.
Here is how it feels sleeping on the Emma:
Starting on my back, the Emma is a good match. Like on the Casper, the center of the mattress is firmer than the rest. I am getting enough support for my lumbar area. I would say I am getting equal support on these two mattresses. See our best mattresses for back sleepers for more like the Casper and Emma.
Side sleeping, the Emma is also working well for me. The mattress is softer in the shoulder area, similar to the Casper. I am feeling nice pressure relief. I am getting the same amount of pressure relief on both mattresses.
Stomach sleeping, I am feeling less support than I felt on the Casper. I do need more support, especially under my hips.
Both of these mattresses have a balanced foam feel. The comfort layers are soft yet responsive, and I sink in a bit, but it is not difficult to move around on either mattress.
See more of how I felt about the firmness and feel of the Casper in the video below.
The video below shows off the overall firmness and feel of the Emma mattress.
Motion Transfer Differences
Sleeping with a partner can be difficult. You're fighting over the sheets, and there never seems to be enough room.
One of the main issues that couples deal with is motion transfer. On some mattresses, you could feel every move your partner makes. On other mattresses, you might not feel their movements at all.
To test out how well these mattresses handle motion transfer, I employ a glass of water. I place the glass of water on both mattresses and then push into the surrounding areas. I don't see too much disturbance on either mattress.
I also lay on both the Casper and Emma, while Marten moves around on the other side of the mattress. I don't feel his movements transfer to me.
This all lets me know that both mattresses handle motion transfer reasonably well and both should be good matches for couples who don't want to be disturbed by their partner's movements at night.
Make sure to see our best mattresses for couples.
Now, see how the Emma deals with motion transfer with the quick video below.
Edge Support Differences
For those of you who sleep with a partner, it is worth keeping edge support in my mind. As I said before, when you are sleeping with a partner, space is at a premium. You want to make sure that you and your partner can sleep toward the edge of the mattress without falling out.
The Casper and the Emma are about equal in terms of edge support. Sitting near the edge of both mattresses, they do collapse a good bit. Also, when I lie down near the edge of these mattresses, I don't feel very secure. I don't feel like I am necessarily going to fall off, but I have felt better support with hybrid and innerspring mattresses.
People can see the differences in Casper and Emma's edge support in the photos below.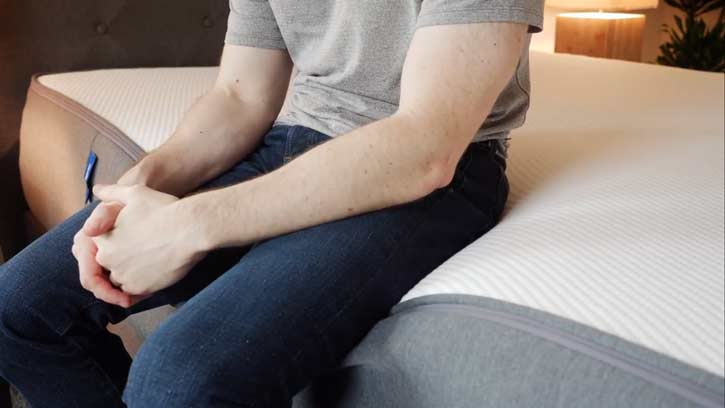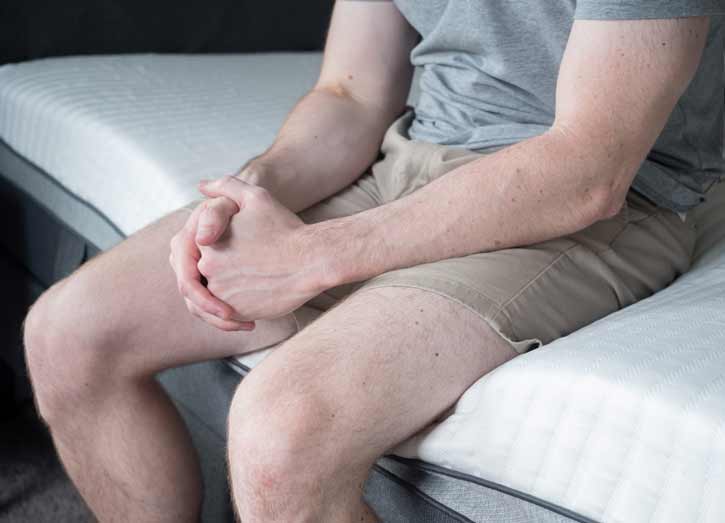 Marten's Take
Whether you weigh a lot or a little, your weight and size are going to affect your experience on a mattress. Since I am 5'9″ and 160 lbs, let's see how a larger person felt when sleeping on these mattresses. Marten is 6'7″ and weighs 230 lbs.
In my experience, both these mattresses were a 7/10 in terms of firmness. They felt firmer to me than they did to Joe. I am a larger person than Joe, so I am pressing through the softer comfort layers and hitting the firmer layers beneath.
Here is how I feel sleeping on the Casper:
Starting on my back, the Casper is a very good match for me. The Zoned Support is supporting my lumbar area, and my hips sink only a little bit. I also feel supported overall.
While I am feeling some more pressure than Joe did, the Casper is still a decent match for side sleeping. I do feel the Zoned Support going to work, especially near my shoulder.
Stomach sleeping, the Casper is not supportive enough for me. Joe felt enough support but, since I am larger, the mattress isn't supporting my hips enough.
Here is how I feel sleeping on the Emma:
I also feel like the Emma is a good match for back sleeping. This mattress also has a zoned construction so I am feeling nice support on my lumbar area, and my hips are sinking in the right amount.
When I move to my side, the Emma is a very good match for me. I actually feel better pressure relief than I felt on the Casper.
Similar to the Casper, the Emma is not giving me enough support on my hips. I am sinking too far into the mattress, and I need more support on my hips.
If you are a heavier back sleeper, both mattresses could work for you. I personally felt better side sleeping on the Emma, so heavier side sleepers should check it out. Heavier stomach sleepers are going to want to find a firmer, more supportive mattress.
I am not surprised that Marten thought both mattresses were good for back sleeping. However, I did think he would feel better pressure relief on the Casper. Those who are much larger than Marten (over 300 lbs) should still prefer the Casper for side sleeping.
Pick Casper If…
You are looking for a well-known brand name mattress- While the Emma only recently hit the US market, the Casper has been around for a number of years. It is one of the most popular bed-in-a-box mattresses, has more reviews, and the company's customer service should be better at this time.
You are a larger person- If someone is a heavier sleeper, the Casper should be the way to go. It has a transition layer that should keep people from dropping through the mattress, so people should feel better support on the Casper and it should stand up to many years of use.
You are looking for a long-term investment. While the Casper does cost more than the Emma, it should be a longer-lasting mattress. If people want a durable mattress that won't sag, take a look at the Casper.
Pick Emma If…
You want a more affordable mattress- The Emma is going to cost people less than the Casper. These are very similar mattresses, so if you just can't decide, going with the Emma could save you some money up front.
You are a lightweight sleeper- Lighter people do not have the support needs that heavier people have. Because of this, the Emma should offer all the support that lighter sleepers require. Also, lighter side sleepers should get proper pressure relief on the Emma.
You need a mattress for a guest room or teenager- The Emma is not as complex of a mattress, but it should be a good match for someone's spare bedroom or teen's bedroom. It is more affordable, and this simpler mattress will be comfortable and supportive enough for guests or teens.
RELATED: Best Mattress For Lightweight Sleepers
Overall
The Casper and Emma both have a lot to offer, but this information should help people decide which mattress is going to serve them best. Consumers should read through this article a few times, and also check out our other popular Casper comparisons like Casper vs Puffy and Casper vs Tempur-Pedic. After assessing their own needs and preferences, consumers can make a more informed purchasing decision.
Marten Carlson
Marten is Senior Editor at Mattress Clarity. He covers the mattress industry as well as sleep science news. He is specifically interested in the connection between sleep and overall health. Marten has written for media publications like Consequence of Sound and received a master's degree in Film Studies from Emory University. He comes from Franklin, Indiana, and spends all the time he can writing, directing, and acting in films. He has directed genre short films and features. His newest film, Starlets, recently premiered at the River Town Film Festival in Clinton, NJ. He also stars in the upcoming thriller, Sour Bear. His next film, At The Hop, is a hot rod actioner with a horror twist.