Editor's Note: The Brentwood Home Sequoia mattress has been discontinued.
Brentwood Home is a primarily online mattress company that sells latex, spring, and memory foam mattresses.  I tried the memory foam Sequoia mattress myself for this review, which is the higher-end mattress from their 2016 line.
Overall I really like the company Brentwood Home, and had a good experience on the mattress – though I had a few complaints as well (see how Brentwood Home compares HERE).  I think people looking for a high-end mattress at an affordable price will do well here.
Read on for my full Brentwood Home review.
You will love Brentwood Home if you…
Want a "bed-in-a-box" with options – Brentwood Home fits the mold of the new popular online-only company (great value, great return policy, etc) but has way more options, both in terms of type of mattress (memory foam, latex foam, spring) and firmness
Want great value – This is the second mattress I've reviewed from Brentwood Home, and I'm truly impressed by the quality of the mattresses vs the price.  One of the best mattress values out there in my opinion, even considering the other online products.
Want a strong USA brand – Brentwood Home has been designing and manufacturing mattresses in Los Angeles for quite a while.  They have a really great brand (that resonates with me at least) and have a proven track record of quality.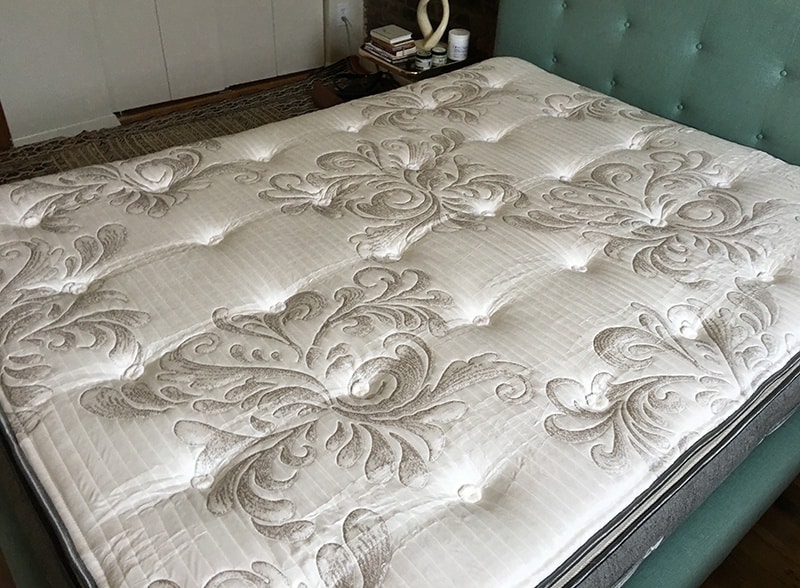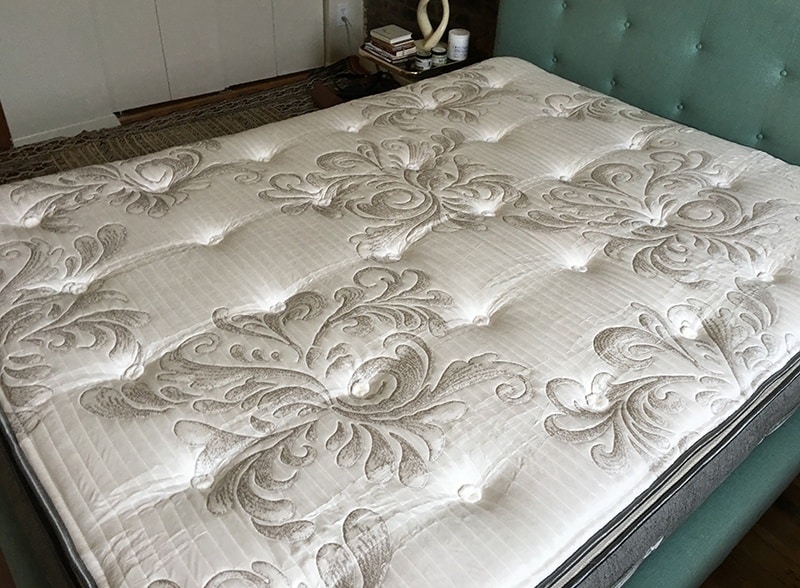 You may not want Brentwood Home if you…
Don't want options – part of the draw (for some) of the newer online-only companies is there is just one option that targets the average sleeper.  While Brentwood Home has this mattress in their wheelhouse, they also have a number of other options, so people need to know a little bit about what they want to make a decision.
Want very low budget – Brentwood Home is great value, but some readers want a fine mattress at a very low price point (~$400 or less).  If people want any piece of foam to get them through the night, Brentwood Home may be out of budget.
Feel and Firmness
This video shows the feel and firmness of the Sequoia mattress, the firmest (and most expensive) of the Brentwood Home memory foam options:
The mattress clearly has the memory foam feel, since the top layer is memory foam.  However it does bounce back a little quicker than a pure memory foam mattress due to the latex under the memory foam.  If people want a quicker reacting mattress (easier to move around, get out of bed) they should check out their latex mattress options.
This is an interesting feel, having both cushion and a firm quality.  I would put at an 7.5 out of 10 on the firmness scale.  I recommend the firmest option if people prefer a firm mattress, or are primarily a stomach sleeper.  They also have the Coronado (medium firm) and the Sierra (firm feel) in their memory foam line.
Motion Transfer Test

The mattress is high quality memory foam, so as expected it performs very well in the motion transfer test. The other firmness options in the memory foam line should perform similarly well.
Memory foam typically performs the best for motion isolation, so though I haven't tried the latex or spring options from Brentwood Home, people can expect they perform slightly less well. However they still may perform at a high level, and may still be a great mattress for couples.
Brentwood Home Mattress Construction
Brentwood Home mattresses are manufactured in the Los Angeles factory.  Naturally each mattress in the line will vary based on the firmness and comfort layer material, so reference the Brentwood Home website for any manufacturing concerns (they are very transparent with construction).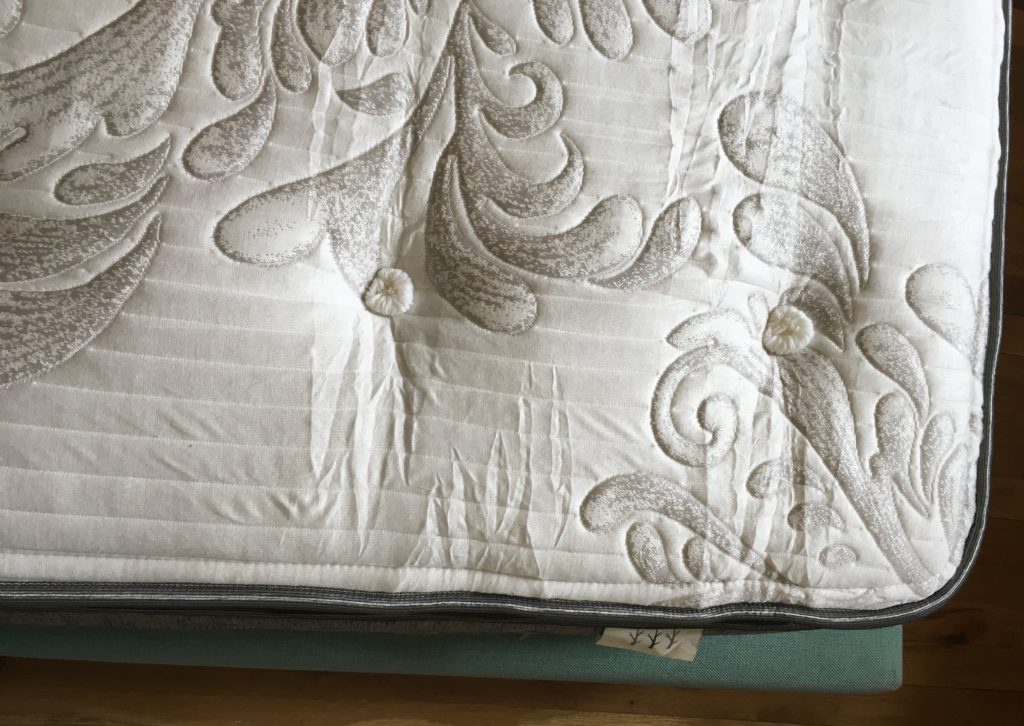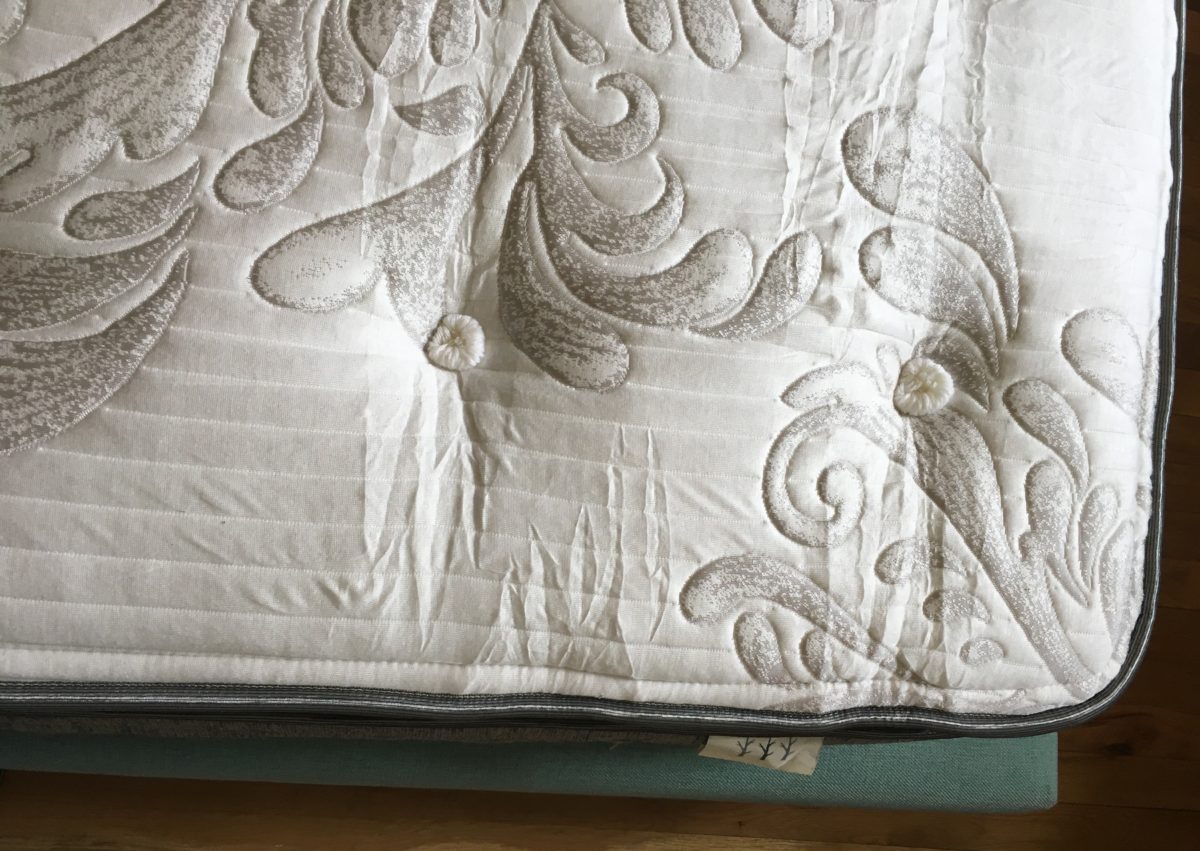 The Sequoia consists of:
Comfort layer: 2 inches of gel memory foam
Next layer: 2 inches of natural latex
Next layer: 2 inches of Airlux ventilated foam
Base layer: 6 inches of therapeutic base foam
In the photo above people can also see the wool yarn tufting, which I think is a great feature.  It has a nice aesthetic, but note that it runs throughout the whole mattress (holding it together) so that the layers are held together without chemical adhesives.
My Experience With Brentwood Home
I slept on this mattress for a little over a week, and overall had a good experience.  It definitely has the feel of a very high-end mattress, and I really enjoyed the small touches (handles, tufting, etc) in the design.
I'm a side-sleeper, so I found the Sequoia to be overall comfortable, but perhaps a little too firm for me.  I suspect that in this line the Coronado would be a better fit for me personally.  The support was really outstanding, and I'm glad to say the mattress didn't sleep hot (even though I'm testing it as New York summer is starting).
This is the second mattress I have reviewed from Brentwood Home, and again they impressed in terms of brand and mattress quality.
Brentwood Home vs Tempurpedic
In my mind Brentwood Home is best known for their memory foam mattresses, and so naturally a Tempurpedic comparison always comes up.  In my mind the main differences are in quality, price, and construction.


Quality
The higher-end mattresses from Brentwood Home (including the Sequoia I have here) definitely give the medium-range Tempurpedics a run for their money.  The sleep experience and feeling of high quality memory foam were both very similar for me.  The lower-priced Brentwood Home mattresses are still good quality (and great value), but I wouldn't compare them directly to Tempur-pedic in terms of quality.
Price
As I've said before, Tempurpedic makes some great mattresses, but they are very expensive.  Brentwood Home wins hands-down on price (and value).
Construction
Tempurpedic typically sticks with a full memory foam feel, while people will note that Brentwood Home included a layer of latex in their memory foam line.  This makes Brentwood Home a little more responsive than Tempurpedic.
Other things to note:
All mattresses have free shipping and a 120 night guarantee
They are made in Los Angeles, USA
Also offer other sleeping products, as well as items for kids and pets
Overall Rating
Brentwood Home Mattress
Summary
This is the second mattress from Brentwood Home that I have reviewed, and I had a very good experience. I tried the memory foam Sequoia, and am looking forward to trying their latex and spring options as well.
I had another good experience with Brentwood Home, and again think they delivered on value. I haven't tried their spring or latex mattresses, so I would be interested to hear if anyone purchases and has a good/bad experience (see all of our mattress reviews).
Brentwood Home is a little less recognized than a lot of mattresses I review (at least here on the East coast), but I think they are a stand-out company and definitely deserve a strong look during someone's mattress search.