Air mattresses don't always bring the best memories to mind – I remember blowing them up by the side of a campfire, lungs tired and nerves frayed, or waking up on the rocky ground after the mattress had completely deflated.
That's why I was so interested in the AeroBed Air Mattress with Built-in Pump and Headboard – it looks more like an actual mattress one would put in a guestroom and less like those products that have caused me such pain while camping or sleeping at a friend's house in middle school.
The AeroBed is one of the most deluxe air mattresses I have come across and features a pump system that maintains one of three firmness settings for the entire night – it also has a headboard!
Those who are looking for a luxury air mattress because I'm about to dive into my in-depth AeroBed air mattress review!
AeroBed Deals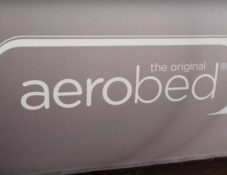 The AeroBed features three firmness settings and a very luxurious design - click the button for the best deal on AeroBed. 
The AeroBed Might Work For …
Those who want an air mattress with multiple firmness options. The AeroBed comes with three firmness settings: Soft, Medium, and Firm. This allows sleepers to choose exactly what firmness they want based on their preferences – for instance, side sleepers can opt for the Soft setting and those who need the best mattress for stomach sleepers can choose the Firm setting.
People who want something to stay at the same firmness all night. The AeroBed features a Secondary Comfort Lock that actually pumps back air into the mattress while one is sleeping. This means sleeper should not be waking up on a deflated mattress.
Guests. It's nice to have a full guestroom set up with a foam mattress, sheets, and the whole nine yards. For those who do not have space or budget for this, the AeroBed is a great option – it can be set up anywhere and offers fantastic support and comfort for any visitors one might have. It also has a headboard, so guests shouldn't be knocking off their pillows at night.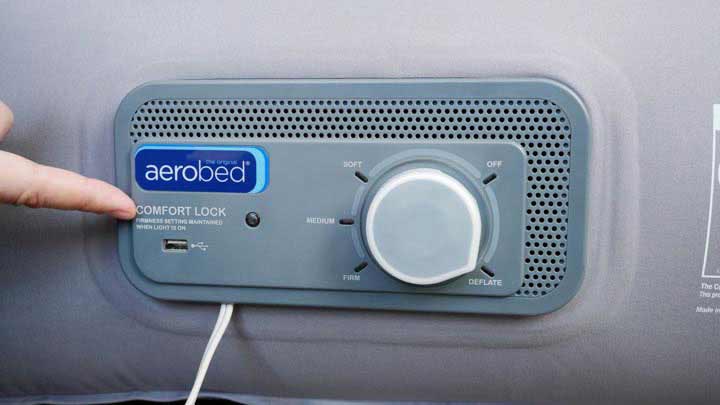 The AeroBed Might Not Work For …
Those who want something more affordable. The AeroBed has a lot to offer, but it is pricier than other many other air mattresses I have tried – a Queen size at full price goes for around $350.
People who want something for camping. The AeroBed is a larger air mattress and is about 20-inches in height; because of its size, it might be too large for many tents. Those who need something to inflate in the back of an SUV or inside the confines of a tent might want to look for something on the smaller side.
Those who want to choose their own specific firmness. The AeroBed's three firmness options are a great feature, but the air mattress does not allow sleepers to really choose their own specific firmness. It is difficult to let out just a bit of air to find the exact firmness that one desires.
RELATED: Best Cheap Mattress

AeroBed Air Mattress Design And Construction
First off, the AeroBed comes in three sizes: Twin, Full, and Queen. Whatever size one chooses, the AeroBed will be 20-inches tall – this is taller than a lot of air mattresses, and this comes from the two layers. The AeroBed almost looks like a standard mattress, with a big base and a comfort layer atop that.
The entire AeroBed is made of durable, laminated PVC that is designed to resist punctures. On top of the mattress, the AeroBed features a brushed polyester layer and an anti-microbial treatment – the polyester should make the top of the mattress less slippery, and the anti-microbial treatment should keep the top of the mattress clean and free of mold and fungus.
There are a few features that really make the AeroBed stand out. First off, it features a built-in pump with three firmness settings – simply plug the mattress into the wall, dial to the desired setting, and the mattress will inflate. There is also a deflate setting that will pump air out of the mattress so people don't have to awkwardly push air out.
There is also a Secondary Comfort Lock, a second pump that pumps air into the mattress while one sleeps – it gauges the firmness of the AeroBed and, if any air has come out, it will rectify the situation. This pump is more silent than the main inflation pump and shouldn't wake up sleepers during the night – just make sure to leave the mattress plugged in overnight.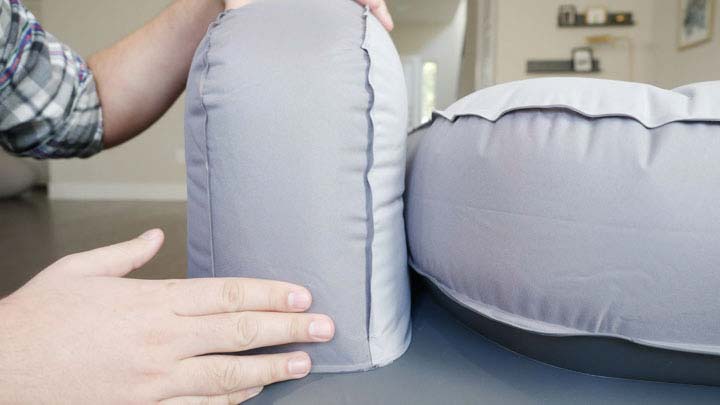 The headboard is also a fantastic feature – it extends a few inches past the mattress and gives the AeroBed more of a "real" bed look. It should also ensure that the pillows don't fall off the top of the mattress.
Last but not least, there's even a USB port built into the pump area! If the mattress is plugged in, sleepers can plug a USB cord right into the AeroBed and charge their phones or tablets.
AeroBed Deals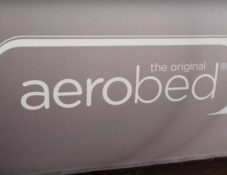 The AeroBed features three firmness settings and a very luxurious design - click the button for the best deal on AeroBed. 
My Experience
When I'm reviewing an air mattress I first look at how it inflates and how long it takes to inflate – as I said above, this is my least favorite thing about air mattresses. However, the AeroBed's built-in pump gives the whole thing a very "set it and forget it" feel to it – I plug in the air mattress, set the dial to Firm and press the button. Starting with the AeroBed completely flat, it takes about two minutes for it to fully inflate.
I tried the AeroBed out with various firmness settings – on Firm, the mattress was supportive enough for me when I was stomach or back sleeping. On the Medium setting, I found the AeroBed to be a good match for back sleeping and, on the Soft setting, it was fitting for side sleeping.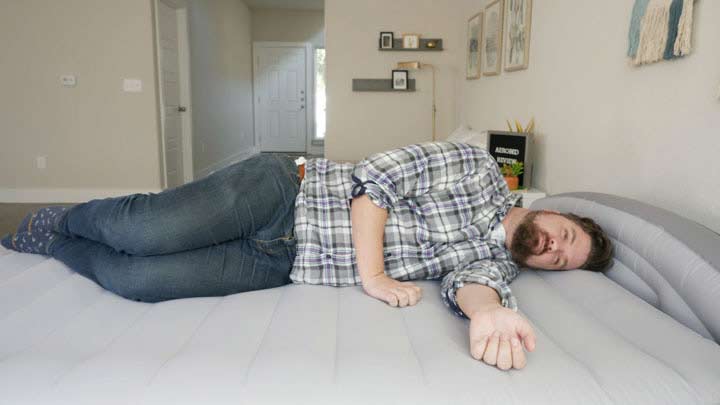 In general, the AeroBed is a comfortable air mattress – of course, it is not like a memory foam mattress, but I am surprised by how well I slept on the AeroBed.
Waking up in the morning, I was also surprised that the AeroBed was just as firm as when I went to bed. The Secondary Comfort Lock definitely does its job, but it does make a bit of noise that might disturb some people during the night.
Deflating the AeroBed was no real chore and, using the Deflate setting, the mattress was mostly deflated in about two-and-a-half minutes. It was necessary to press on the AeroBed to get some excess air out, however.
Overall
The AeroBed is a luxurious air mattress that could be a fantastic option for those who want firmness options and something that won't deflate overnight. However, just keep the price in mind as this is currently $350 for a Queen-size.
FAQs
What is the warranty on an AeroBed?
According to the company, the AeroBed does come with a limited warranty that covers defects and any faulty workmanship.
Does an AeroBed need to stay plugged in.
In order for the AeroBed to stay properly inflated during the night, it does need to stay plugged in all night. However, it is a good idea to unplug the AeroBed when it is not in use.
What is an AeroBed made out of?
The AeroBed is made out of laminated PVC, a durable type of vinyl that is designed to prevent tearing and punctures.
How much weight can an AeroBed hold?
It does depend on the model, but the Queen-size AeroBed with Built-In Pump can hold up to 600 lbs.
Marten Carlson
Marten is Senior Editor at Mattress Clarity. He covers the mattress industry as well as sleep science news. He is specifically interested in the connection between sleep and overall health. Marten has written for media publications like Consequence of Sound and received a master's degree in Film Studies from Emory University. He comes from Franklin, Indiana, and spends all the time he can writing, directing, and acting in films. He has directed genre short films and features. His newest film, Starlets, recently premiered at the River Town Film Festival in Clinton, NJ. He also stars in the upcoming thriller, Sour Bear. His next film, At The Hop, is a hot rod actioner with a horror twist.