If you have sensitive skin or allergies, are concerned about avoiding harmful chemicals, or are environmentally conscious, you might be looking for an organic mattress. Organic beds are great options for any sleeper, but these mattresses often come with a hefty price tag. To help you figure out what exactly an organic mattress is and whether you should spend money on one, we've broken down all the different types of organic mattresses for you here.
Read on below to learn more about organic mattresses, what they're made of, and how they compare to other types of mattresses.
What Is an Organic Mattress?
Organic mattresses are made of natural materials like organic cotton, organic wool, natural latex, and organic bamboo. A true organic mattress will always be fully certified by either USDA Organic, Global Organic Textile Standard (GOTS), Global Organic Latex Standard (GOLS), Organic Content Standard, and/or GREENGUARD Gold. If your mattress is marketed as organic but it is not GOLS or GOTS certified it may use some organic materials, but it is probably not 100% organic.
If you already know you want an organic mattress but aren't sure where to find one, check out our Best Organic Mattresses roundup to shop certified beds. If you're shopping on a budget, consider one of the best organic mattress toppers instead.
Top Organic Mattress Materials
While organic mattresses can be made of many different non-toxic materials, most organic mattresses use the materials below. The traditional polyurethane foams used in hybrid, memory foam, or standard foam mattresses are often synthetic rather than organic. So, if you notice a new mattress you are considering uses these foams, it may not truly be organic.
Organic Cotton
Organic cotton is often used in the cover of organic mattresses. Organic cotton is grown from non-genetically modified (non-GMO) plants. Certified organic cotton covers are high-quality and great for sensitive skin.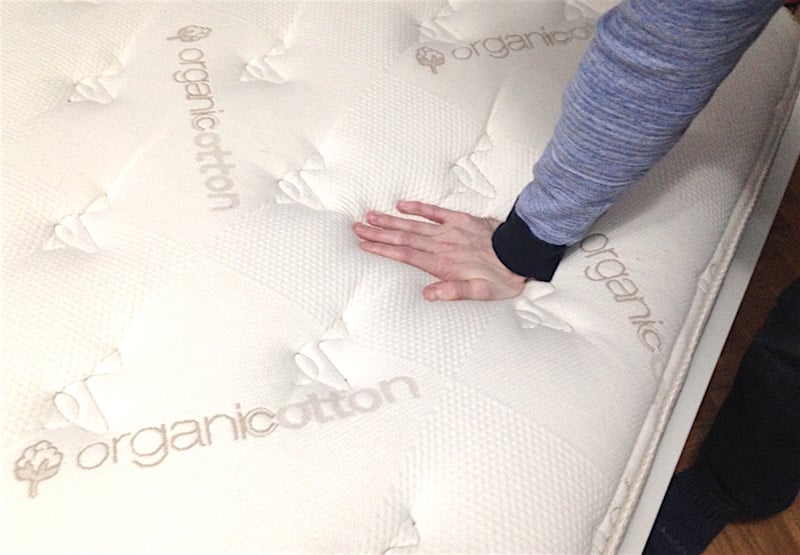 Wool
Organic wool is commonly used in organic mattresses. Wool is a natural fire retardant, which means mattress brands can encase their mattress in wool to avoid using chemical flame retardants (like PBDEs) to keep you safe at night. Hot sleepers might be worried about sleeping on wool, but wool is naturally thermoregulating! That means it will keep you cool in the summer and warm in the winter.
Latex
Latex is a plant-based material made from rubber trees. Organic latex is either OEKO-TEX® or GOLS certified. This means the latex was grown without the use of pesticides and was not treated with any toxic chemicals like formaldehyde when it was processed. Latex growers with an organic certification are also fair trade and supervised by a monitoring body to ensure they are following best practices for sustainability. So those looking for an eco-friendly mattress or shoppers trying to reduce their personal carbon emissions might like organic latex.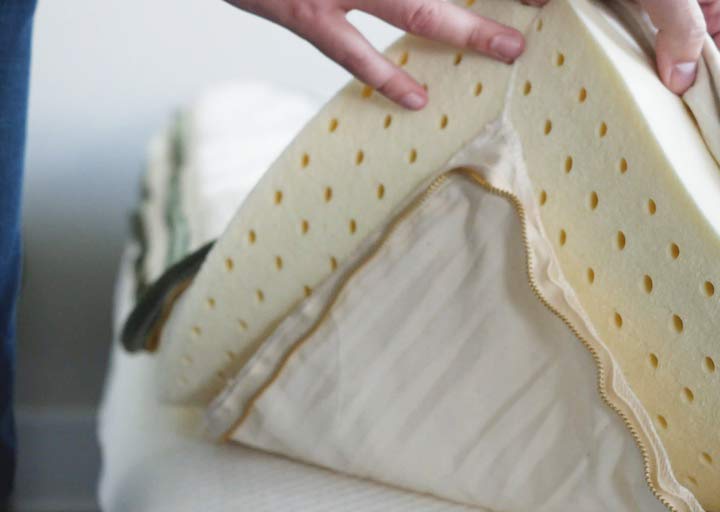 Bamboo
You might see bamboo in your organic mattress as well. Often used in mattress covers, organic bamboo is ultra-soft, eco-friendly, and naturally cooling. Bamboo sheets and bedding are great complements to a new green mattress.
Interested in a bamboo bed? Check out our list of the best bamboo mattresses (but keep in mind that these beds are natural, not organic).
Types of Organic Mattresses
There are a few different types of organic mattresses on the market. Most commonly, you can find organic latex, hybrid, or pillow top mattresses.
Organic Latex Mattresses
The best latex mattresses feel cool, come in a variety of firmness levels, and feel nice and springy. If you enjoy the bouncy support of an innerspring mattress, you'll probably like a latex bed. And though latex mattresses can be expensive, they are also the most durable type of mattress on the market.
Organic latex mattresses are usually made entirely of latex foam and covered by an organic cotton or bamboo cover. Normally, a dense dunlop latex makes up the support core of the bed, while a softer talalay latex top layer cushions pressure points at the shoulders and hips.
Organic Hybrid Mattresses
Organic hybrid mattresses normally combine a top layer of latex foam with organic steel coils. They are lighter and easier to move than all-latex mattresses and might offer additional pressure relief and body contouring. Keep in mind that not all hybrid mattresses are organic.
For example, if your hybrid mattress uses memory foam it is not organic. Memory foam mattresses can never be organic because memory foam is made of synthetic materials. That said, all CertiPUR-US® certified memory foam is perfectly safe to sleep on and is low in volatile organic compounds (VOCs), which some sleepers are concerned about inhaling during off-gassing.
Interested in a hybrid bed? Check out our Best Hybrid Mattresses roundup, or consider the Avocado Green mattress, which is an awesome medium-firm hybrid and a certified organic mattress.
Organic Pillow Top Mattresses
Organic pillow top mattresses have a top layer made of quilted cotton, bamboo, or wool that creates a plush, luxurious feel. Pillow top mattresses are great picks for side sleepers. These pillow tops are often placed over latex foam or steel coil layers for a springy-yet-soft feel. Sound good to you? Check out our list of the best pillow top mattresses.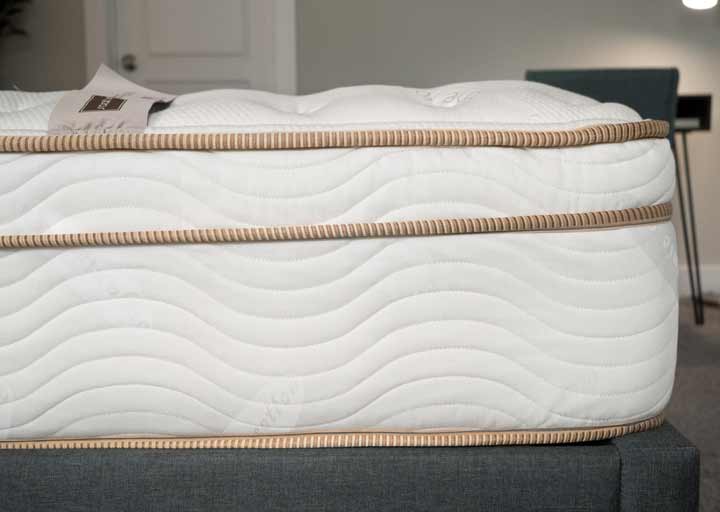 Organic Mattress Certifications
Like we said earlier, your mattress needs to be certified for you to know it meets organic standards. But all those acronyms can be really confusing! To help, we've broken down the most important organic certifications below. Visit our guide to mattress certifications to learn more.
USDA Organic
A USDA-certified mattress has been certified by the United States Department of Agriculture as organic. These beds contain 95% organic fiber. But they might contain up to 5% synthetic materials.
Global Organic Textile Standard (GOTS)
GOTS-certified mattresses also contain at least 95% organic fibers. GOTS certifications are more stringent than USDA certifications, because GOTS will certify the entire supply chain (i.e., where your mattress materials were grown, how the materials were shipped, how the materials were processed, etc.). Avocado mattress is one of very few GOTS-certified mattress manufacturers in the United States.
Global Organic Latex Standard (GOLS)
GOLS-certified mattresses are made with 95% organic materials. Like GOTS, GOLS examines and certifies the entire supply chain. Avocado and PlushBeds are two of only five GOTS-certified mattress manufacturers in the United States.
Organic Content Standard
Organic Content Standard certified mattresses are made out of materials that are certified by the USDA. Mattresses with an Organic 100 seal are made of 100% organic materials. Mattresses with Organic Blended seals are natural but are usually made with less than 95% organic materials.
GREENGUARD Gold
GREENGUARD certified mattresses have low VOC emissions. This means that they are very low in volatile organic compounds and won't emit toxic chemicals when you unbox them. GREENGUARD is an extremely stringent program, and you can trust that a GREENGUARD Gold certified bed is safe to sleep on.
Benefits of Organic Mattresses
Organic mattresses offer a ton of awesome benefits, whether you're worried about your own health or the health of the environment.
Sustainability
Organic certified mattresses are often made with sustainability in mind. If you're looking to reduce your personal carbon footprint, purchasing plant-based materials can make a big difference. Plus, organic mattresses are normally high-quality and durable, meaning you won't be recycling your bed in just a few years.
Durability
Organic mattress materials are extremely durable. High-quality latex can last for over up to 20 years. So, the initial cost of an organic bed is often worthwhile, because you won't need to replace it for many years to come.
Hypoallergenic
If you deal with asthma or allergies, organic mattresses could be a good fix. Organic wool and latex are naturally hypoallergenic, which makes these materials great for anyone looking to breathe easier at night.
Breathability
Organic mattresses work well for hot sleepers. Latex, wool, cotton, and bamboo are all extremely breathable materials. In fact, latex is the most cooling foam layer available! We highly recommend these beds to hot sleepers.
Conventional Mattress Hazards
Conventional mattresses may contain pesticides, flame retardant chemicals, and carcinogens. They might also have a harmful carbon footprint depending on how they were produced and can worsen allergies or skin sensitivities. You sleep on a mattress every single night, and it is often worth the investment to make sure you're sleeping on a safe, chemical-free surface.
Are There Chemicals in Mattresses?
Mattresses, especially boxed mattresses, might emit VOCs when they are unboxed in your home. These chemicals are normally trapped in polyurethane during manufacturing and can also include some chemicals used in flame retardants and plastics. While off-gassing is generally safe, some off-gassing might lead to cancer, infertility, or developmental disorders. But most beds do not contain dangerous levels of VOCs. 
If you are pregnant or shopping for an infant, you might want to take extra care and find an organic mattress. If not, stick to well-known brands that use CertiPUR-US® certified synthetic foams, and you should be just fine.
Is Organic the Same as Eco-Friendly?
Organic mattresses are not the same as eco-friendly mattresses. Organic mattresses are often eco-friendly, but eco-friendly beds are not always organic. Eco-friendly mattresses are made with environmentally conscious materials to reduce manufacturers' carbon footprint, but they may be made with synthetic materials or chemicals. If you want an organic mattress, you'll need to be sure it is certified by one of the above boards. Advertising a bed as eco-friendly is not the same as advertising a bed as organic.
How Do Organic Mattresses Compare to Other Eco-Friendly Options?
Organic mattresses are certified by a board and contain at least 95% organic materials. Other eco-friendly mattresses still have plenty of benefits but are not certified and likely contain more synthetic materials.
Organic vs Natural Mattress
Natural mattresses are often made of a blend of synthetic and natural materials. But, natural mattresses use fewer synthetic materials than standard mattresses. Additionally, natural mattresses are more widely available and more affordable than certified organic mattresses. These beds tend to be more environmentally friendly than standard mattresses and often feature cotton, wool, bamboo, and latex. So, if you're looking to shop green on a budget, a natural mattress might be the best pick for you.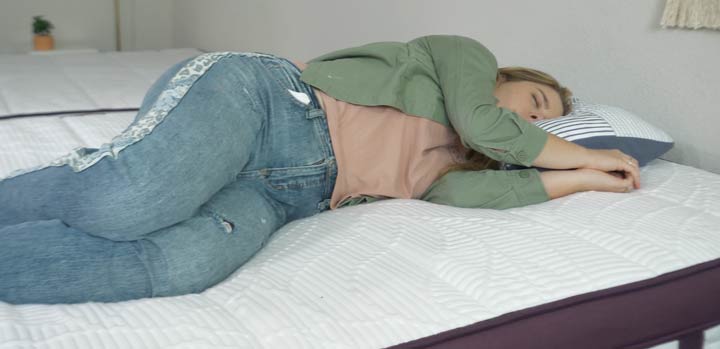 Organic vs Hypoallergenic Mattress
All organic mattresses are hypoallergenic. But not all hypoallergenic mattresses are organic. Many hypoallergenic mattresses just feature organic cotton covers (or covers designed with hypoallergenic synthetic materials). Hypoallergenic mattresses are also often made of copper-infused memory foam, which is quite comfortable and naturally bacteria-resistant, but synthetic. If a bed is advertised as hypoallergenic, that does not mean it is organic or free of VOCs.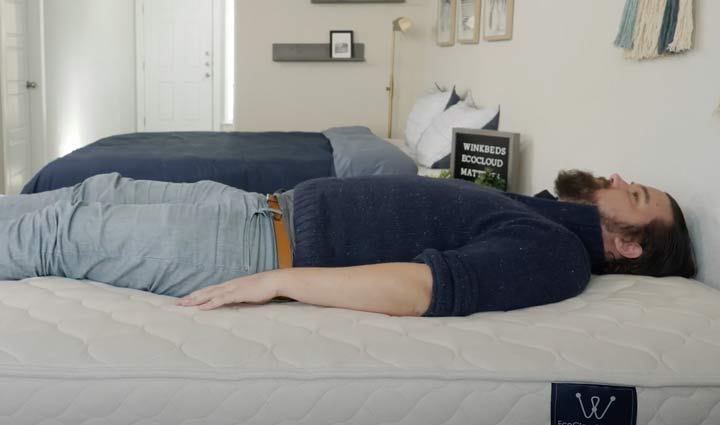 Should I Buy an Organic Mattress?
It depends on your preferences! If you want the health benefits or peace of mind an organic mattress offers, these beds are definitely worth the investment. Especially because a high-quality organic mattress should last longer than a non-organic bed. But, if you're shopping on a budget, a natural mattress or organic mattress topper might meet your needs just fine.
FAQs
Check out our FAQ section to learn more about organic mattresses.
What is the best organic mattress?
It depends on what you need! Side sleepers, back sleepers, and stomach sleepers will all prefer different beds. Check out our list of the best organic mattresses to find the best option for your sleep needs.
Do I need an organic mattress?
Sleepers who want to know they are sleeping on completely natural materials made without any chemicals or synthetic fibers do need an organic mattress. Those who want an environmentally friendly bed made of mostly natural materials will do just fine on a natural mattress.
How important are organic crib mattresses?
We recommend chemical-free organic crib mattresses because babies often have sensitive skin and are more susceptible to toxins than adults. Our crib mattress buying guide can answer all your baby bedding questions in more detail.
Are non-organic mattresses unsafe?
Non-organic mattresses from reputable brands are safe. Look for CertiPUR-US® certified foams if you're concerned about safety and want to save money. Or consider a natural mattress like the Awara, which is safe and eco-friendly, but a little cheaper than a certified organic bed.
Madison Schaper
Madison is an ex-mattress tester and current law student. When she's not studying, she puts her accumulated mattress and bedding knowledge to good use writing articles for Mattress Clarity. A few of her favorite non-work activities include trying new restaurants, reading short stories, and watching too much reality TV.