If you're in the market for some high-quality, luxe feeling bamboo sheets, the Ettitude Bamboo sheets are right up your alley. If you've seen this brand around, or seen some ads while scrolling through social media, I'm here to help you find out if they're worth it.
For this unbiased Ettitude Signature Sateen sheets review, I've spent a lot of time testing these sheets out. From my testing experience (which includes sleeping on them), to care instructions and how they compare to similar sheets on the market, I've covered it all.
Ettitude Signature Sateen Sheet Set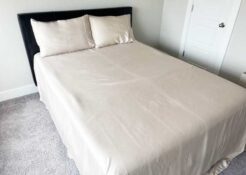 If you're looking for high-quality, eco-friendly, silky bamboo sheets the Ettitude Signature Sateen sheets are for you.
Ettitude Bamboo Sheets Overview
Ettitude is a brand that sells different sheet sets, pillowcases, and duvet covers and has some bath and loungewear options as well. All these products are made with sustainably sourced materials, which is a cause Ettitude is dedicated to — a fact eco-conscious shoppers will love.
In this review, I'm covering the brand's Signature Sateen sheets. Here's a quick overview before getting into the good stuff:
| | |
| --- | --- |
| Who Might Like the Ettitude Signature Sateen Sheet Set? | Who Might Not Like the Ettitude Signature Sateen Sheet Set? |
| Hot sleepers | Fans of crisp, cotton sheets |
| Fans of soft, silky bamboo sheets | People who get cold quickly |
| People who want color variety | Shoppers on a budget |
What Do the Ettitude Bamboo Sheets Feel Like?
High-quality bamboo sheets will feel soft, silky, and luxurious. The sateen weave used really emphasizes the soft, satin-like feel these sheets have, too. This weave style is one of two popular weave styles for sheets, the other being percale.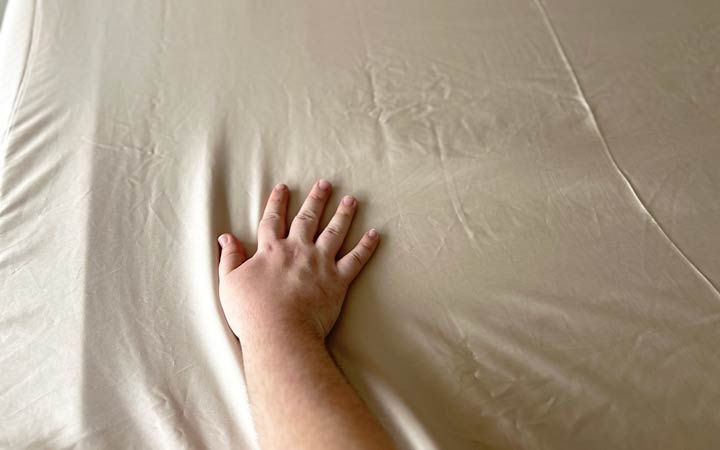 Check out our percale vs sateen sheets article to learn more about the difference between these weave styles!
30-60 Min Nap
I am a bamboo sheet lover, so the first time I tested out the Ettitude sheets, I was comfortable immediately. These felt a little bit different than the Puffy bamboo sheets I use on a regular basis. There was just a touch of crispness right out of the packaging. But after a wash, they felt very soft and silky.
RELATED: Best Bamboo Sheets
I'm also a hot sleeper, and one of the reasons I love bamboo sheets is because they're lightweight and sleep very cool. If you find yourself throwing the sheets off because of night sweats like I tend to do, bamboo sheets might be the answer for you.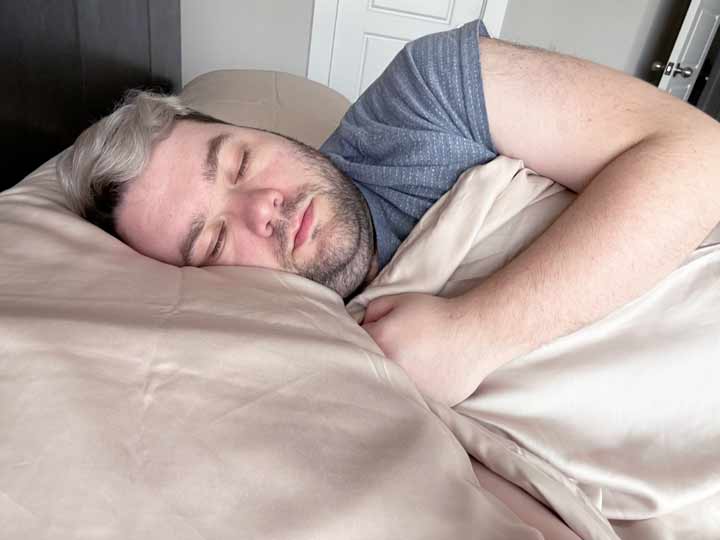 These sheets do have fairly deep pockets, and can cover mattresses up to 17" tall. This is good news for most because it means the fitted sheet won't pop up during the night.
However, the mattress I was testing these sheets out on wasn't the tallest, around 10" tall. Though the fitted sheet stayed on, it felt very loose around the edges, so you might need to readjust this fitted sheet frequently.
Ettitude Bamboo Sheets Materials
Ettitude uses 100% bamboo lyocell, named CleanBamboo®, in its Signature Sateen sheets. This type of organic bamboo fabric is sustainable, and is more eco-friendly than traditional bamboo viscose. Ettitude mentions that CleanBamboo® is made without harmful chemicals or plastics, and has an OEKO-TEX® certification to show for it.
Though Ettitude doesn't list a thread count for these sheets, the brand mentions these sheets are comparable to a 1,000 thread count cotton sheets.
RELATED: What is the Best Thread Count for Sheets?
Ettitude Bamboo Sheets Size Options and Price
Take a look at our chart below for up-to-date pricing information on the Ettitude Bamboo sheets.
| | |
| --- | --- |
| Size | Price |
| Twin | $169 |
| Twin XL | $169 |
| Full | $199 |
| Queen | $229 |
| King | $259 |
| California King | $259 |
Ettitude Signature Sateen Sheet Set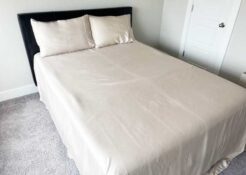 If you're looking for high-quality, eco-friendly, silky bamboo sheets the Ettitude Signature Sateen sheets are for you.
What to Consider Before Buying
We've gone over some important details considering the materials and how they feel for the Ettitude sheets, but let's cover some other important considerations.
Sleeping Hot or Cold
Bamboo sheet sets are known for being breathable and moisture-wicking. This combination of features means you won't feel hot and sweaty while using the Ettitude sheets.
When I tested these sheets out, I felt very comfortable and was never concerned about these sheets causing me to overheat. These are going to be a good year round pick if you live in warm or humid climates.
However, the top sheet, by itself, might not be enough to keep people who get cold quickly or live in colder climates warm. I can see layering up being necessary, or looking into the best flannel sheets to stay warm in the colder months.
Care Instructions
The Ettitude Bamboo sheets are machine-washable! Here's what Ettitude recommends:
Machine-wash in cold water on a gentle or delicate cycle, do not use bleach
Tumble dry on the lowest heat setting or line dry.
Ettitude also mentions that if you want your sheets to avoid pilling, you shouldn't add in fabric softener or dryer balls.
RELATED: Why Are My Sheets Pilling and How Do I Get Rid of it?
Allergies
Bamboo is a naturally hypoallergenic material. This means that if you have sensitive allergies, or are worried about your sheets trapping irritants and allergens, that won't be an issue with these sheets.
Company Policies
If you've never purchased sheets from Ettitude before, here's what you can expect if you do.
Set Includes
For this review, I received the queen-sized Ettitude Signature Sateen Sheet Set. It included:
A top/flat sheet
A fitted sheet
Two pillowcases
Ettitude sells its Signature Sateen sheets in all bed sizes. The twin and twin XL sets come with one pillow case, while the king and California king sets come with king-sized pillowcases.
Return Policy
Ettitude offers a 30-night sleep trial. During this time, you'll be able to determine if these are the sheets for you. If the sheets don't work out for you, there are a few things to note about issuing a return.
If the sheets are unopened and unwashed, you'll receive a full refund. However, if the sheets are opened and washed, Ettitude only offers store credit. This also applies to returns made after the 30 day trial period and up to 60 days.
Ettitude offers free shipping on orders over $100, and does not cover shipping costs for returns.
How Do the Ettitude Bamboo Sheets Compare To Other Sheets?
If you're not familiar with bamboo sheets, it's a good idea to do a little comparison shopping. Cotton and linen are other popular materials for sheets. Let's compare the Ettitude sheets to the Brooklinen Classic Core Sheet set and the Saatva Linen sheets.
Ettitude vs Brooklinen
For those who love the classic, crisp feel to cotton sheets, the Brooklinen Classic Core Sheet set should be just what you're looking for. This set of sheets uses 100% cotton that's been woven into the percale weave, which gives them that fresh-pressed shirt feeling. Because of the bamboo fabric and sateen weave, the Ettitude sheets will feel much silkier and more similar to satin.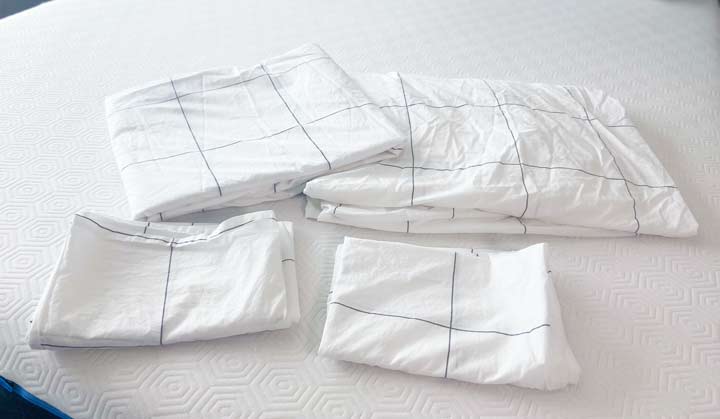 Both are great options for hot sleepers because they're breathable and lightweight. Both also feature different color and design options, though Brooklinen's color options are limited edition and change frequently.
For budget minded shoppers, the Brooklinen sheets have a lower price point when compared to Ettitude.
| | |
| --- | --- |
| Who Should Get the Ettitude Bamboo Sheets? | Who Should Get the Brooklinen Classic Core Sheet Set? |
| Fans of silky bamboo sheets | Hot sleepers |
| Fans of crisp cotton sheets | Budget minded shoppers |
Read our full Brooklinen Classic Core sheets review.
Ettitude vs Saatva
Linen sheets are the oldest style of sheets, and are made from the fibers of flax stalks. This style of sheets will feel slightly coarse, but still comfortable to sleep with. One of my favorites are the Saatva Linen sheets.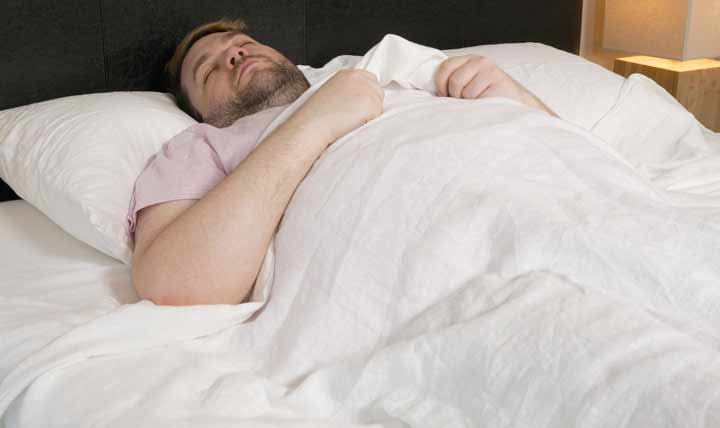 Right off the bat, texture is a big difference here.Ettitude is going to be a better choice for those who love soft, silky feeling sheets. But there are those who love the texture of linen sheets, and the Saatva Linens are some of the softest linens I've encountered.
If you love color variety, opt for Ettitude. These sheets are offered in 10 different colors, while Saatva only offers three.
| | |
| --- | --- |
| Who Should Get the Ettitude Bamboo Sheets? | Who Should Get the Saatva Linen Sheets? |
| Fans of buttery smooth sheets | People looking for color variety |
| Fans of textured linen sheets | People who prefer white or natural colored sheets |
Read our full Saatva Linen sheets review.
Ettitude Bamboo Sheets Rating
Take a look at our Mattress Clarity score for the Ettitude Signature Sateen sheets!
Ettitude Bamboo Sheets Review
FAQs
Let's dive into some frequently asked questions about Ettitude and its sheets.
Are Ettitude sheets slippery?
In my experience, the Ettitude sheets weren't that slippery. However, they do have a very smooth, satin-like finish to them thanks to the sateen weave. And when looking through some customer reviews, some did report that the sheets felt slippery and didn't stay in place. But overall, this wasn't too much of an issue for me when I tested them.
Can I wash Ettitude sheets before use?
The answer is: it depends. Though it's standard practice to wash sheets before first use, with the Ettitude sheets, in order to get a full refund, the sheets must be in their original packaging and can't be washed.

However, if you're happy with the sheets right out of the box, you can wash them before using them first. Ettitude also sends you the sheets prewashed.
What sheets are better than bamboo?
Ultimately, what material you pick for sheets comes down to personal preference. However, popular materials in addition to bamboo are: cotton, Tencel lyocell or eucalyptus, linen, and microfiber.

Personally, I love bamboo sheets for their soft, silky feel and how they keep me cool at night. But be sure to check out our list of the best cotton sheets or any other of our best sheet lists for more options.