Moving a mattress requires careful planning and execution, whether you're moving to a new house, relocating to a different state, or switching your bedroom. Mattresses are bulky, heavy, and generally awkward to move. This guide will provide you with the information you need to move any size mattress, keeping you and the mattress as safe as possible.
What to Know Before Moving Your Mattress
Moving a mattress takes some preplanning, and several factors need to be considered.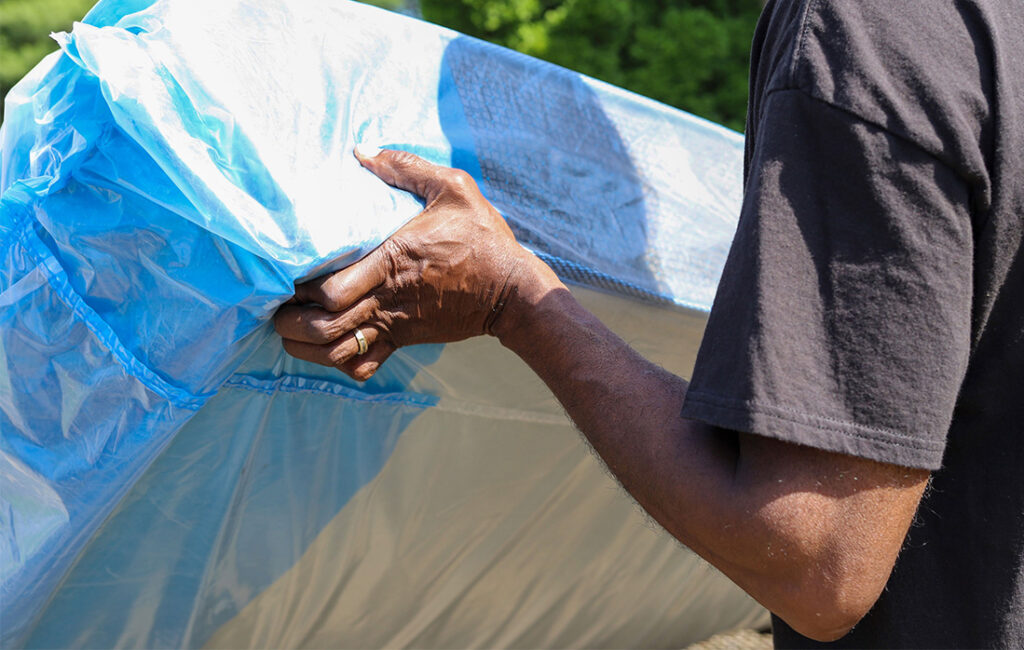 Equipment Needed
There are a few pieces of equipment that will make moving your mattress easier and protect it from getting ripped or dirty. Some of these items are:
Mattress bag or cover: This will protect your mattress from dust, dirt, and moisture during the move as well as prevent tears. 



Moving straps or ropes: These can help prevent the mattress from slipping or falling.



Furniture dolly: A dolly may make it easier to transport the mattress through narrow spaces or down stairs.



Packing tape: Tape can be used to seal the mattress bag to make sure it stays on, or to keep moving straps in place.



Moving gloves: These can help give you a better grip on the mattress.



Another person: Okay, so this is not a piece of equipment, but having someone else to help will save your back and make it go much more smoothly.



Mattress Sizes
| | | | | | |
| --- | --- | --- | --- | --- | --- |
| Twin | Twin XL | Full / Double | Queen | King | California King |
| 38" x 75" | 38"x 80" | 53" x 75" | 60" x 80" | 76" x 80" | 72" x 84" |
Average Weight by Mattress Type (in Pounds)
| | | | | | |
| --- | --- | --- | --- | --- | --- |
|   | Twin | Twin XL | Full / Double | Queen | King /Cal King |
| Innerspring | 35-70 | 40-75 | 50-100 | 60-120 | 80-150 |
| Latex | 40-45 | 43-48 | 50-60 | 120-160 | 130-180 |
| Memory foam | 45-70 | 50-75 | 65-90 | 80-110 | 110-140 |
| Pillow Top | 50-85 | 55-90 | 75-130 | 100-150 | 130-200 |
| Hybrid | 50-95 | 55-100 | 75-130 | 100-150 | 130-200 |
*These weights are averages.  The actual weight of a mattress will depend on the materials used (ie, a latex mattress with pillow top will be much heavier than an innerspring with a pillow top).
Risks of Moving a Mattress by Yourself
Mattresses are big, heavy, and bulky.  Trying to move one by yourself can be risky and could lead to strains, sprains, or other injuries to you.  Additionally, the mattress can get bent or torn if not secured properly. You could also damage things in your home if you drop the mattress or bump into things. 
How to Clean and Prepare a Mattress for a Move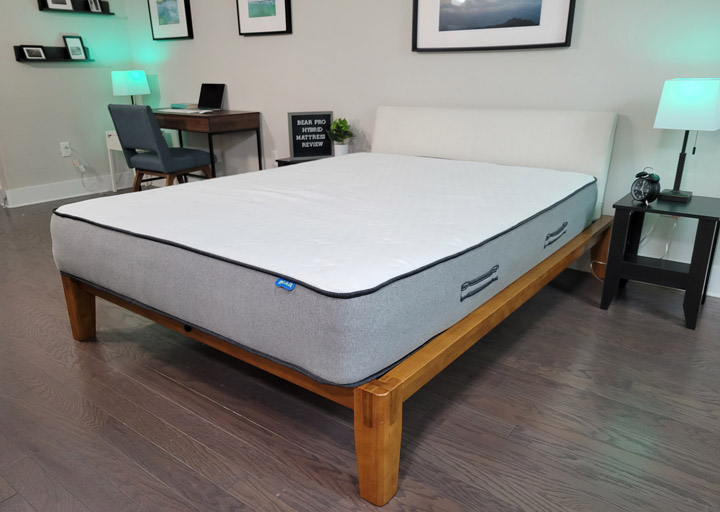 Remove and Clean All Bedding
This should be a no-brainer.  Loose bedding will turn into a tripping hazard, so it's a good idea to take it all off before the move. Now is a good time to wash all your bedding, too, so you can luxuriate in crisp, clean linens in your new location.
Enclose Your Mattress in a Moving Bag
Cleaning a dirty mattress is a pain, and a moving bag can help keep your mattress clean so you don't have to worry about that. There are commercial moving bags you can buy, or you can use the bag your mattress came in.
Create a Clear Pathway
This goes for any large items you'll be moving, including the box spring if you have one.  Remove any obstacles (think rugs, cords, etc) or furniture that might be in the way. This makes it easier for you to move the mattress and lowers the likelihood of anything getting damaged.
How to Move a Mattress: Exploring Your Options
| | | | |
| --- | --- | --- | --- |
| Moving Method | Which Mattress Sizes Work? | Pros | Cons |
| On Top of Your Vehicle | Most cars should be able to transport a twin, twin XL, or full mattress.  A larger truck or full size SUV may be able to fit a queen or king. | No extra cost to rent a vehicle.  Leaves room inside your car for other things. | Can be stressful if you're not used to driving with large objects tied to your roof.  Risk of it falling off if not properly secured, or getting wet if it rains. |
| Inside Your Vehicle | It depends on what type of vehicle you have.  Most minivans should be able to transport up to a queen size mattress. | No risk of getting snagged on low branches or falling off your car. | Takes up a lot of space. |
| In a Pickup Truck | It depends on the size of the truck bed. Shorter beds will be able to fit a twin or full.  Full size beds can fit up to a king. | Easier than hoisting onto a car roof. | Mattress can get damages from exposure to the elements, or from shifting around if not secured properly. |
| Renting a Moving Truck | All | Don't have to tie the mattress down; large size of moving truck means you likely won't need to measure to make sure it fits | More expensive than using a personal vehicle |
| Hiring Professional Movers | All | Easy, and they should know how to do it without damaging the mattress at all. | Can be expensive. |
How to Move a Mattress on Top of a Car
Moving a mattress on top of your car can be tricky. We've got you covered with a few tips that can make it easier.  First, make sure your vehicle is big enough to transport it.  Your Honda Fit probably won't work to transport a king-size mattress. It will be easiest if you have a roof rack or roof bag big enough to fit the mattress.  You'll also need tie-down straps or bungee cords to secure the mattress.  Put the mattress on the roof of the car so it's centered, and secure it with the tie-down straps.  Make sure no rope passes through the driver's side window so the driver can enter and exit the vehicle safely. Give the mattress a good tug to make sure it is secure before taking off. When driving, avoid any sudden stops or turns, and pay attention to any low-hanging branches along the route.
How to Move a Mattress in a Car
Depending on what type of vehicle you're using, you may need to remove or fold down the back seats. If the back of the vehicle is dirty, it's a good idea to lay down a sheet or piece of plastic for extra protection. It will be easiest to have a second person help hoist the mattress into the back of the car.  Make sure the mattress does not impede the driver's ability to move freely.
How to Move a Mattress in a Pickup Truck
Moving a mattress in a truck is generally going to be easier than moving it with a car. It's a good idea to clean the bed of the truck to keep the mattress as clean as possible. Some people like to place a sheet or blanket in the bed to help with that as well, which also makes it easier to slide the mattress out.  Hoist the mattress into the bed, and use a few bungee cords or tie-down straps to secure the mattress. Like with a car, try to avoid sudden stops or turns.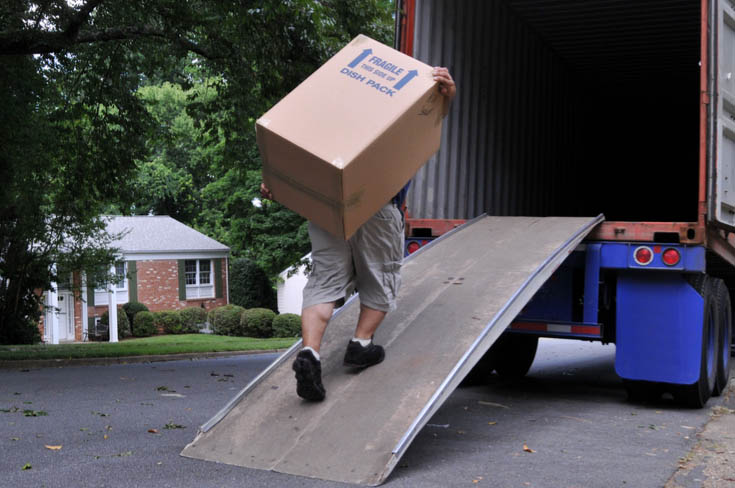 How to Move a Mattress in a Moving Truck
This is pretty straightforward.  All the same, principles apply to keep the mattress clean.  It is easiest and safest for the mattress to stand it up flat against one of the sides of the moving truck.
How to Hire Professionals to Move Your Mattress 
Professional movers are used to moving mattresses, so there aren't many extra considerations for you. It's a good idea to label the mattress with the room it goes in, though, so the movers can deliver it exactly where it needs to go.
How to Unpack and Set Up Your Mattress
Ah, you made it.  Unpacking and setting up your mattress will be the reverse of what you just did. Once you remove the mattress from the vehicle and bring it to the room where it will be, remove all covers and wrapping. Inspect the mattress carefully to make sure there was no damage to it during transport. If you want to freshen the mattress up, you can sprinkle baking soda on it, let it sit for two hours, then vacuum it up. This also allows any residual moisture that may have built up from being wrapped in plastic to evaporate. The final step is to make the bed in whatever way feels best to you.
FAQs
Is it legal to tie a mattress to a car?
Yes, it is legal to tie a mattress to the roof of a car in all 50 states, as long as it's properly secured. If it's not properly secured, it can endanger your life or the lives of others, and that is illegal. It's always a good idea to check with any state or city laws before tying a mattress to the roof of your vehicle.
Does folding a mattress damage it?
Yes, it can.  Most manufacturers say it can permanently damage materials like foam and springs.  The exception might be a foam mattress that is only a few inches thick.  Even then, folding it only for short periods and infrequently is recommended. 
Will my warranty cover mattress damages from a move?
Mattress warranties cover manufacturing defects.  Any damage caused by the owner (ie, from moving a mattress) will not be covered by the warranty.
Can I move a queen mattress by myself?
It is easier and less risky to move mattresses with a second person.  However, do what you need to do. If you are moving a queen mattress solo, try to get as much mechanical help as possible by using a dolly, moving blankets, and/or straps.
Jessie Gellings
Jessie Gellings is a freelance writer, registered nurse, and student of the American Medical Writers Association.  She specializes in supporting women-led, health-focused organizations. When she's not writing, you'll find Jessie wandering in wild places, singing, and cooking.