Could opening a window help you get a better night's sleep? According to one small study, it's certainly possible. For the study, researchers from the Netherlands explored how ventilation can affect sleep.
"We spend nearly a third of our life in the bedroom environment, but the air quality in our sleeping environment is often overlooked," study author Asit Mishra, a postdoctoral researcher in the Department of the Built Environment, Unit Building Physics and Services at the Eindhoven University of Technology, told Reuters Health. "Imagine this – you are in a confined space and have limited ability to adjust the situation (since you are asleep) while you are possibly surrounded by pollutants. This is how things are in bed, covered under duvets or a blanket."
[Editor's Note: The information provided should not be considered a substitute for professional advice. Please consult a sleep doctor or other medical expert if you have questions related to your own health.]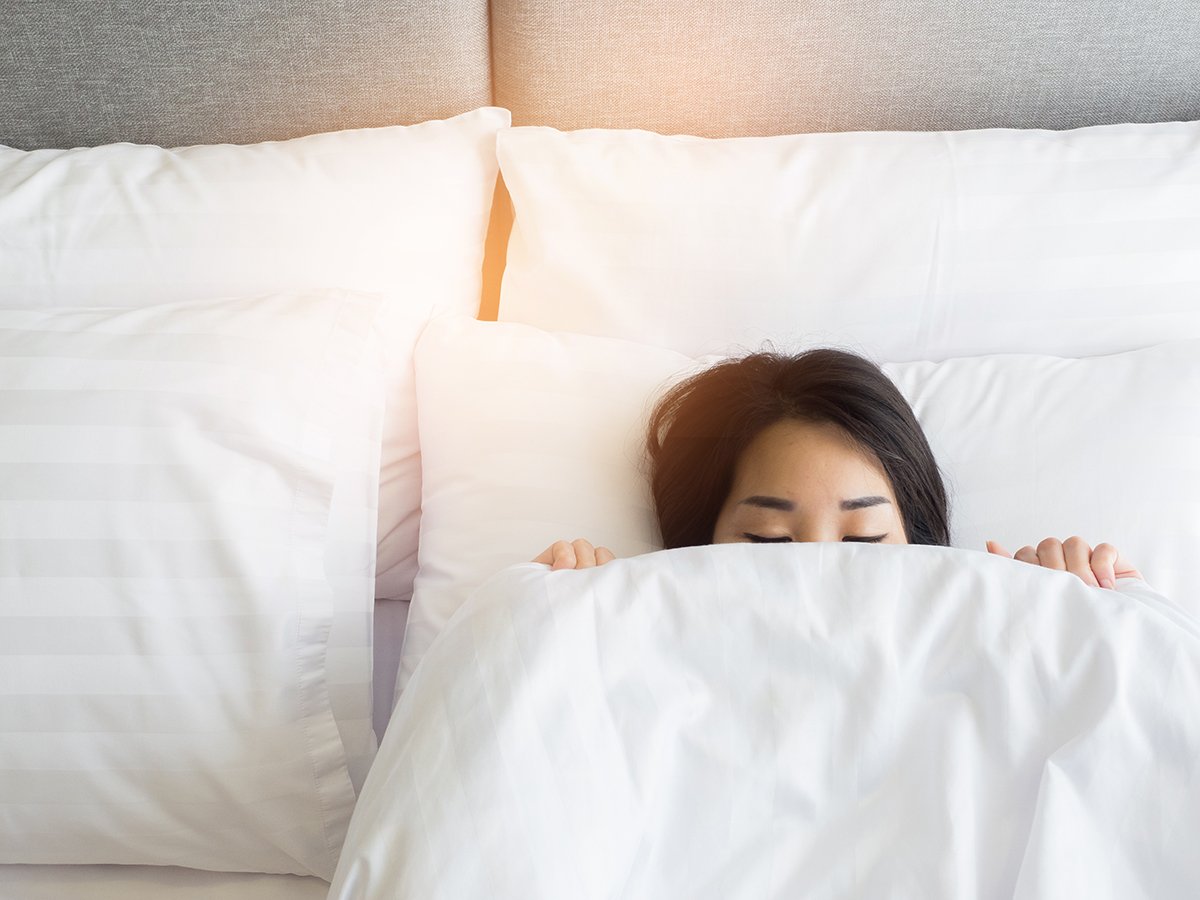 anon_tae/Shutterstock
Researchers gathered data from 17 healthy volunteers over five nights. Some participants slept with the windows or interior doors to their bedrooms open; others kept all windows and doors closed. All participants wore a Sensewear Armband that measured their activity rate, skin temperature, heat flux, the bed microclimate temperature, and skin moisture levels.
RELATED: How to Create the Best Sleep Environment
Researchers also placed a FlexSensor under each participant's pillow to help estimate their restlessness. Finally, sensors were used to measure background noise, CO2, temperature, and relative humidity (RH). All participants completed sleep questionnaires during the course of the study, too.
The researchers found that the participants in the "open" window or door group had slightly higher background noise but lower levels of CO2, suggesting more ventilation in their bedrooms (the average level of carbon dioxide in the "open" rooms was 717 particles per million, while the average level in the "closed" rooms was 1,150 particles per million). The participants with an open window or door also slept at slightly cooler temperatures and had slightly deeper, longer sleep with fewer awakenings during the night.
In conclusion: Opening a window or an interior door can improve ventilation in your bedroom, reducing the levels of carbon dioxide in your bedroom and giving you a better night's sleep.
"The findings of the current study implied that opening either a door or a window leads to better ventilation, as indicated by reduced CO2 levels," the study authors concluded.
So, if you're restless at night, try cracking your window or sleeping with your bedroom door propped open to see if it makes a difference. And always try to keep your bedroom as cool, dark, and quiet as possible — enlist the help of earplugs, an eye mask, and white noise if necessary.
[Editor's Note: The information provided should not be considered a substitute for professional advice. Please consult a sleep doctor or other medical expert if you have questions related to your own health.]
Featured image: TuiPhotoEngineer/Shutterstock