Pillow and sleep product brand Pillow Cube recently announced a Kickstarter campaign for a new product, the Dream Machine. Jay Davis, the creator of the Pillow Cube, has a mission to help his customers wake up feeling refreshed and get better quality sleep.
The new product, the Dream Machine, is a sleep aid that utilizes artificial intelligence (AI) that adjusts to your sleep. It detects external stimuli, and uses its machine learning to give you the environment for optimal sleep. It can detect sound, light, temperature, and can dispense a fragrance as well.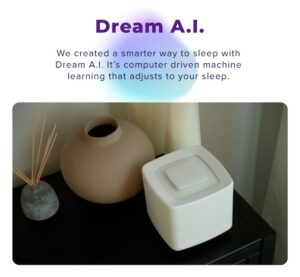 The goal of the Dream Machine is to help you fall asleep and, more importantly, stay asleep. As the Dream Machine collects data from your sleep environment, it creates a highly personalized sleep experience for the user. It can play sounds or white noise if you prefer, but will detect snoring and can be voice controlled as well.
Pillow Cube states that the Dream Machine is controlled via a mobile app; it has Wi-FI connectivity, making controlling it easy and accessible. The app comes with pre-programmed sleep and wake routines based on extensive research. However, users will have the option to create custom routines, and the Dream Machine will adapt to your sleep habits.
The light function can be used similarly to a sunrise clock to help you wake up more naturally, and has a heating element that provides temperature regulation. The Dream Machine can also connect to a smart thermostat and can adjust the temperature in your sleep environment.
The fragrance option was included based upon research findings that aromas can stimulate sleep centers in your brain. Users will have the option to include two different scents, with the intention that one can help you fall asleep, and the other can help you wake up.
The Pillow Cube started on Kickstarter, and this is the fourth Kickstarter campaign by the company, having created campaigns for its Side Sleeper Pro and mattress as well. The campaign had an initial goal of $10,000 and exceeded that almost immediately.
RELATED: Best Pillows for Side Sleepers
The Dream Machine is set to launch in September 2023.
You can find more information, and back the project, at the Kickstarter link here.
Featured Image Credit: Pillow Cube