A major drawback to memory foam is the way it can trap heat. I have slept on numerous memory foam mattresses toppers and felt myself overheat throughout the night.
Because of this, I was very excited to try out the Layla Mattress Topper. Like the original Layla mattress, the topper features copper-infused memory foam and Thermogel in the cover; these materials are supposed to promote a cooler sleeping surface. I did not overheat on the original Layla mattress, so I was interested to see how this topper would perform.
Is this a cooler-sleeping memory foam mattress topper? Read on for my full review.
Layla Mattress Topper Deals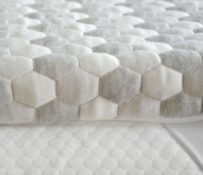 The Layla is a great option for hot sleepers who want a memory foam feel. 
You Might Like The Layla If …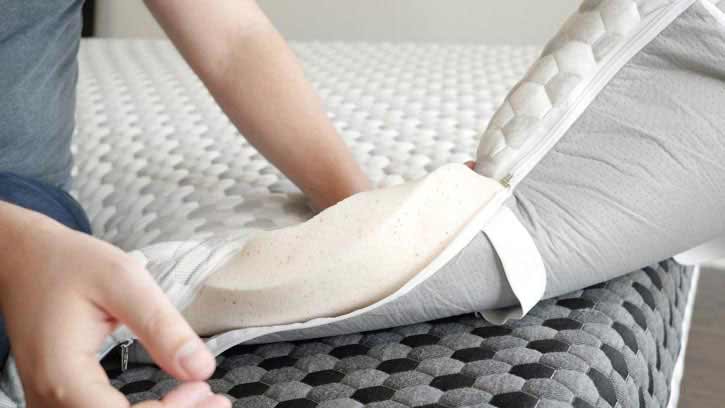 You Might Not Like The Layla If …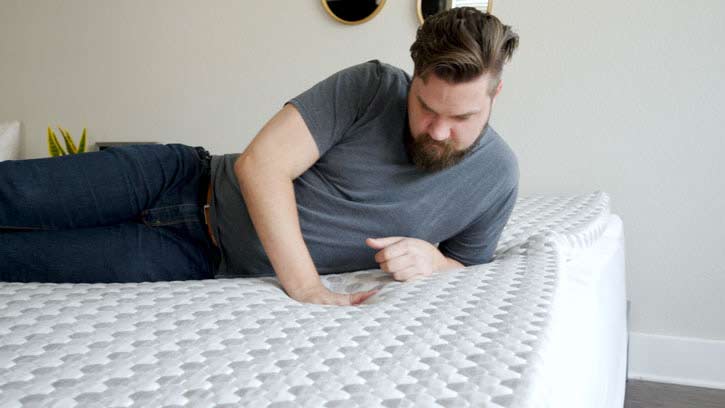 Construction And Options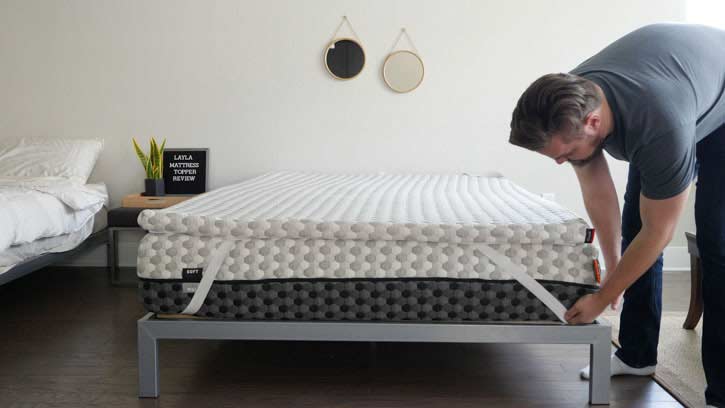 Layla Mattress Topper Deals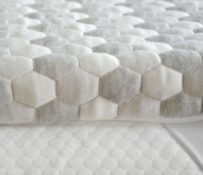 The Layla is a great option for hot sleepers who want a memory foam feel. 
My Experience
After receiving the Layla topper at my house, I did notice an initial chemical smell. However, after I placed the mattress topper in a side room and opened a window, this odor immediately dissipated. After a day, the Layla was fully expanded and ready to use.
To test out the firmness of the Layla, I placed it on a mattress with a firmness of around 8/10. With the Layla on top, the mattress felt like 7/10. It feels like the Layla is taking away a full point of firmness.
However, I must note that I am a heavier person and weigh close to 230 lb. Lightweight sleepers might think the Layla topper is softer, as they won't press so far in.
Here is how I feel while lying down in different sleeping positions: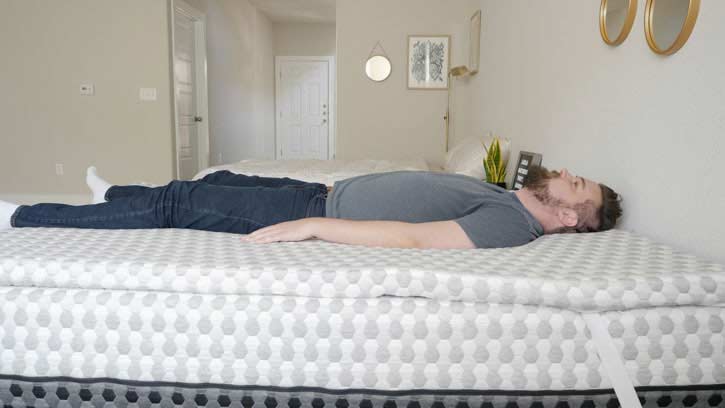 The company recommends using the Layla topper with the Layla mattress. The mattress is flippable, so it offers two firmnesses in one. You can use the topper to make the soft side extra soft or soften the firm side.
With the topper on the soft side, I felt great while side sleeping. I sunk into two layers of soft memory foam and felt no pressure on my shoulders and hips. With the topper on the firm side, the mattress was perfect for back sleeping.
The Layla topper has that soft memory foam feel. It is slow-moving and does not respond very quickly. I did have some difficulty moving around on the mattress topper.
In terms of warmth, the Layla is one of the cooler-sleeping memory foam mattress toppers I've tried. While it isn't necessarily cooling me, it isn't heating up either.
Overall
I really enjoyed my experience on the Layla topper. It is a great option for back sleepers, light side sleepers, and those who like memory foam but don't want to sleep hot. It might not be the best choice for stomach sleepers and those who don't like the memory foam feel.
The Layla comes with free shipping, a 120-night trial, and a 5-year warranty.
The following two tabs change content below.
Marten Carlson
Marten is a staff writer for Mattress Clarity News. He covers the mattress industry as well as sleep science news. He is specifically interested in the connection between sleep and overall health.Marten has written for media publications like Consequence of Sound and received a master's degree in Film Studies from Emory University.He comes from Franklin, Indiana, and spends all the time he can writing, directing, and acting in films. He has directed genre short films and features. His newest film, Starlets, recently premiered at the River Town Film Festival in Clinton, NJ. He also stars in the upcoming thriller, Sour Bear. His next film, At The Hop, is a hot rod actioner with a horror twist.
Latest posts by Marten Carlson (see all)