eLuxurySupply is a company that is well known and sells all kinds of bedding products on the market.  The reviews of all their products are generally positive and the company appears to have had great success since it launched.  This review will highlight the construction of the mattress pad and go over the key takeaways that consumers should look out for when making a purchasing decision.
Note: I was using an 11.5 inch Saatva mattress while reviewing this mattress pad.  It is possible to have a different experience if someone has a much different type of mattress or if a mattress is much thicker or thinner.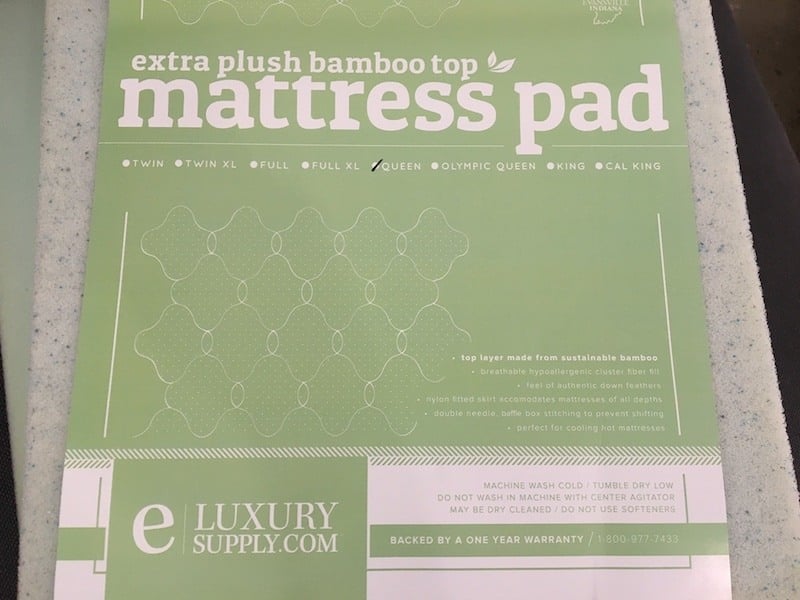 Construction
The top of the mattress pad is made from 70% polyester and 30% rayon from bamboo.  These materials were chosen to make the pad as breathable as possible to ensure people get a cool night of sleep.

The next part of the pad is the cluster fiber fill.  It is this fiber filling that really gives the pad its extra plush softness.  It's also a durable material that will help the pad last a long time.

When someone first opens the box, they will probably be happy with what they see.  Immediately consumers can tell that it is well made and has a great touch to it.
Feel
This part of the review is a little subjective, but I'll do my best to describe the overall feel.  The first thing to note is that the pad is only 1.5 inches thick.  It's not going to dramatically change the feel of the mattress like a thicker mattress topper might.  Having said that, it does change the feel to a lesser degree.  The best way I would describe it is that it adds a small degree of softness to the mattress.  It's not a dramatic change, but if someone's current mattress is a little too firm, this could be the perfect match for them.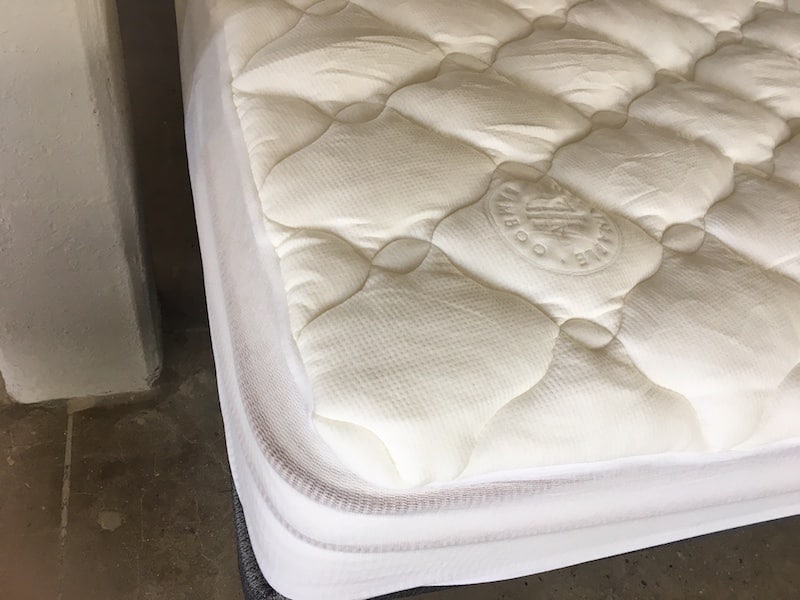 Breathability
One of the great things about this mattress pad is how breathable it is.  The combination of the part rayon from bamboo cover and the fiber filling is great for allowing air to flow.  That was my case at least, and most others will probably agree.  This makes the pad perfect for someone who either tends to sleep hot in general or currently has a mattress that sleeps a little hot.  The breathability is definitely a big reason why someone should strongly consider getting this mattress pad.
No Smell
Some people will ask whether the pad has a chemical smell, like what people may see a lot of times with bed-in-a-box mattresses when they first open it up.  In this case, there was no noticeable smell whatsoever, so there shouldn't be any problems with a chemical smell in this instance.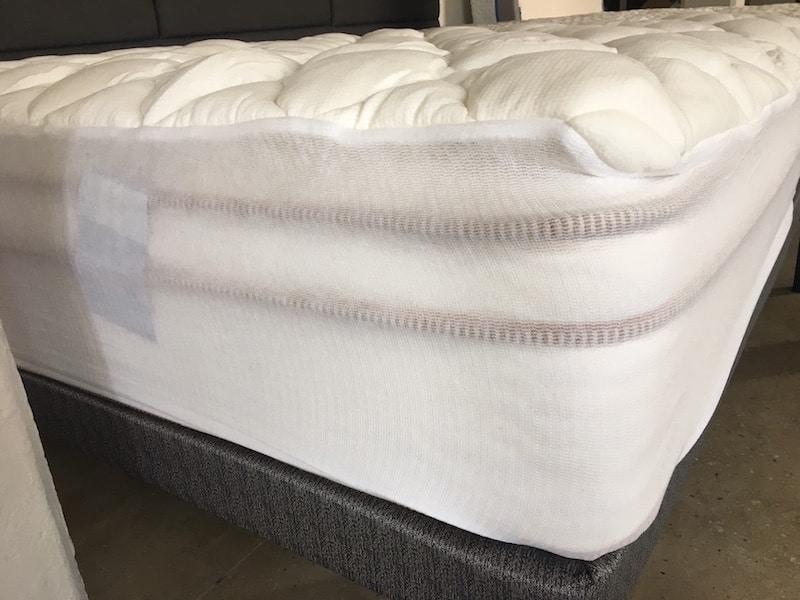 Fit
The company says that the pad will fit on mattresses up to 18 inches thick.  The mattress used for purposes of this review is 11.5 inches thick.  The pad fit just fine on this mattress, and it had slack to fit on a mattress a good amount thicker, so their claims are potentially correct in this case.  For the mattress used in this review, it did have a nice, snug fit that a lot of consumers will really enjoy.
Prices
The table below provides the prices for the different sizes that they have available.  As indicated below, the price range goes from $90 to $165, which in my opinion is a great deal for what people get.  The pad should be durable too, so I think the value is really there with this mattress pad.
| Size | Dimension | Price |
| --- | --- | --- |
| Twin | 39" x 76" | $90 |
| Twin XL | 39" x 80" | $90 |
| Full | 54" x 76" | $105 |
| Queen | 60" x 80" | $115 |
| King | 76" x 80" | $120 |
| Cal King | 72" x 84" | $120 |
| Split King | 2 Twin XL Pads | $165 |
Who Might Want To Get This Pad:
People Mattresses That Sleep Hot

– This pad is very breathable, so it can be a great option if people want to sleep cooler without having to get a new mattress.

People Who Want A Little Extra Softness

– This pad will increase the overall softness by a little bit, so if people think their mattress is just a little too firm, this pad can be a great option for them.

People Who Want To Protect Their Mattress Against Stains And General Wear

– This pad should increase the life of their mattress and it will provide an extra layer to serve as a barrier for stains.

Those Who Want A Pad With A Great FIt

– This pad fit perfectly on my mattress and it should have a nice, snug fit on most mattresses that aren't too thick.
See Company Website For More Information
Who Might Not Want To Get This Pad:
People With A Mattress Feels Just Right Or Is A Little Soft

– This pad is going to make the mattress feel softer, so if the feel of the mattress is already just right or is a little soft, then people will want to try something else.

People Who Want A More Pronounced Change In Comfort– This pad gives the mattress a slightly softer feel.  It doesn't change the feel overall significantly, however.  If someone is looking for a bigger change, then they will probably want to find something thicker or go with a mattress topper.
Overall
I think this is a really well made mattress pad that could be a great choice for a lot of people.  It's priced reasonably as well, so I think it should be a great value in the long run.  This is best for people looking for a little extra softness from their mattress and for people who have mattresses that tend to sleep a little hot.  It could also simply be a good way to protect a mattress from stains and general wear.