The trtl Travel Pillow Plus has a lot of the great features of the classic trtl Travel Pillow, but it also comes with a few upgrades and customizations.
Travelers will still wrap the pillow's stretchy knit material around their necks and anchor the support system to them — but now they'll able to change the height of the pillow and they'll also experience a more breathable material.
Is this the travel pillow (plus) the right match? Check out my full review below!
trtl Travel Pillow Deals

The trtl Pillow Plus travel pillow works by supporting your head, neck, and chin with an internal plastic structure that's wrapped in foam and soft-knit polyester.
Who Makes It?
The trtl (pronounced "Turtle") Travel Pillow was created by engineers Michael Corrigan and David Kellock of Coolside Limited in Great Britain. They decided to develop a product that would make travel experiences more comfortable.
Their website says sleep sets the foundation to be able to experience more. They describe the trtl Pillow as an essential "napparatus."
In addition to the signature trtl pillow, they also make the trtl Pillow Plus I reviewed in this post, as well as trtl Flight Socks (gentle compression socks).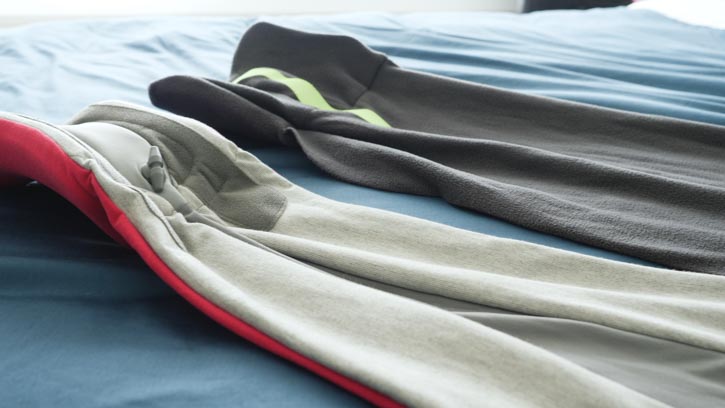 See how trtl and trtl Pillow Plus compare on our best travel pillows page.
Key Features
Pillow comes in one size and can be worn at either the side or the front of the neck
The outer layer top and bottom bands are comprised of 70% polyester, 26% rayon, and 3% spandex
The middle band is 97% nylon and 3% spandex
The core cover and handle cover are polychloroprenes (neoprene)
Interior lining is 90% polyester and 10% spandex
Interior pocket has polyurethane (memory) foam
Height-adjustable neck support
Breathable mesh fabric helps to regulate temperature
Blue or pink color option
Designed in the UK, made in China
Care: Fasten all hooks and loops securely before washing the Trtl Pillow+. The plastic insert should only be used with the Trtl Pillow+ and should be removed before washing and when reinserting it, make sure it goes fully into the pockets
Full price: $59.99
Right now the Plus can be purchased on Amazon and their return policy is applicable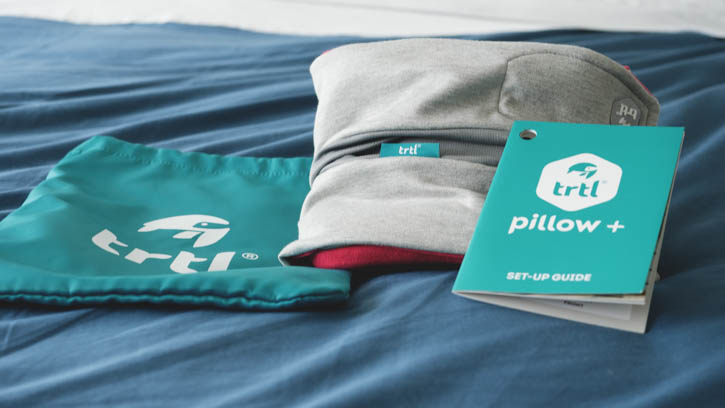 Pros
Compact and lightweight
Machine washable
Customizable height support with adjusting toggles
Includes a protective, water-resistant travel bag
Cons
All the support can be potentially overwhelming for more petite individuals
Can feel constricting
Really have to stretch it to get it super tight since the fabric is stretchy
One size only and $59.99 at full price (not all budgets can work with that)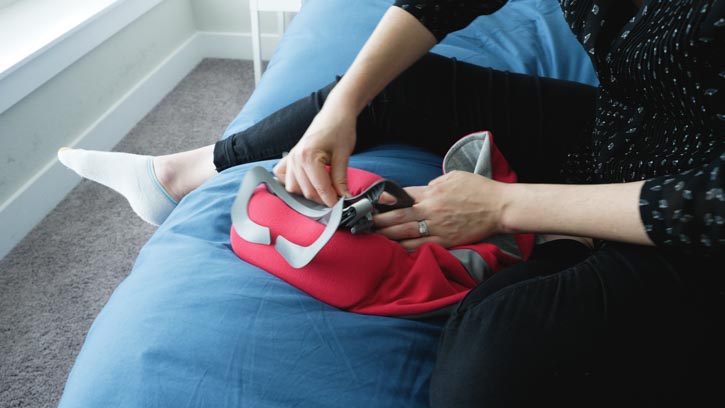 My Experience
I really enjoyed reviewing the signature trtl Travel Pillow and was excited when the folks at trtl sent their trtl Travel Pillow Plus for us to check out.
The standout feature of the trtl Pillow Plus is the enhanced internal plastic support structure. Travelers can adjust the height on two ends of this support system (using the toggles on the pillow).
The travel pillow also has a nice layer of soft foam and fleece material that acts as a buffer between the plastic support and the head and neck.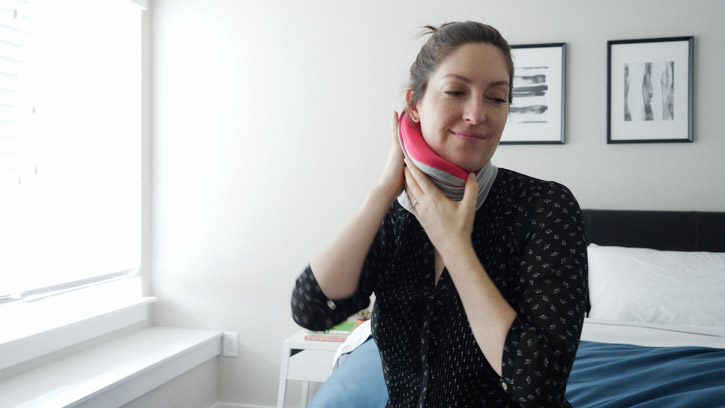 Once a traveler gets settled in an airplane/car/bus/train seat, he or she can decide which level of support and height the individual needs to stay comfortable.
Anyone trying this pillow on will really need to stretch the knit fabric around the neck and connect it back to the pillow using the velcro provided. The tighter it is, the more supportive it is, so they'll need to get used to having some snugness around their necks.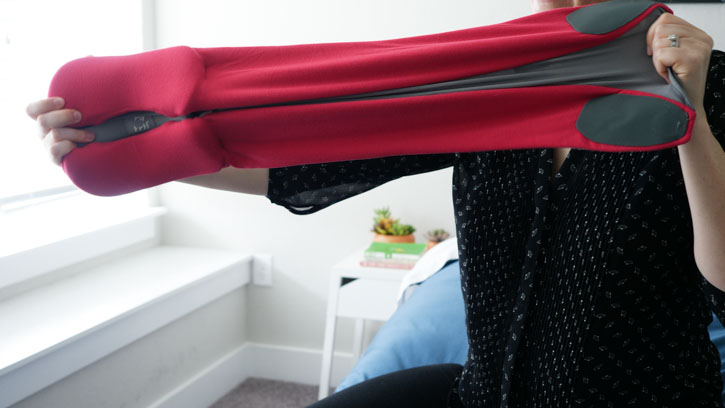 When the pillow is attached, the wearer can move it to whatever position is most comfortable for the individual. It really provides 360-degree support. For example, those who are working with limited space on either side can place the support under the chin/front of the neck and lean forward to rest.
Those who are not comfortable with the feeling of a tight neck scarf or even a neck brace will probably want to look at a different type of pillow. The trtl Pillow Plus' success is based on how tight it can get the stretchy material around the neck so that the person wearing it is getting the most support possible.
See our take on other travel pillows.
trtl Travel Pillow Deals

The trtl Pillow Plus travel pillow works by supporting your head, neck, and chin with an internal plastic structure that's wrapped in foam and soft-knit polyester.

Overall
For those looking for a lightweight and compact pillow that has a lot of support and anchoring, I'd suggest looking at the trtl Pillow Plus. If the price is out of question, their original version may be worth looking at.
Right now it looks like the trtl Pillow Plus can be purchased on Amazon for $59.99 and comes in grey with blue or grey with pink color options.
I only recommend this pillow to those don't mind the feeling of material and snugness around the neck. It takes some getting used to but I think it can rest comfortably for a good portion of a trip!
Buy the trtl travel pillow on Amazon.
Katie Golde
Katie manages the day to day operations of the Mattress Clarity news site and reviews sleep products in addition to writing and editing sleep news. She hails from Austin, where she lives with her growing family. She is a Certified Sleep Science Coach and has a master's degree in Journalism from Northwestern University and has a background in health and science content. Her work can be found in print and online publications like Discover Magazine, USA Today and The Huffington Post.