Trying to sleep comfortably while pregnant can be a challenge, but the right pregnancy pillow can make all the difference.
The Babymoov Mom & b ergonomic maternity pillow may be deceptive with its small round shape but this lightweight and compact pillow is filled with microbeads and will undoubtedly support a pregnant person while they're on the go (or napping!). The pillow has a removable cover that is simple to wash as well – who doesn't love that?
So, which pregnant people need this pillow? To find out, check out my video review and read on for my full written review.
Babymoov Mom & Baby Pregnancy Pillow Video Review
Key Features
One size: 60 x 30 x 12 cm (11.5″ x 23.5″ x 4.75″)
Cover: 95 percent cotton, 5 percent elastane
Filling: 100 percent polystyrene microbeads
Removable, machine-washable cover
Versatile and compact
Three color options
Optional cover available for purchase
A removable cover can be washed at 104°F
Lifetime warranty
Made in Portugal
Free Returns
Babymoov Mom & Baby Pregnancy Pillow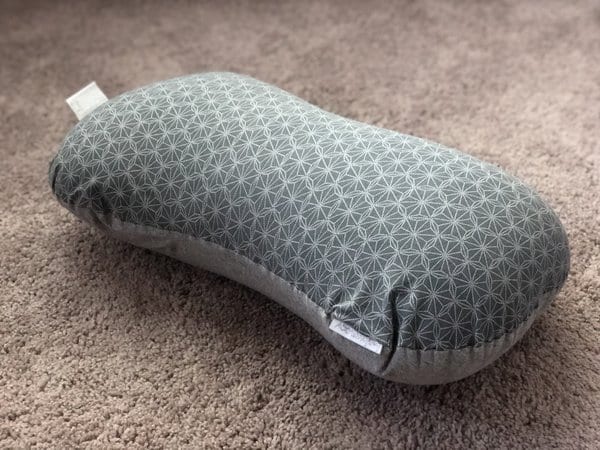 Babymoov Mom & Baby Pregnancy Pillow
Trying to sleep comfortably while pregnant can be a challenge, but the right pregnancy pillow can make all the difference. Click the button below to check out the latest deals on the Babymoov Mom & Baby Pregnancy Pillow!
Pillow Construction
The Mom & b pillow features a unique and compact design; the dimensions are 11.5″ x 23.5″ x 4.75″ and it's filled with microbeads that give it a travel-pillow-like feel. The cover is removable and is a combination of soft cotton and elastane (so it has a little stretch to it).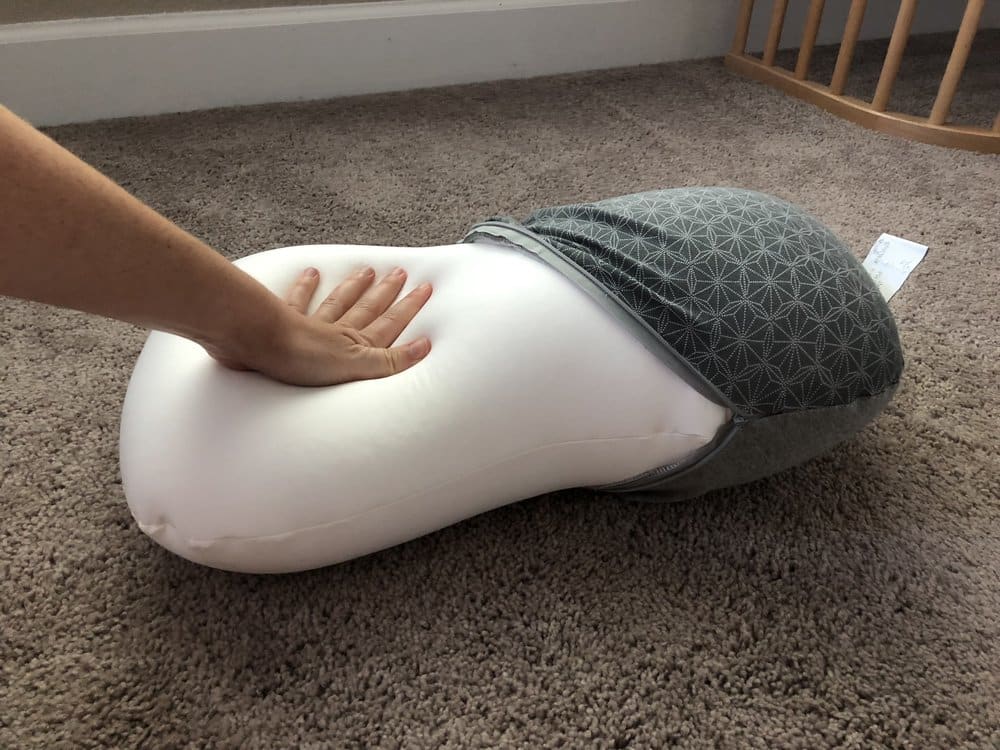 There should be a zipper at one end of the pillow that allows access to the cover and remove it for cleaning. I got a note in my case that said the company had to remove the zipper for safety reasons; the brand recommended using a safety pin to open the cover and I used a bobby pin that worked well.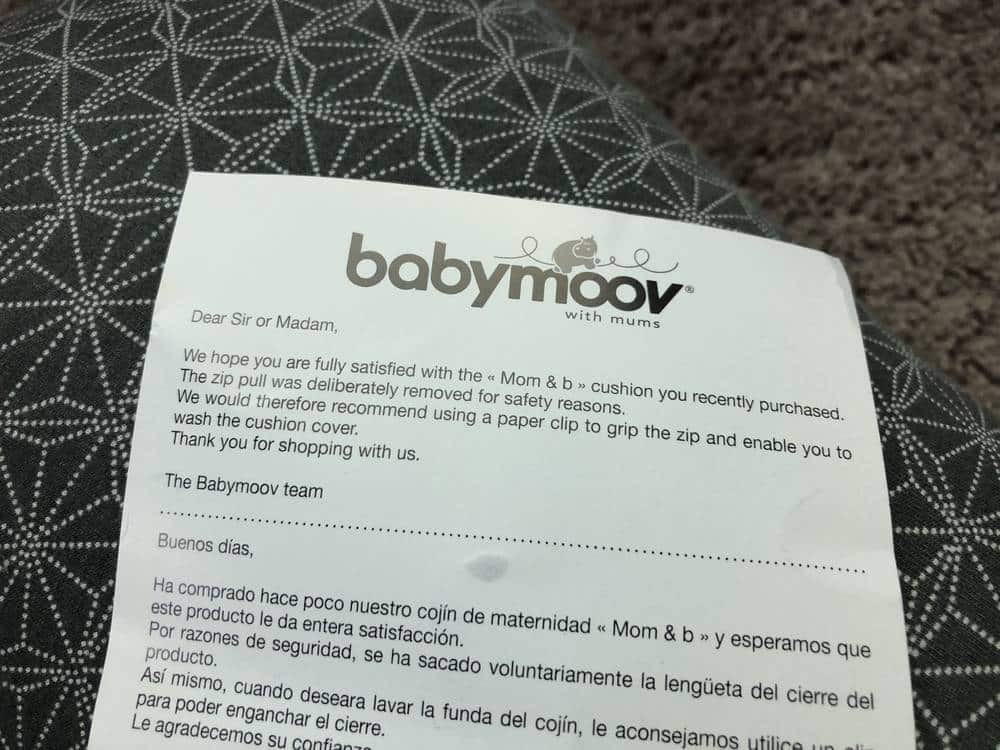 Who Makes It?
The Mom & b ergonomic pregnancy pillow is made by Babymoov, a company that started overseas in 1998 and launched in the U.S. in 2014. Babymoov offers products for pregnant people in the form of pregnancy sleep support items and pillows. Their baby products are more diverse and include everything from diaper bags to activity gyms.
Babymoov products can be purchased at retailers including Buy Buy Baby, Nordstrom, and Kohl's, or online at Amazon (customers can search for a complete list of retailers on Babymoov's website).
Cleaning the Pillow
The pillow's filling is spot-clean only (based on what I could tell from the packaging), but the cover is removable and machine washable. Drying the cover is not advisable since it can shrink, but it can be left out to air-dry or used in conjunction with a no-heat dryer cycle.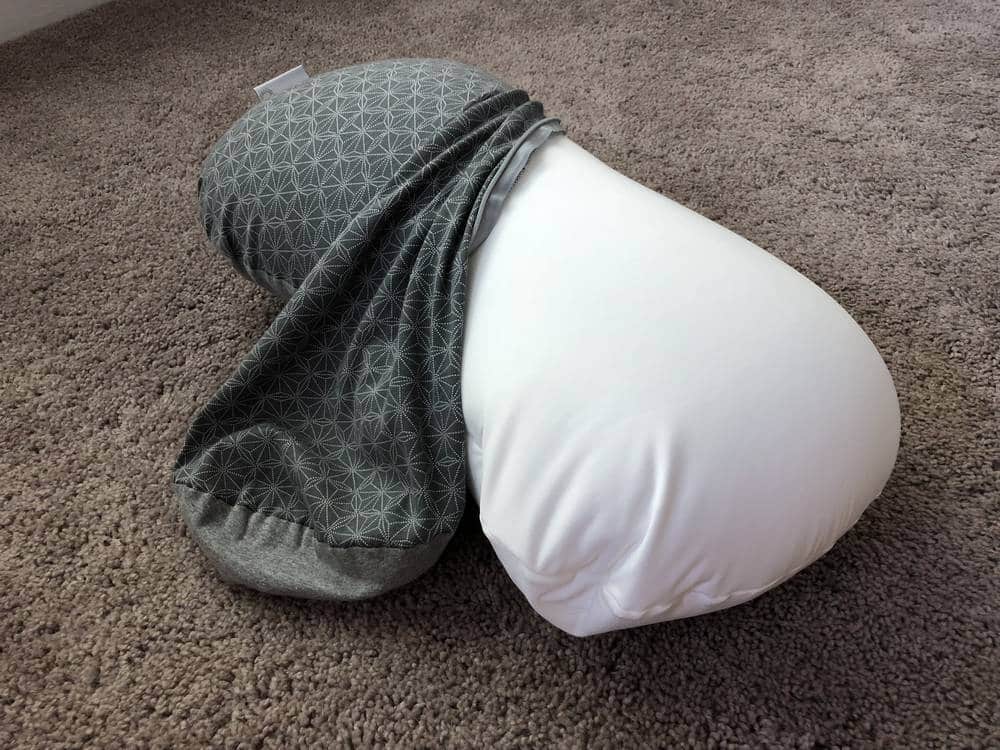 Pros
Easy to care for
Compact and lightweight
Good for travel
Affordable
Provides support in target areas during pregnancy
Can be used during pregnancy and postpartum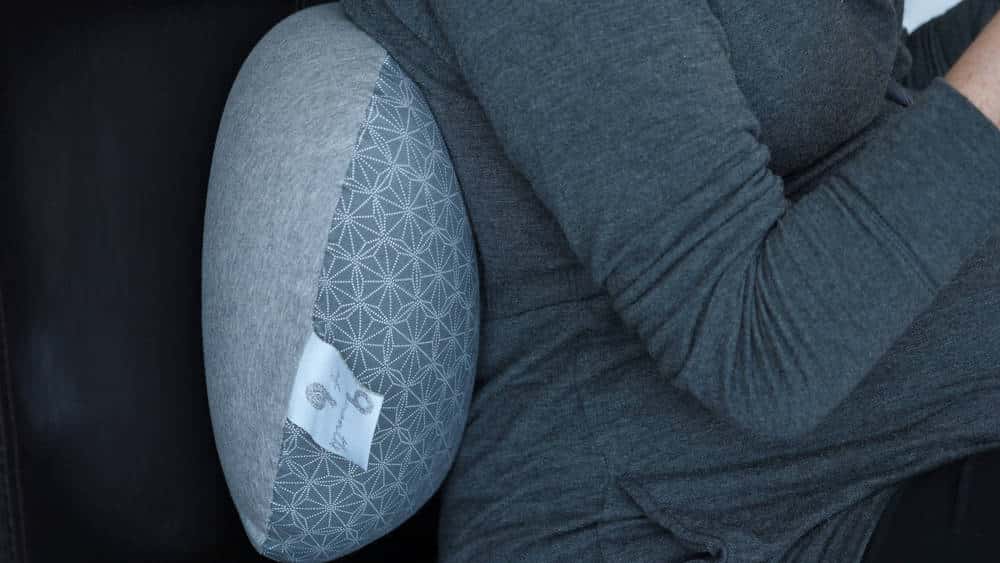 Cons
Does not replace the need for traditional pillows in other spots that need support
Cannot machine wash the whole pillow
The removed zipper makes it a little trickier to get the cover off
My Experience
The Mom & b pregnancy pillow from Babymoov is a great pillow for travelers or any pregnant person who needs a little extra support from time to time. I used this pillow for additional lower back support in my office chair and between my knees at night when I slept on my side.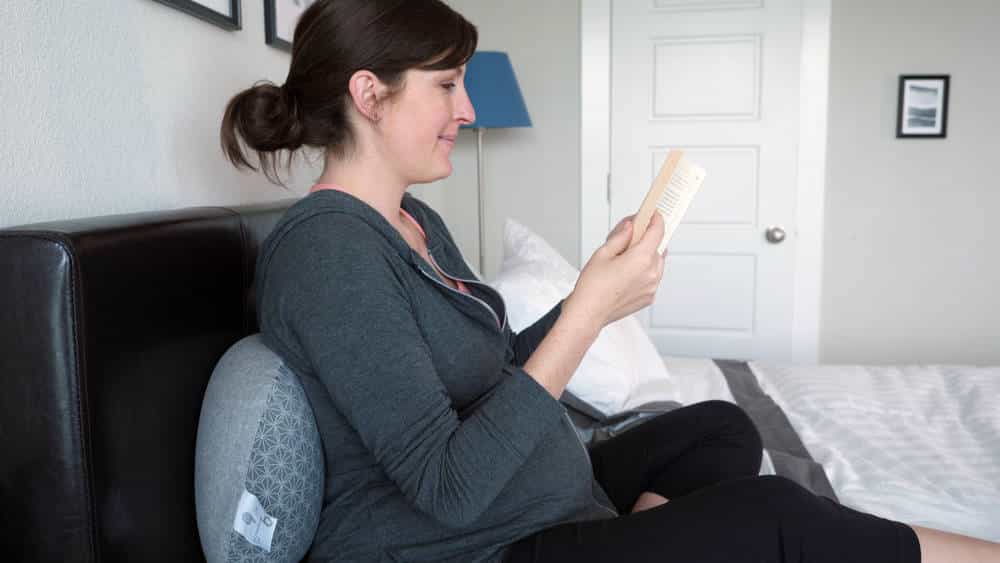 Thanks to its microbead filling, this pillow really feels like a travel pillow to me (and not in a bad way). It has a really nice firmer level of support than what I usually get with a polyester-filled pillow. I found it comparable in firmness to a denser foam.
With the help of a bobby pin or safety pin, the cover is easy enough to unzip and remove. It's also very simple to wash it on a delicate cycle and air-dry it or use a no-heat cycle so the cover doesn't shrink. And if a person needs to, they can purchase an additional cover by itself as well. The cover options are all modern in their design and have a nice sleek look.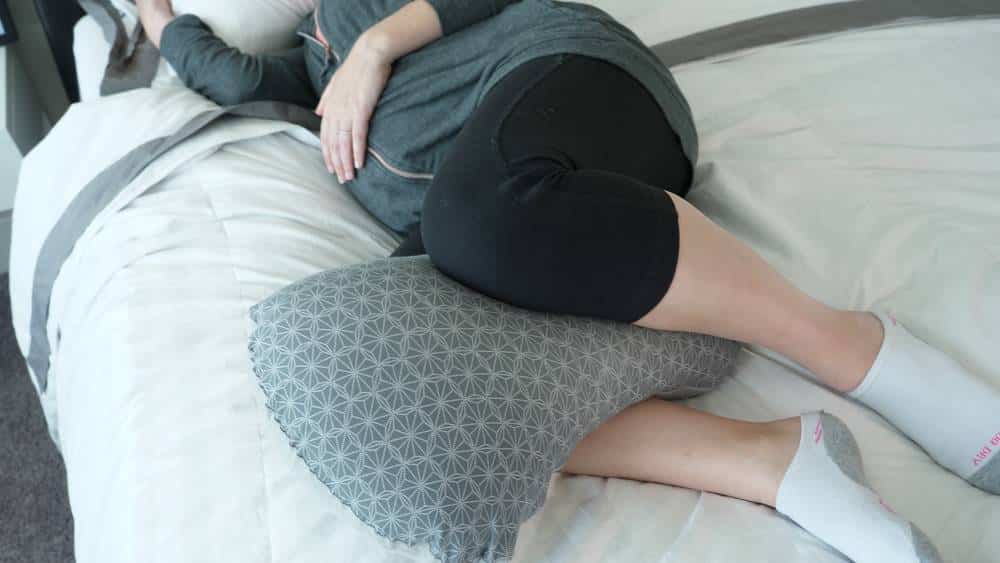 I found myself grabbing this pillow and using it pretty much all the time in the second part of my pregnancy. Any time I took a quick nap, I would throw it between my knees to help keep my hips aligned. I think it even works as a neck or head support if the individual finds themself in need of an extra pillow.
Although my little guy isn't here yet, I think I can probably use it to prop him up for nursing and/or bottle-feeding and to keep me comfortable postpartum as well.
Overall
I really like this simple ergonomic pregnancy pillow from Babymoov; it's easy to take in the car. As a mom on the go myself, it was so nice to have when I needed a little extra support and it can easily be used after the baby comes, which adds to its value.
Because it's available at various retailers, this keeps the price competitive. Expect to pay around $40 for the pillow. The cover is removable, but if the zipper has been removed like it was with mine, grab a bobby pin or a safety pin to unzip and remove the cover so it can be washed before use.
Katie Golde
Katie manages the day to day operations of the Mattress Clarity news site and reviews sleep products in addition to writing and editing sleep news. She hails from Austin, where she lives with her growing family. She is a Certified Sleep Science Coach and has a master's degree in Journalism from Northwestern University and has a background in health and science content. Her work can be found in print and online publications like Discover Magazine, USA Today and The Huffington Post.