10 Grove is an interesting company. They are a producer of luxury bedding, but they also own their own factory, allowing them to price their items quite low.
I have been excited to try some of 10 Grove's products for a while now, so when I received the 10 Grove Duvet Cover from their Hudson collection, I put a light comforter inside of it and put it right on my bed.
To find out what my experience was like with the 10 Grove Duvet Cover, read on for my full review.
10 Grove Duvet Cover Deals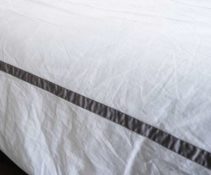 The 10 Grove is a high-quality duvet cover with a luxurious, modern design. 
The 10 Grove Might Work For …
Fans of bedding with a crisp, linen feel. The 10 Grove comes in two versions, percale and sateen, and we received the percale model, which has that classic, crisp linen feel. Those who like something thinner and similar to what one would find on a hotel bed should like the percale model of the 10 Grove.
Hot sleepers. Those who often find themselves overheating at night want to pay close attention to what type of bedding they are using. When it comes to duvet covers, percale is usually a more breathable weave, and the 10 Grove duvet cover is no exception. It allows for a good amount of airflow and, paired with a lighter comforter or duvet insert, it sleeps quite cool.
Fans of a bordered style. The Hudson collection duvet cover features a bordered style, and there is both an inner and outer border. For those who like a white duvet cover with a modern, bordered style, this 10 Grove Duvet Cover should be a particularly good choice.
Those who want a luxurious, durable duvet cover, but for a value price. To get a modern, luxury duvet cover, one would usually have to spend a good deal of money. While the 10 Grove is not the most affordable duvet cover out there, it is priced very well for such a high-quality piece of bedding.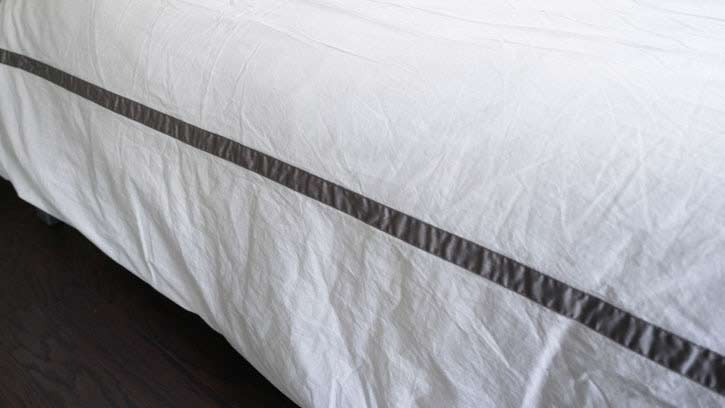 The 10 Grove Might Not Work For …
Those who prefer a soft, silky feel. Those who prefer a duvet cover that is soft with a silky feel might not like this model of the 10 Grove and might prefer something with a sateen weave.
Fans of a duvet cover with a solid color. Just from a style perspective, the 10 Grove might not be the best choice if someone wants a duvet cover with a solid color. The 10 Grove, specifically the duvet cover from their Hudson collection, is white with a bordered style.
Those who don't want to deal with wrinkles. One of the drawbacks of percale is that it can be wrinkly, especially after it washed and dried. This model of the 10 Grove is no different and, after cleaning it, an iron will be necessary to get rid of the wrinkles.
Those who want a more affordable duvet cover. While the 10 Grove is a very good deal, it might be too pricey for some as it is $230 for a Full/Queen-size.
RELATED: Best Duvet Covers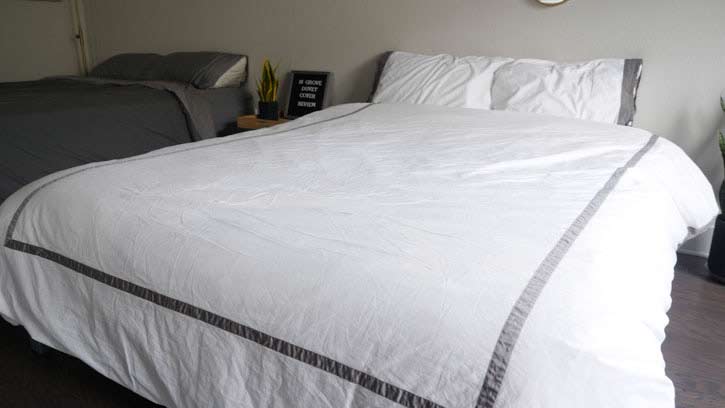 Construction, Size, And Color Options
10 Grove currently offers four collections: Madison, Irving, Mercer, and Hudson. We received the 10 Grove Duvet Cover from the Hudson collection, and it has a solid border around the edge as well as an inner border as well.
The 10 Grove Duvet Cover is made with 100% long-staple Egyptian cotton, a strong, durable fiber. While all their duvet covers are made with this material, one can opt for a percale or sateen model. We reviewed the percale model, which is thin, lightweight, breathable, and has a 400 thread count.
All of the fabrics are also OEKO-TEX certified, meaning they are free of harmful chemicals.
Customers can choose from five different border colors: White, Beige, Blue, Gray, and Olive Martini and, in terms of size, they can pick between Twin/Twin XL, Full/Queen, and King/California King.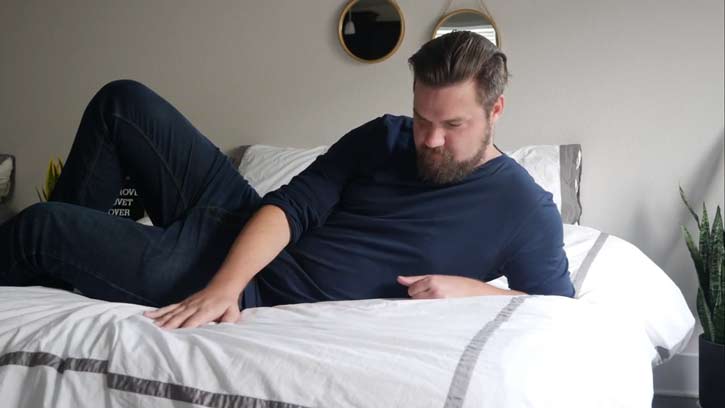 Feel And Breathability
My experience with the 10 Grove is that it is both crisp and lightweight. It is not as smooth as sateen, for example, but it does have a nice hand feel so, when I lie underneath it, it is not rough against my skin.
One of the major benefits of percale is breathability, and the 10 Grove percale duvet cover is definitely breathable. It promotes airflow and doesn't make me feel too sweaty or clammy. I used it in the summer months, and I was not too hot underneath the duvet cover.
Cleaning And Care
A duvet cover can be a great investment if someone wants to keep your comforter clean. It can be thrown in the washer and dryer without having to head to the dry cleaner. 10 Grove recommends following these steps when cleaning their duvet cover:
Wash the duvet cover in cold water and use a gentle cycle.
Do not use chlorine bleach when washing the 10 Grove duvet cover.
Tumble dry the duvet cover on a medium/permanent press setting or the 10 Grove can also air dry.
Iron the duvet cover if there are wrinkles.
Overall
In the end, I thought the 10 Grove was a high-quality duvet cover. I was surprised by the price because this is a very luxurious piece of bedding. 10 Grove offers free shipping.
Marten Carlson
Marten is the Lead Reviewer at Mattress Clarity. He is a Certified Sleep Science Coach and covers the mattress industry as well as sleep science news. He is specifically interested in the connection between sleep and overall health. Marten has written for media publications like Consequence of Sound and received a master's degree in Film Studies from Emory University. He comes from Franklin, Indiana, and spends all the time he can writing, directing, and acting in films.