Cariloha's Resort Bamboo Bed Sheets are hands down the softest bamboo sheets we've had the chance to sleep on, but can you handle the wrinkles (and the price)?
The lightweight and soft feel are what really make this set of sheets stand out.  I loved the softness of them, so if you are looking for that soft, silky feel, then I think you would do well to get these sheets.  There are just a couple of things to note about them that you should consider before making the purchase.
Read on for my full review:
Who Makes It
The sheet set is made by Cariloha, an island-style inspired company that makes a wide variety of bamboo products, from bed sheets to apparel and other accessories. Their name is a combination of the words "Caribbean" and "Aloha."
See why these are sheets are ranked as one of the best overall bamboo sheets.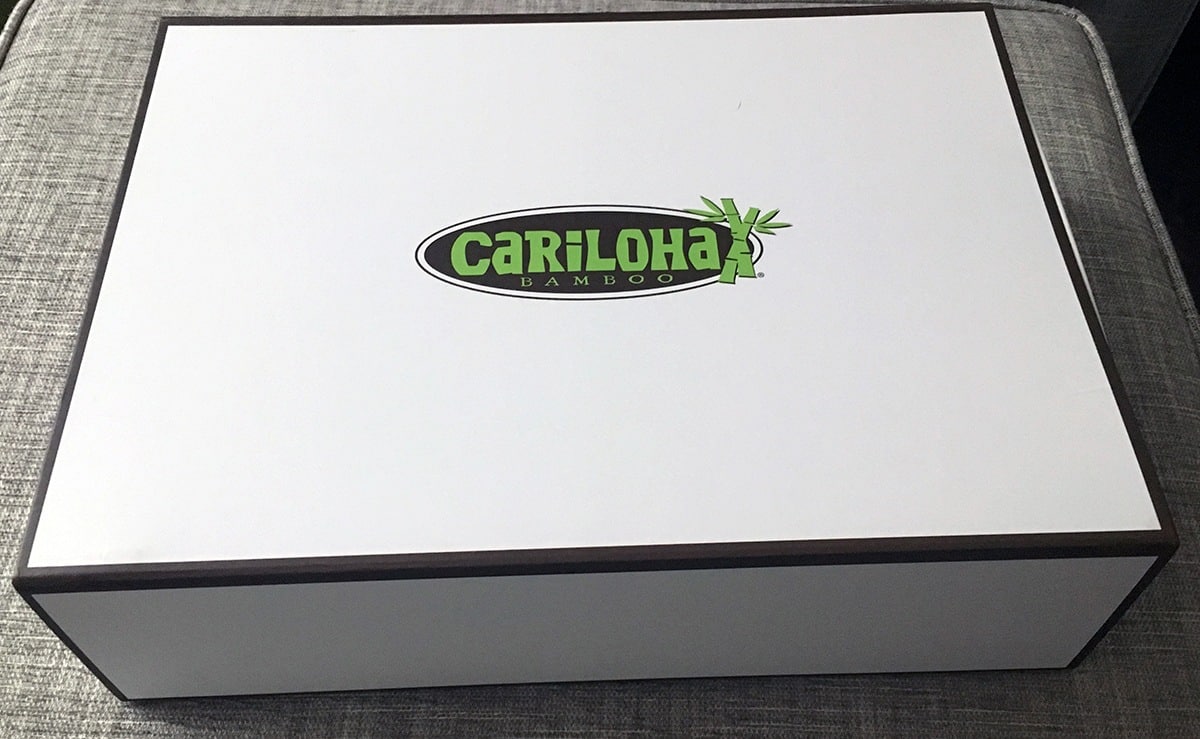 Key Features
100% viscose from bamboo
Sateen weave for soft finish
Thermal regulating
Each set includes 1 flat sheet, 1 fitted sheet, and 2 pillowcases
Fits mattresses up to 18-inches deep
Queen size fits a bed sized 60 x 80 inches
Seven available colors
Pros
Super soft
Lightweight feel
Variety of colors
Transparent manufacturing process
Machine wash and dry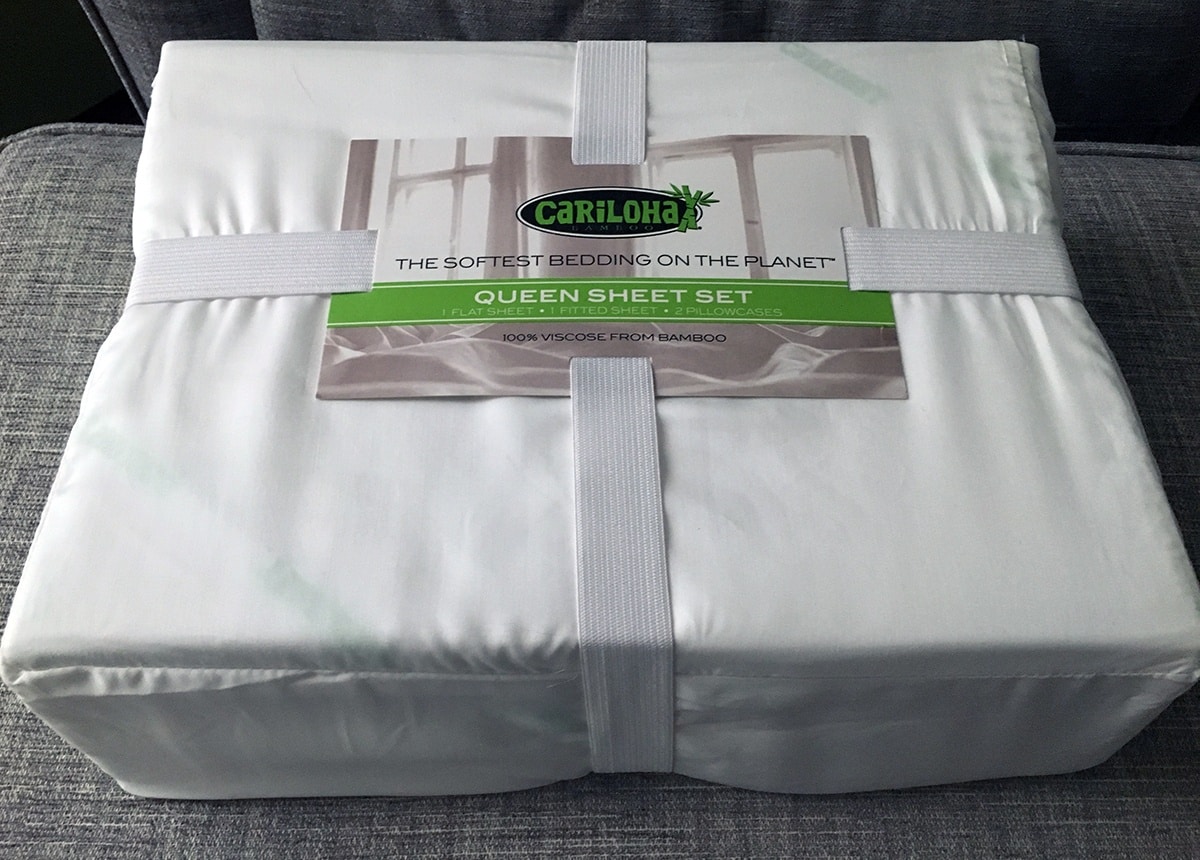 Cons
Wrinkles easily
White color is very sheer
Issues with thermal regulating
Expensive
My Experience
After reviewing Cariloha's Classic Bed Sheets set, I had high expectations for their Resort Sheets set. On their website Cariloha says, "with these resort bamboo sheets, you'll have the comfort and quality of a beach resort in your own home." My first question: Are fruity cocktails included?
The sheets are incredibly soft, and they feel just like the sheets in really nice hotels and resorts. I was impressed by how lightweight the fabric was, even lighter feeling than the Classic Sheet Set.
The thing about fancy hotel resort sheets is that someone else is washing and drying them and someone else is getting them onto your bed in a timely fashion to avoid as many wrinkles as possible. I think most likely you'll need to accept some wrinkles in your sheets.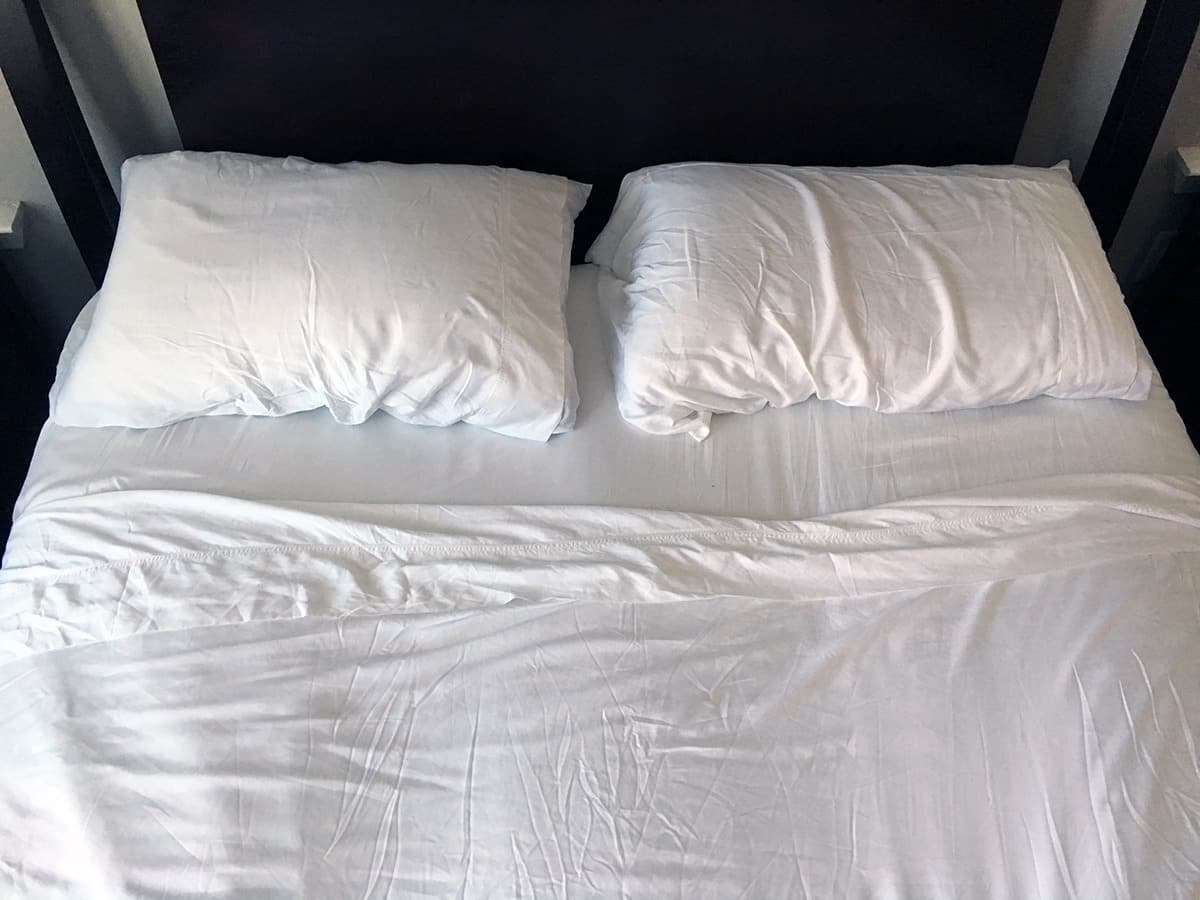 There is a small section on the outside box of the sheet set that provides care instructions. I was expecting there to be additional information once I opened the packaging but that was it. It says to machine wash with cold water and tumble dry on a low setting and removed the sheets from the dryer immediately. Do not use bleach and warm iron the sheets if necessary.
I washed the sheets by themselves on a cold and gentle setting. I also dried them on my "delicate" dryer setting. I tried to remove them from the dryer as soon as they were done, but that's not very realistic for me. I had to tumble dry them again for a few minutes to warm them up before I took them out.
The bedding draped easily over my queen sized bed and there was plenty of extra room in the fitted sheet to fit a mattress thicker than mine (I have a 10-inch thick mattress and the fitted sheet can hold up to an 18-inch thick mattress according to Cariloha).
I really enjoyed the softness of the sheets and their lightweight feel. My husband (the volunteer reviewer) commented several times about how much he liked their softness.
Cariloha says the fabric is "thermal regulating," but I still woke up hot all three nights I tested the sheets. However, other reviewers said they had no issues begin hot or cold and really liked this feature of the sheets.

Individuals that considering  purchasing bamboo bedding may be aware of the environmental factors associated with manufacturing bamboo. Those who are interested in the process can view a video on the company's website. The video provides additional information about how their bamboo becomes thread, which is then woven to become the fabric for many of their products.
You can also find information on how bamboo is manufactured here.
Cariloha Resort Bamboo Bed Sheets
Summary
These bamboo sheets are incredibly soft and lightweight which gives them a luxurious and resort-like feeling. However, they are prone to wrinkling and the white color is exceptionally sheer. Overall the quality of the sheets seems to be worth the steeper price point.
What to Consider Before Buying
The wrinkles increased the longer the sheets were on my bed and were noticeable from a distance. Those who hate wrinkles may find themselves using an iron frequently.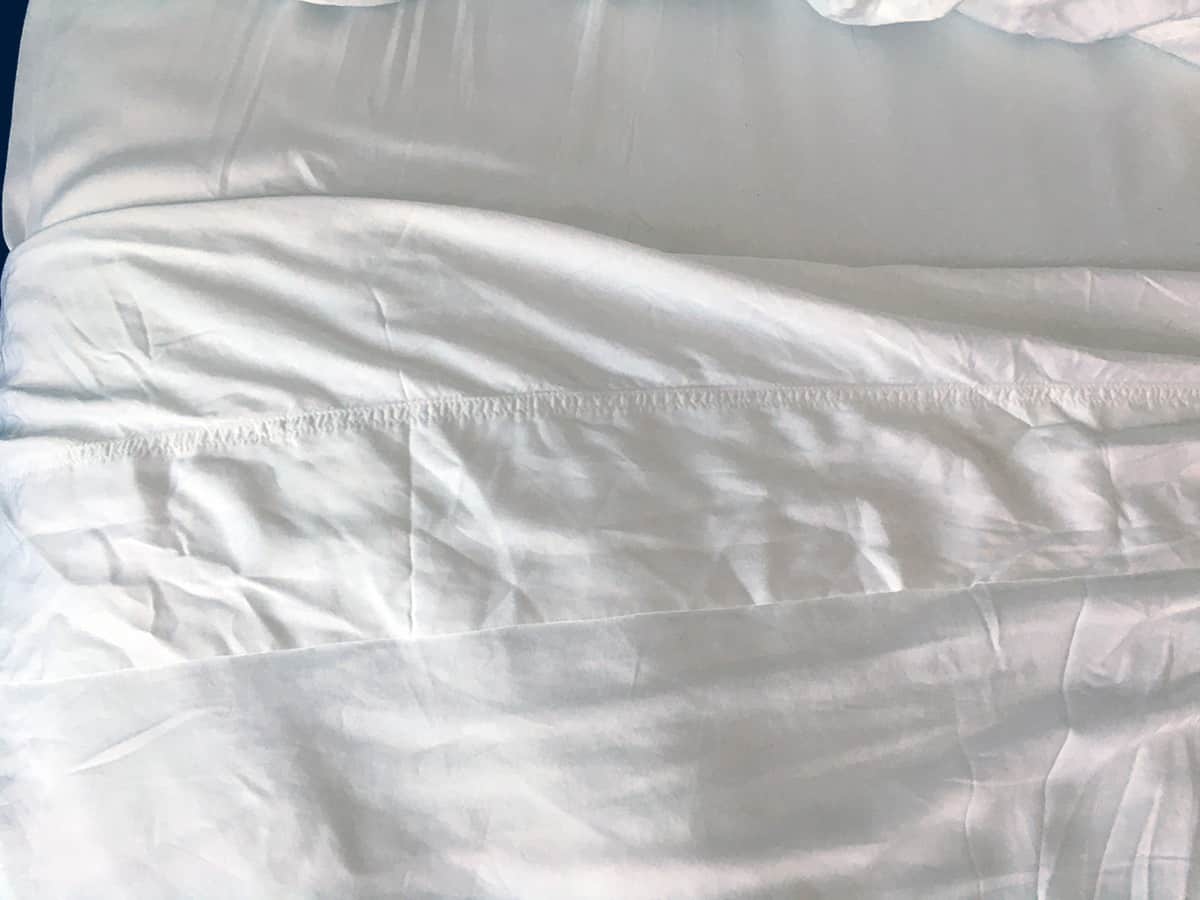 One reviewer highlighted the importance of following the care instructions, as she found the fabric pilled and became rough when she didn't follow the directions.

The white sheets were extremely sheer, as the sheets are very thin and light. This may be a dealbreaker for some, or a positive if you are like me and constantly searching your bed for your lost phone.
Price
These sheets are fairly expensive – the Queen Set is $239 and the King Set is $259 on Cariloha's website. I found the same prices on Amazon as well. If these blow the budget, consider Cariloha's Classic Sheet set.
For the overall quality of the sheets, their luxurious softness, and the company's transparent manufacturing efforts, I think these bamboo sheets are worth the splurge.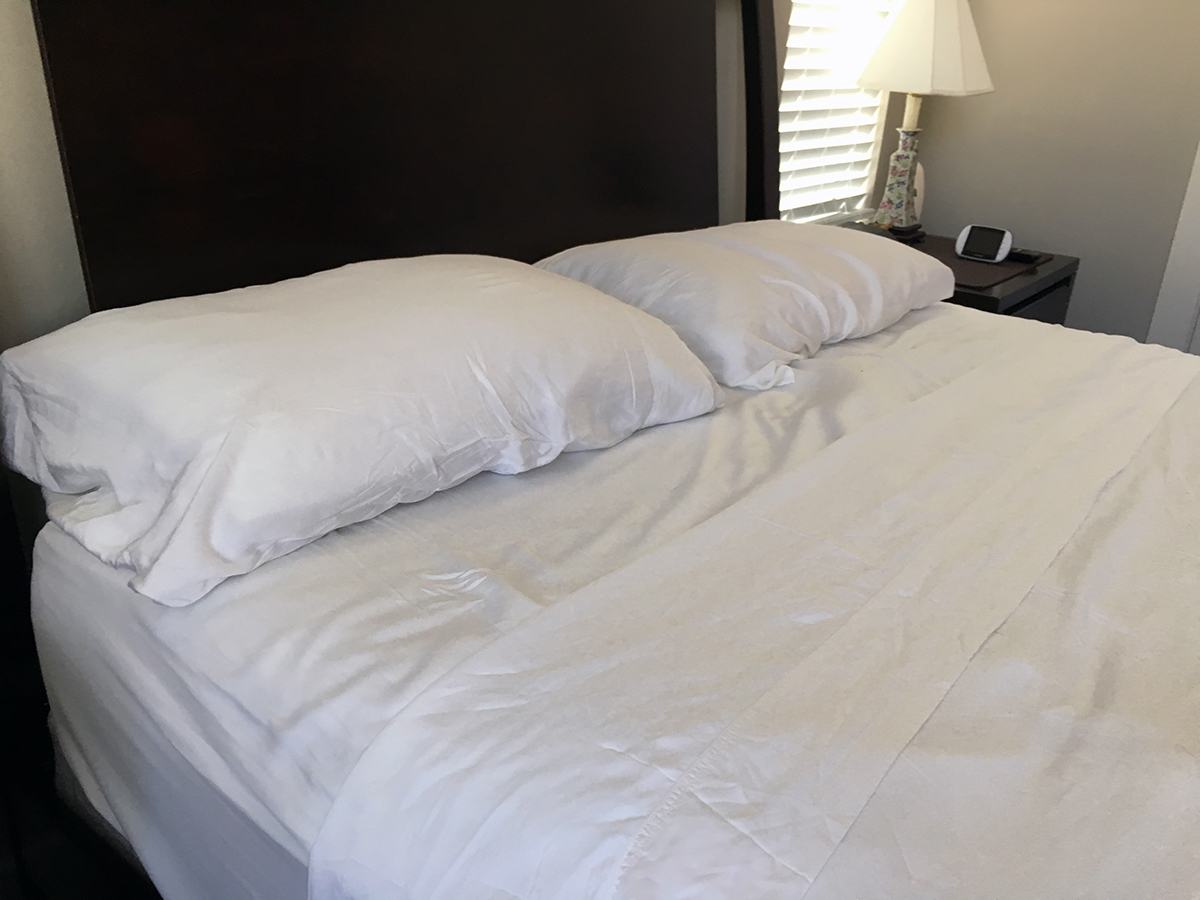 These are the kind of purchase I'd consider making if I was on a vacation and wanted to bring back something to remember the relaxing moments of my trip.
Cariloha also offers a 90-day money back guarantee and a lifetime quality satisfaction guarantee.
The following two tabs change content below.
Katie Golde
Katie manages the day to day operations of the Mattress Clarity news site and reviews sleep products in addition to writing and editing sleep news.She hails from Austin, where she lives with her growing family. She is a Certified Sleep Science Coach and has a master's degree in Journalism from Northwestern University and has a background in health and science content. Her work can be found in print and online publications like Discover Magazine, USA Today and The Huffington Post.
Latest posts by Katie Golde (see all)