You may have seen weighted stuffed animals advertised as soothing while scrolling through TikTok or browsing a toy store and found yourself wondering — do they actually work? The short answer is yes! To answer more of your questions, we've broken down how and why weighted stuffed animals help with anxiety, recommended a few weighted stuffed animal brands to check out, and compared weighted stuffed animals to weighted blankets below.
Read on to have all your questions about weighted stuffed animals answered!
How Weighted Stuffed Animals Help Anxiety
Weighted stuffed animals help with anxiety and mental wellness by using deep pressure stimulation. Essentially, they create a hug-like feel that releases soothing brain chemicals. Curious about the science behind mental health and sleep? Check out our Complete Guide to Anxiety and Sleep to learn more.
Deep Pressure Stimulation
Deep pressure stimulation occurs when firm, weighted touching occurs. So holding and petting a small pet (perhaps one the size of a weighted stuffed animal) will release deep pressure stimulation. This soothes the nervous system and releases relaxing chemicals like serotonin.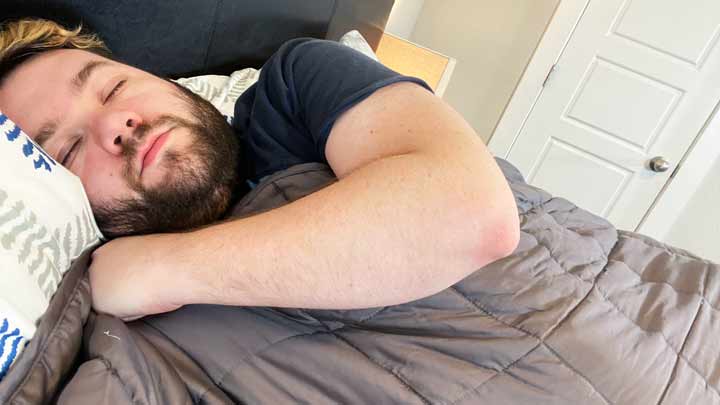 Deep pressure stimulation can help people relax before bedtime and calm nervous children. Studies suggest deep pressure stimulation can also be soothing for people with ADHD, autism, and sensory processing disorders.
Improves Sleep
Weighted stuffed animals can improve sleep because deep touch pressure releases soothing chemicals and reduces stress hormones. It is easier to drift into sleep when you're feeling cozy and soothed, which makes a weighted stuffed animal a great choice for toddlers struggling to sleep at night. They're also good options for folks who find weighted blankets too heavy, but do find some weight soothing.
Heat Soothes Tense Muscles
Some weighted stuffed animals are heatable, which makes them great for cramps or sore muscles. If you're an athlete, they might also help your muscle recovery by making it easier to fall asleep at night! Check out our How Sleep Impacts Muscle Recovery guide to learn more.
The 3 Best Weighted Stuffed Animals for Anxiety
If you know you want a heated stuffed animal but aren't sure which brand to go with, you're in luck. We've recommended our favorite weighted stuffed animals below.
Warmies USA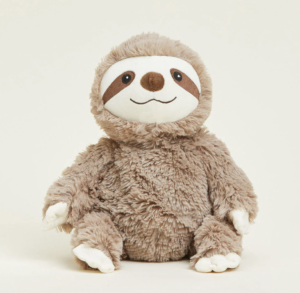 Warmies USA pillows are adorable (their best-selling sloth Warmie is the perfect companion for a cuddle). Plus, these stuffed animals are weighted and scented with soothing French lavender. They're also heatable, so your Warmie can be popped in the microwave to give you a warm hug. An original-sized Warmie weighs 1.5 lb and will have a nice calming effect. Warmies also offers supersized pillows with a hand warming insert and two lines of pillows made just for infants and smaller children. If you're looking for a stress relief toy made with your child in mind, definitely check out Warmies.
Snuggillows

If you're looking for a heavier stuffed toy, Snuggillows is a great pick. They offer a 5 lb stuffed cat with an adorable smile. You can use it as a soothing weighted lap pad or weighted snuggle buddy. At 20" long, this pillow is actually about the size and weight of a small cat! Adults and older kids need some added weight to get the stress relief benefits of deep pressure touch, so we recommend considering a Snuggillow if that sounds like you.
FOKKS
FOKKS pillow offers 16", 1.4-lb pillows shaped like cute unicorns and cuddly leopards. They're a great size and weight for kids looking to get a sense of security from their plush toy. These exceptionally cute plushies are a great addition to any kids' room, and they're a great way to soothe kids before bedtime. FOKKS pillows also ship fast on Amazon, making them great last-minute gifts.
Who Should Get a Weighted Stuffed Animal for Anxiety?
Weighted stuffed animals are great options for any kids (and adults) with anxiety. Weighted stuffed animals provide deep pressure touch that can reduce cortisol levels, calm the nervous system to make sensory processing easier, and release feel-good brain chemicals like dopamine and serotonin.
But they might not be for everyone. If you're interested in a weighted option but want something larger, check out our list of the best weighted blankets. Check out the chart below for some pros and cons of using weighted stuffed animals for anxiety.
| | |
| --- | --- |
| Pros | Cons |
| Good for kids | May not fit everyone's home aesthetic |
| Small and portable | Don't offer full-body deep pressure stimulation |
| Can heat up and soothe tired muscles | Don't offer full-body warmth |
Weighted Stuffed Animals vs Weighted Blankets
While weighted stuffed animals tend to weigh about 1.5 – 5 lb, weighted blankets normally weigh around 10 – 20 lb. High-quality weighted blankets are filled with glass beads, metal balls, or plastic pellets and should be about 10% of your body weight. Like weighted stuffed animals, weighted blankets provide deep pressure touch therapy that can encourage a sense of calm and safety.
The main difference is that the blankets are much bigger and heavier! For some folks, the increased size means increased comfort. Other people feel "trapped" under the weighted material. Consider personal preference before making a decision.
Other differences include pricing and care instructions. Weighted stuffed animals are much more affordable than weighted blankets. Many weighted blankets come with machine washable covers, while most weighted toys are spot clean only.
How Heavy Should Weighted Stuffed Animals Be?
Weighted stuffed animals should be between 1 and 5 lbs. If you're an adult, pick a weighted object that feels comfortable to you. For kids, be sure to pick a stuffed toy that is not too heavy for them to pick up and carry on their own.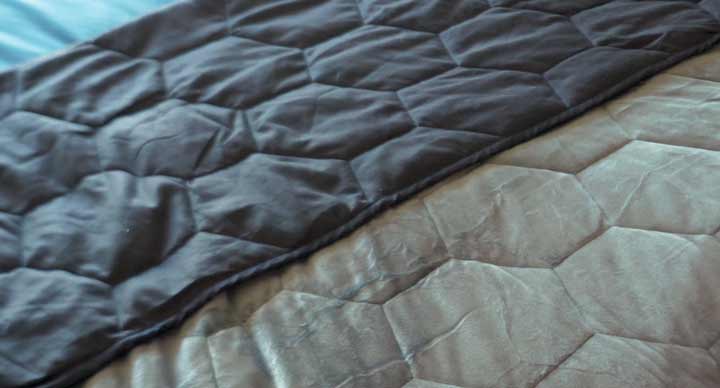 If you're considering a weighted blanket instead, check out our weighted blanket calculator to pick a weight that is safe and comfortable for you.
FAQs
Read on for answers to a few common questions about weighted stuffed animals.
Why are weighted stuffed animals comforting?
Weighted stuffed animals use deep pressure stimulation to make you feel safe and calm. Imagine being able to give your childhood teddy bear a hug and feel it hug you back. With a weighted teddy bear, gentle deep pressure stimulation will help soothe and calm you the way a real hug might.
What do they fill weighted stuffed animals with?
Weighted stuffed animals might be filled with glass beads, plastic pellets, stainless steel balls, or even rice or beans. Your new stuffed animal's care tag should provide more information on filling.
How do you add weight to a stuffed animal?
If you're handy with a needle and thread, you can buy poly-pellets online and stuff an old toy (or throw pillow) to turn it into a weighted pillow. If you plan to let a young child play with the toy, ensure you've resealed it tightly to avoid pellet leakage.