Twin and Full beds certainly have a lot in common. They are narrower and more affordable than the popular Queen bed and they're used frequently in children's rooms and college dormitories. But each mattress size is unique and comes with its own set of pros and cons. Which one is the best fit for your bedroom? Read on for our full comparison.
Jump To
Twin vs. Full Comparison | Twin-Size Bed Overview | Full-Size Bed Overview | Which Size Is Best for You? | Additional Considerations
Twin vs. Full Mattress Comparison
For a quick summary of the differences between a twin-size and full-size bed, check out our comparison chart below.
| | | |
| --- | --- | --- |
| Criteria | Twin-Size Mattress | Full-Size Mattress |
| Size | 38″ x 75″ | 54″ x 75″ |
| Best For | Children, bunk beds, shoppers on a budget | Children, teenagers, young adults |
| Price | $300 – $600 | $600 – $1,500 |
| Ideal room | Children's bedrooms, smaller bedrooms | Children's bedrooms, guest rooms, larger bedrooms |
| Pros | More affordable than a full-size mattress, easy to find accessories for | More spacious, easy to find accessories for |
| Cons | Too small for couples and taller sleepers | Too small for most couples and taller sleepers, more expensive than a twin-size mattress |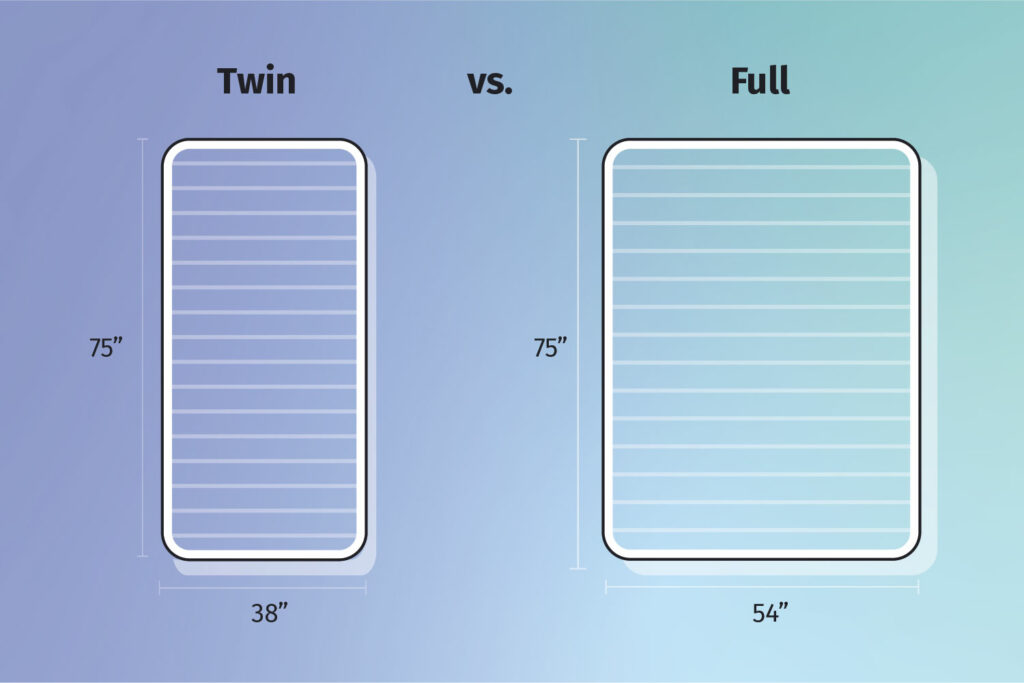 Twin-Size Mattress
A Standard Twin-size mattress is also known as a Single bed. Twin mattresses and beds are often the next steps for children who have outgrown their cribs. They're also a great option for smaller bedrooms like guest rooms. Bunk beds also traditionally come in Twin size.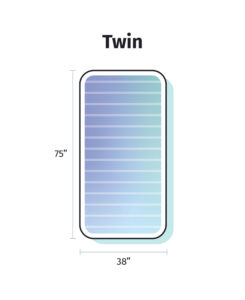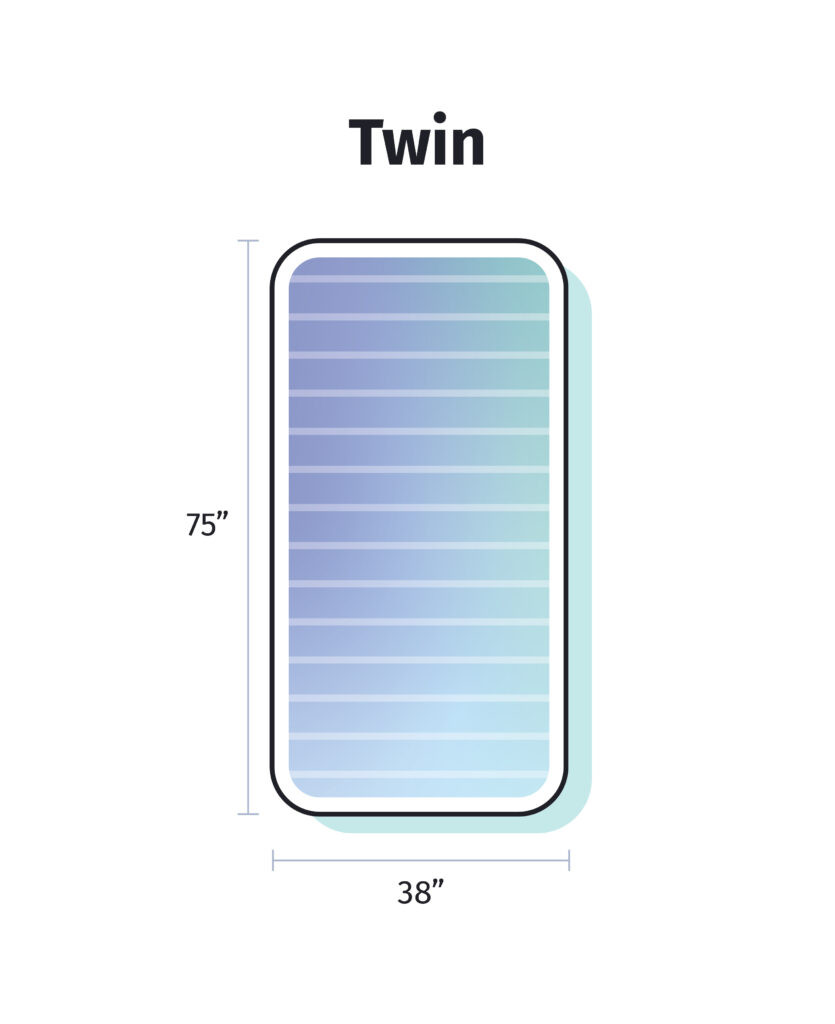 Pros
More affordable that a full-size mattress
Great for children
Easy to find accessories for
Easily fits in smaller bedrooms
Fits in many bunk beds
Cons
Too small for couples
Too small for taller sleepers
Some may prefer more width
Additional Twin-Size Mattress Sizes
Twin XL: The Twin XL is the same width as a Standard Twin but it's about 5″ longer, making it the same length as a Queen or King. It is a nice option for college dormitories or taller children who may have smaller rooms. You will also see them in hostels where multiple beds are in one large room.
Full-Size Mattress
A Full-size mattress or bed is sometimes called a "Double" or just "Full". It is the same length as a Twin bed (sometimes it's measured at 74″ in length instead of 75″), which can make it too short for some adults. A Full tends to be better for individuals –  a couple would only get 27″ each –  which is the width of a crib. The Better Sleep Council says parents are increasingly choosing Full-size beds over twin sizes for teenagers'  and even younger children's bedrooms.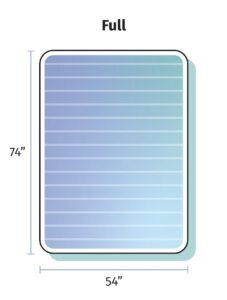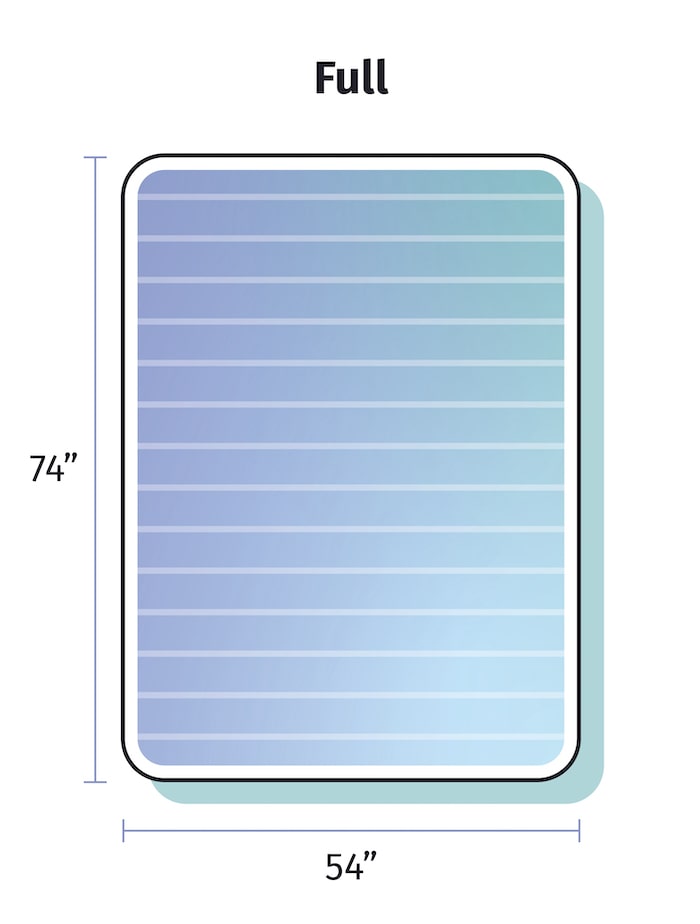 | | |
| --- | --- |
| Width | 54″ |
| Length | 75″ |
| Width Per Person | 26.5″ |
Pros
More spacious than a twin-size mattress
Easy to find accessories for
Great option for guest rooms
Excellent mattress size for growing children and teens
Cons
More expensive than a twin-size mattress
Too small for most couples (though some can make it work)
Too small for some taller individuals
Additional Full-Size Mattress Sizes
Full XL: This bed is the same width as a Standard Full but has an extra 5″ length that matches Twin XL, Queen and King size options.
| | |
| --- | --- |
| Width | 54″ |
| Length | 80″ |
| Width Per Person | 26.5″ |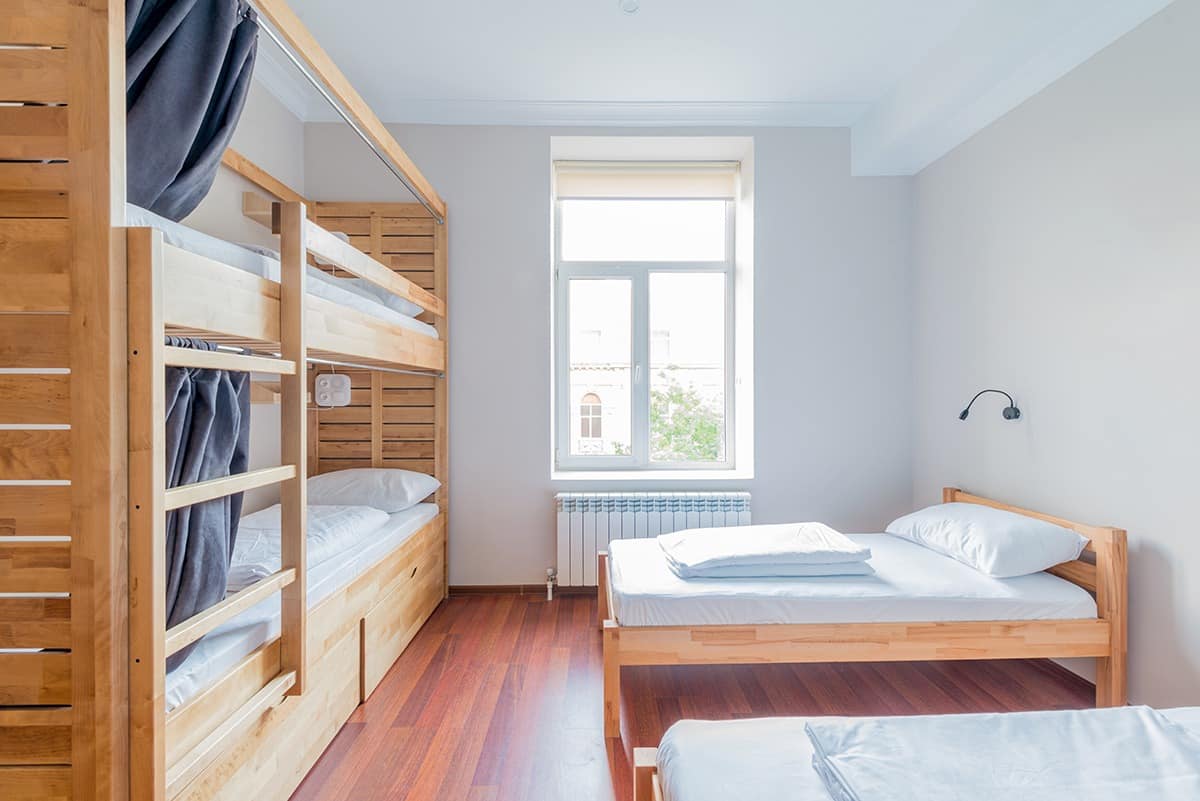 Elnur/Shutterstock
Should You Get a Twin or Full Bed?
Twin If…
You're a petite adult or child- As we mentioned earlier, Twin-sized beds are sort of the next step up from a crib mattress. A Standard Twin is 38″ x 75″ (sometimes it's measured at 74″) so in terms of size, it's the best mattress for kids and toddlers. This could be a tight fit in both directions for an average adult and nearly impossible for a couple.
You're trying to save money- If you have room for a Full/Double bed but can't afford the frame, mattress, and sheets, you can consider a Twin (or a Twin XL for more length). The Twin will definitely be more affordable since you are saving on space. College dorm room beds are often Twin XL and there are good sales on bed sets during Back-To-School season.
You need a bed for a smaller room- A Twin bed will look very small in a Master Bedroom (unless it's a smaller bedroom). A Twin will probably fit well as a replacement for a crib in a nursery or a smaller room that maybe two people share – like a kid's room.
Full If…
You're a couple and tight on space- Two people could technically sleep on a Full/Double bed, but it would be a tight fit – with each person only getting the width of a crib for themselves. Consider a Full XL for an additional 5″ of length if that's a Full is the widest option of your room.
You've got a bigger room to fill- You'll get an additional 15″ of width in a Full/Double from a Twin or Twin XL, which will fill up space in a room better than a Twin or even a Twin XL bed.
You're looking for something to grow into- The Better Sleep Council says that more people are choosing to skip a Twin or Twin XL and go straight to a Full or Double for their young children or their teenagers. The extra width leaves room for everyone to grow.
RELATED: Best Mattress For Teenagers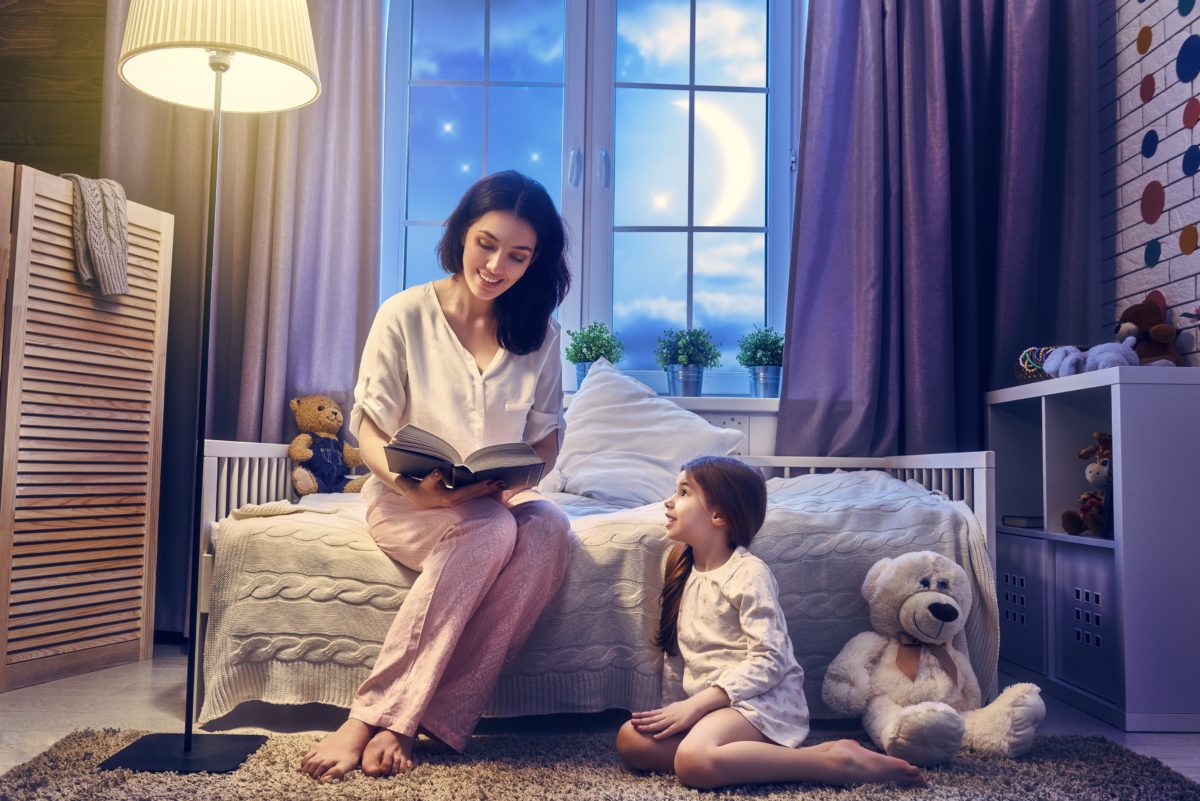 Yuganov Konstantin/Shutterstock
Things To Consider
There are a lot of reasons to choose either a Twin/Twin XL or a Full/Full XL. Planning ahead is going to be critical in making sure you pick the right one for your room. Here are some tips and things to think about before you make your next purchase.
Measure your space and leave room for movement- If you are thinking about making the jump from a crib to a Twin or a Full/Double,  make sure it fits it in your bedroom. This may seem obvious, but it's easy to get caught up in an impulsive shopping moment and end up with a bed that doesn't fit. An article from Th!ngz Contemporary Living says that most designers will recommend 30″ of space around your bed for movement.
Consider who will be sleeping in the bed- Is this a new bed for your child or something for the guest room? Will two people end up in this bed? All of these questions will be key to factor into your decision. If there's a chance a couple will use the bed, think about going with a Full (or Full XL for extra length).
Shop seasonally if you can- There are times during the year that mattresses and beds will go on sale. If you're on a budget but want to upgrade to a bigger bed, it might be worth waiting to make a purchase during that time.
Overall
A Twin or Twin XL bed could be the perfect fit for a smaller child's room or college dorm or hostel. But if you're a couple, a Full bed (Full XL) will be a better fit thanks to the 15″ of extra space. Both are affordable and often go on sale around Back-To-School time, so it's worth keeping your eye out during sales and seeing if you can score a great deal on either.
Featured image: Photographee.eu/Shutterstock
Katie Golde
Katie manages the day to day operations of the Mattress Clarity news site and reviews sleep products in addition to writing and editing sleep news. She hails from Austin, where she lives with her growing family. She is a Certified Sleep Science Coach and has a master's degree in Journalism from Northwestern University and has a background in health and science content. Her work can be found in print and online publications like Discover Magazine, USA Today and The Huffington Post.