Shopping for mattresses, there are so many decisions to make. People have to consider size, price, and, most importantly, the type of mattress they want. Two of the most popular types of mattresses right now are memory foam and latex.
Our in-depth comparison of these two types should make mattress shopping much easier. This article will look at the similarities and differences between memory foam and latex as well as their benefits and drawbacks. Read on to see who wins in the battle of memory foam vs latex mattresses!
Memory Foam Vs Latex Overview
Let's take a look at what these mattresses are made of and what makes them unique. First off, memory foam is made of something called polyurethane and was developed by NASA to cushion pilots and astronauts and offset the strain of G-forces.
Now, consumers don't have to go to space or break the sound barrier to experience the comfort of memory foam. It is found in sofas, car seats, and, yes, mattresses. Memory foam is known for having a very slow-moving feel that conforms to the body when people sleep on it. Lying down on a memory foam mattress, most people will feel like they are sinking in and like the mattress is enveloping them.
RELATED: Memory Foam Vs Hybrid Mattresses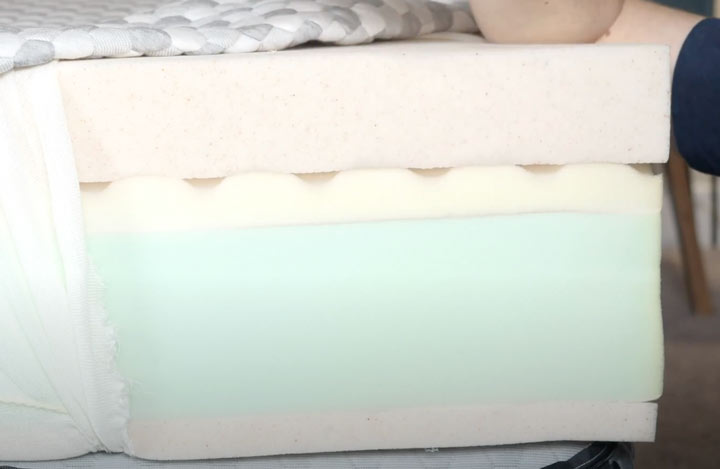 Latex mattresses contain, that's right, latex! The latex found in mattresses is either sourced from rubber trees or is synthetically produced. Both types of latex are formed into a foam, one that feels much different than memory foam. Latex foam is bouncy and firmer and does not let sleeping sink in too far.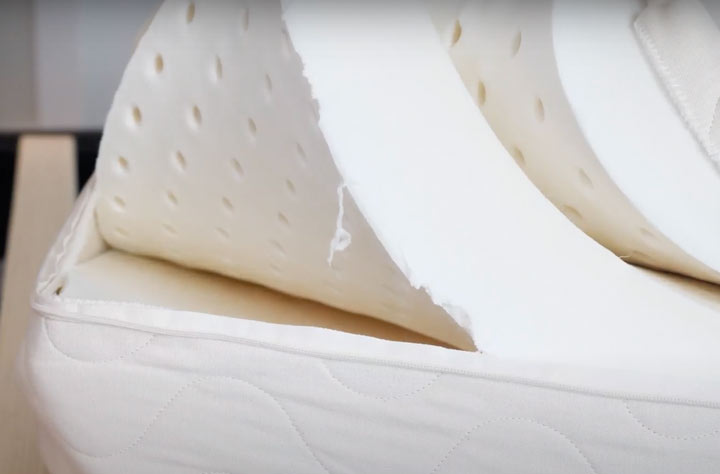 Who Should Choose Memory Foam? 
Those who like to sink in and sleep more "in" their mattress
Side sleepers who want to feel good pressure relief on their shoulders and hips
Those who want to spend less on their mattress purchase
People who sleep with a partner and don't want to be disturbed by their movements
Who Should Choose Latex?
Those who prefer to sleep "on top" of their mattress
People who prefer a mattress with a good amount of bounce
Hot sleepers who don't want to wake up sweaty and clammy in the middle of the night
Those who are looking for a good long-term investment
Heavier people who need a more supportive mattress that won't sag
Anyone who is seeking a more eco-friendly, all-natural mattress
Memory Foam Vs. Latex Video Comparison
Want to see how memory foam and latex mattresses look in real-time? Check out our extensive video comparison of memory foam and latex mattresses!
The Benefits And Drawbacks Of Memory Foam
There are a lot of benefits to using memory foam mattresses, and the one most people prioritize is their superior pressure relief. Memory foam allows sleepers to sink into the material and this relieves pressure on areas such as the shoulders and hips. When people are lying on their sides, the majority of the body's weight is concentrated on those two points. Mattresses with a thick layer of memory foam on top can cradle those areas, preventing pain and discomfort.
Because of this, people with pain issues often opt for a memory foam mattress. Those with issues such as fibromyalgia and arthritis can often find good pain relief with memory foam. Again, it contours to the shape of the sleeper's body so that the mattress isn't pressing up against the body and applying unwanted pressure.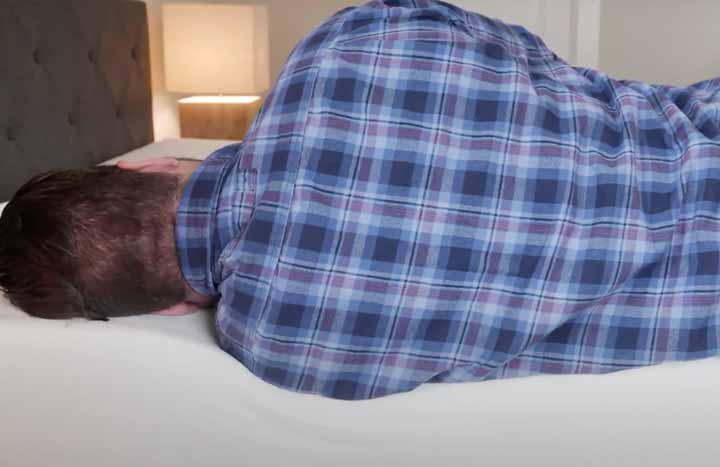 Memory foam is also known for being a quieter material. Moving around on an innerspring mattress, especially one that has been around for a while, can be a noisy, squeaky affair. Changing position and getting in and out of a memory foam mattress shouldn't make much noise at all.
Because of this, memory foam mattresses are often the best mattresses for couples. However, it's just the noise; on some types of mattresses, the slightest bit of movement can disturb a sleeper on the other side of the bed. This is not an issue with memory foam as it actually absorbs this movement and isolates it to one side of the mattress.
At the same time, memory foam does have its drawbacks. One of the major complaints people have with memory foam is its propensity for trapping heat. When some people lie on a memory foam mattress, they could feel like their body heat is being directed back at them, and this could cause them to wake up hot and sweaty.
Also, while memory foam can be a good fit for people with pain, it isn't the best in terms of mobility. Because it moves so slow and offers little bounce, memory foam can make sleepers feel like they are "stuck" in the mattress. This can make it more difficult to change positions and get in and out of bed.
Memory foam mattresses can also give off a serious chemical smell when they are first unboxed. This is called "mattress off-gassing," and it can be a bit intense at first. It will go away after a few days, however.
Finally, depending on the density of the memory foam, it can sag more quickly than other mattress materials. Memory foam that has a density of less than 2 lb can sag after only a few years of use. This will make the mattress feel uneven, and indentations can also start to form and make for an uncomfortable night of sleep.
The Benefits And Drawbacks Of Latex
Like memory foam, latex has its pros and cons. One of the main benefits of latex foam is its breathability and cooling nature. Latex does not trap heat the way that memory foam is known to do and makes for a cooler night of sleep.
Some types of latex, such as Dunlop and Talalay, are also all-natural materials. Because of this, mattresses made with these materials are free of harmful chemicals. In addition, they are better for the environment as the creation and treatment of latex foam does not require these noxious chemicals.
Latex is also a bouncier material and makes it very easy to reposition and get in and out of bed. Few people complain about getting "stuck" in latex mattresses. Some people simply prefer a bouncier mattress that also lets them sleep more "on top" of the mattress.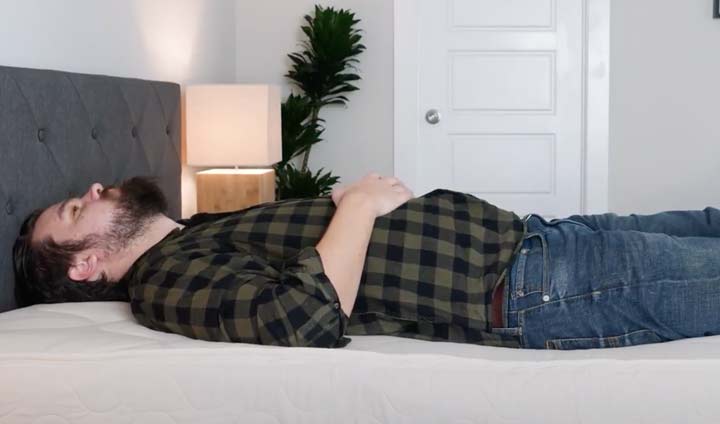 While some types of memory foam can start to sag quickly and allow for indentations, this is not the case with most types of latex foam. Latex is a very durable material that shouldn't sag, even under much weight.
This durability does come with a high price, however. Latex mattresses, especially those that contain all-natural latex can be quite expensive. They really are worth it when we consider how long they will last, but the initial investment might be too much for some.
Latex mattresses also don't provide the pressure relief one finds with memory foam. Side sleeping on a latex mattress, people could feel bunched up and experience significant pressure on the shoulders and hips. Many latex mattresses feature wool tufting right under the cover to offset this and provide a bit more soft comfort.
There is also the issue of weight. Latex foam is a heavy material, and this makes latex mattresses weightier and more cumbersome. This won't be an issue most of the time, but we can attest that moving a big latex mattress is no easy chore!
While most people won't deal with this issue, some may have latex mattress allergies. People with extreme latex allergies could have trouble sleeping on these mattresses.
Make sure to read our list of the best latex mattresses to learn more about the upsides and downsides of latex.
FAQs About Memory Foam And Latex Mattresses
Which is better, memory foam or latex?
We would not say that one type of mattress is better than the other, but they are a better fit for different types of people. Side sleepers, those who struggle with pain issues, and those who want to save some money will be better off with a memory foam mattress. Heavier people, those with mobility issues, and those who want a longer-lasting mattress will prefer something with latex.
Is latex firmer than memory foam?
Latex is generally firmer than memory foam and doesn't let people sink in so far. Some types of high-density memory foam can be quite firm, but they are rarely firmer than latex.
Is latex or memory foam better for back pain?
Latex and memory foam can both be good for back pain, but it really depends on their firmness. Those who struggle with back pain want to find a medium-firm mattress with a good balance of comfort and support. One can find this with either a latex or memory foam mattress.
What sleeps cooler, memory foam or latex?
Latex mattresses generally sleep cooler than memory foam mattresses. They don't trap heat the way that memory foam can sometimes do and make for a cooler night of sleep.
Joe Auer
Joe Auer is the editor of Mattress Clarity. He mainly focuses on mattress reviews and oversees the content across the site.
He likes things simple and take a straightforward, objective approach to his reviews. Joe has personally tested nearly 250 mattresses and always recommends people do their research before buying a new bed. He has been testing mattresses for over 5 years now, so he knows a thing or two when it comes to mattress selection. He has been cited as an authority in the industry by a number of large publications.
Joe has an undergraduate degree from Wake Forest University and an MBA from Columbia University.