Looking for some new bedding but overwhelmed by all the different types of blankets out there? We've got you covered! Read on below to learn more about some common types of blankets and blanket materials. You'll be able to decide on the most comfortable blanket for your needs in no time.
| | | |
| --- | --- | --- |
| Type | Pros | Cons |
| Comforter | Available in many colors and thicknesses, warm but lightweight | Can be hard to clean, may be too warm for the summer months |
| Duvet | Easy to clean, versatile, available in a variety of thicknesses | Require a cover, might bunch up within the cover |
| Quilt | Lightweight, cooling, have a unique traditional look | Many quilts are dry clean only |
| Throw Blanket | Decorative, lightweight, great for lounging on the couch | Too small to use when sleeping at night |
| Waffle Weave blanket | Breathable but warm, great for layering | Too lightweight for colder months, offered in a limited number of colors and patterns |
| Weighted Blanket | Calming, may help you fall asleep faster, may improve sleep quality | May trap heat, some sleepers may find them claustrophobic |
| Heated Blanket | Great for cold climates, allow you to regulate their temperature | Should not be used overnight because of fire risks, not environmentally friendly |
| Sherpa Blanket | Snuggly and soft, lightweight but very warm, affordable | Not very durable, cannot be machine dried |
| Coverlet | Decorative, available in a wide variety of colors and patterns | Very thin and purely for decorative use |
| Afghan | Made of natural materials, decorative knit or crochet design, warm | Not machine washable, often on the smaller side |
Types of Blankets Explained
Take a look below for more detailed information on each blanket mentioned in the chart above. This should help you decide which blanket is the best choice for your individual needs.
Comforter
A comforter is a thick, quilted blanket often used year-round on beds. Comforters are made of two large fabrics sewed together and are filled with materials ranging from warming down to lightweight cotton. Depending on the materials your comforter is made with, it can either be heavyweight and cozy or breathable and moisture-wicking. Most comforters are quilted, so that the fill stays evenly distributed throughout the blanket.
Comforters come in a wide variety of patterns and colors, so they're great options for sleepers looking to spruce up their bedrooms. Depending on what you like, you may find your bedding is delicate dry-clean or hand wash only, or you can choose cotton fabrics that are easy to care for. Similarly, comforters will range in price. You can opt for luxury bedding (like the hypoallergenic Cozy Earth comforter) or opt for budget bedding. All in all, this versatile option is great for almost any sleeper! Check out our best comforters 2023 article if you're interested in checking some out.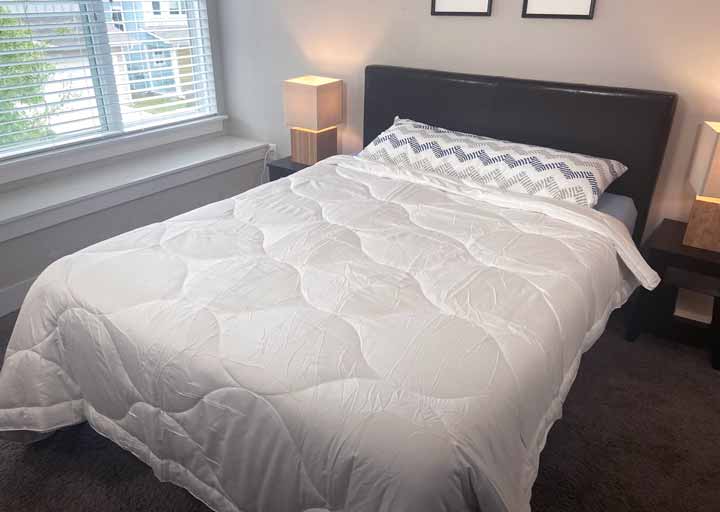 Duvet
Duvets are very similar to comforters and also come in a variety of thicknesses. Like comforters, they may be filled with down, cotton, wool, or synthetic batting. But unlike comforters, duvets are meant to be inserted into duvet covers. This can make wash care easier, since you can just wash the cover (without needing to worry about washing the heavy duvet). However, some sleepers find that their duvet bunches inside the cover or find the experience of changing the duvet cover to be a hassle. On the other hand, some sleepers appreciate that duvet covers are cheaper than comforters, so they can swap out their bedding whenever they'd like to give their bedroom a makeover. If you're looking for the best of both worlds, use our how to put on a duvet cover guide to up your bed-making game.
Duvets are an especially nice choice for sleepers with sensitive skin. You can prioritize natural materials or moisture-wicking properties to ensure you're not irritating your skin or overheating at night. But, if you don't want to break the bank, you can also look for all-natural, antibacterial, or body temperature-regulating duvet covers to get a luxury feel at a lower price. Check out our best duvet covers article to see some great options.
Quilt
Quilts are made of a top layer, batting, and a bottom layer. Quilts' top layers are often designed in a patchwork style and may incorporate sentimental fabric or meaningful patterns. Quilt batting is usually made of wool, down, or polyester. The bottom layer usually doesn't include a design. Quilts are more lightweight and lay flatter than comforters or duvets. Their breathability makes them a nice option for the summer months, but a wool-filled quilt can still do a good job keeping you warm in the winter.
Quilts are ideal for sleepers who enjoy low-profile bedding. Some modern quilts are made with neutral colors and patterns, so you don't need to like colorful designs to use one at home. That said, quilts are also great options for sleepers who enjoy a rustic look or want to add some color to their bedrooms. Take a peek at our quilt vs comforter article to learn a little more about these popular bed covers.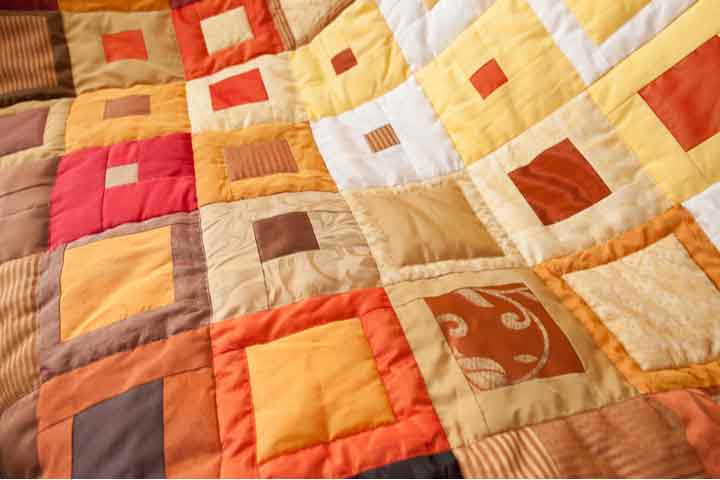 Throw Blanket
Throw blankets are typically not large enough to cover an entire bed. You'll normally see them arranged on couches or stored in the living room to cuddle into during movie night. These lightweight blankets come in a variety of fabrics, colors, and styles. You can often find small fleece blankets, Sherpa blankets, or cotton blankets being used as throws. Wool, acrylic and chenille blankets are also popular choices. If you're on the hunt for something to warm up your interior design (or warm you up in a chilly living space) a throw blanket is a great choice.
Waffle Weave Blanket
Waffle weave blankets are often used for layering under your bedspread or, if they're a smaller size, as a throw blanket on the sofa. These blankets are often made from hypoallergenic cotton and feel light and airy. They're great options for summer months if you use them alone, and can be easily layered under thicker wool blankets or down comforters when it gets cold. The weave is meant to regulate body heat, so they're a nice layering fabric year-round.
Waffle weave blankets most often come in solid colors, so sleepers looking for extra pizzazz may want to consider a different option. On the plus side, these blankets do not wrinkle easily, and they're normally machine washable and dryable. So, if you're looking to avoid dry cleaning your bedding consider a low maintenance waffle weave! Additionally, a high-quality waffle weave blanket will be long-lasting and durable, despite the easy wash care.
Weighted Blanket
Weighted blankets weigh between five and thirty pounds. They typically include quilted outer covers made of synthetic material or natural fibers and are filled with plastic pellets or glass beads. The quilting in the outer cover helps keep the weight from the beads evenly distributed. These blankets provide deep pressure stimulation because of their extra weight. This pressure is calming and anxiety-reducing which can help you fall asleep faster and sleep more soundly.
Weighted blankets are great options for anyone who wants to feel swaddled or hugged while sleeping. They're not great options for sleepers who easily feel smothered or sleep hot. These thick blankets can trap a lot of warm air, which may make them uncomfortable in the summertime. Interested in a stress-relieving weighted blanket? Check out our best weighted blankets 2023 article to learn more!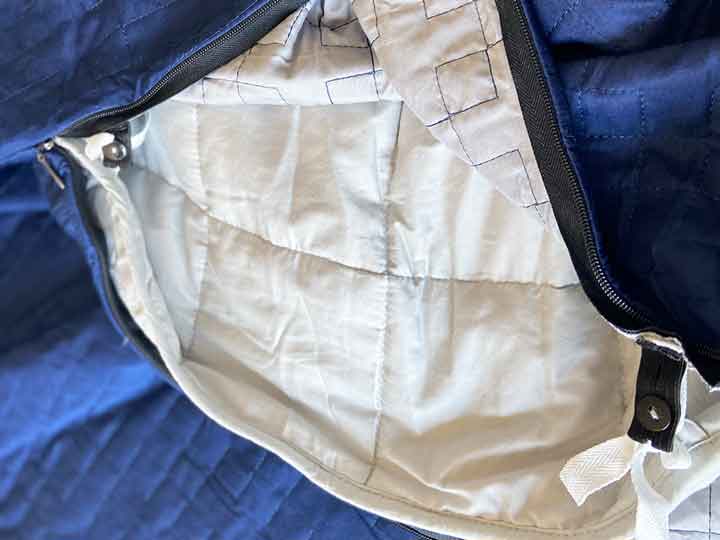 Heated Blanket
Heated blankets are electric blankets that are made of an outer layer of fleece, microfiber, or polyester. Like other microfiber blankets, they'll feel fuzzy and cozy to the touch. You may also find heated acrylic blankets, but these will feel a little rougher and less comfortable. You should avoid non-synthetic fabrics like cotton, as these outer layers are more flammable. Underneath the outer shell is a layer of insulated wires that will heat up when turned on. You'll plug your blanket into an outlet and can often choose from about three heat settings (low, medium, and high).
These warm blankets are great options for people who live in especially cold climates and are also nice heating pad alternatives if you suffer from pain or cramps. Keep in mind that while these blankets are not flammable, leaving them on all night is a fire hazard. I recommend choosing a heating blanket with a timer, so that it will click off at night without you needing to remember to unplug it before bed.
Sherpa Blanket
Sherpa blankets are made from synthetic Sherpa fabric. They often have two sides, one will feel fleecy, textured, and fuzzy, while the other will be smooth and suede-like. Normally, the smooth side will be colored or patterned, and the fuzzy side will be white (or another solid color). These blankets are very lightweight, but also incredibly warm. They're great options for layering under lighter comforters in the winter. Sherpa throws are also very popular, and a great option for keeping on the couch.
Sherpa blankets are also quite affordable. That said, you cannot machine dry Sherpa blankets. Additionally, you may find that these blankets pill or stretch out easily, which can make them look a bit dingy over time. Be sure to always wash your blanket in cold water. We also recommend washing it without any other fabrics to avoid attracting lint.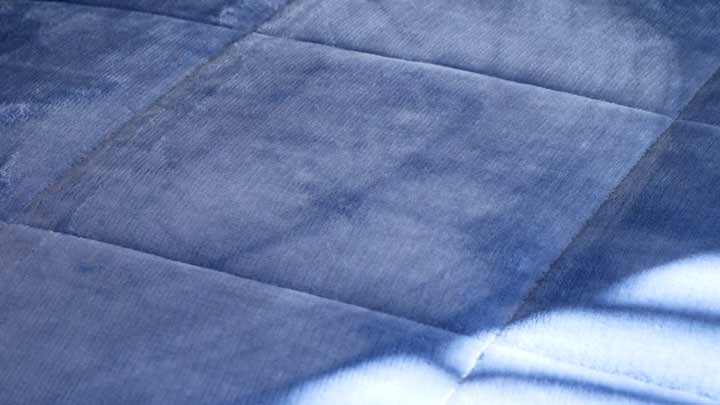 Coverlet
Coverlets are mainly used for decorative purposes. They are lightweight layers that can be used like blankets between your sheet and duvet, be thrown on top of your other bedding to add decoration, or be folded at the end of your bed to provide a pop of color. They're normally made of cotton, linen, velvet, or silk. They're also often embroidered with colorful designs. If you're a hot sleeper who generally only sleeps with a top sheet, or someone looking to add an accent to your bedroom, consider a coverlet. If you're looking for a more traditional blanket, stick to a comforter or duvet.
Afghan
Afghans are normally knit or crocheted. These colorful knit blankets are typically made out of wool or other yarn, but you can find luxurious cashmere afghans. These blankets are often throw-sized and used to provide a pop of color over couches or chairs. You can also use a full-size afghan on your bed. Afghans are cozy and warm, but fairly lightweight because they're only a single layer of fabric.
Afghans are dry clean or hand wash only. Knitted afghan blankets would pull or snag in the washing machine. If you're looking for an easier-to-clean option, opt for a polyester throw instead.
Different Blanket Materials
In addition to all the different types of blankets out there, there are multiple different materials a blanket can be made out of. Take a look below for a quick breakdown of a few of the most popular blanket materials.
Cotton
Cotton is an all-natural fiber used in most duvets, duvet covers, comforters, and quilts. It's easy to care for, breathable, and an overall popular choice for bedding. It should feel soft and crisp to the touch, and is a great option for any sleeper. Check out our Layla comforter review to explore a nice cotton option.
Down
Down is the layer of fine feathers found underneath birds' tough exterior feathers. It is often sourced from geese and used in pillows, duvets, and comforters. Down is a great insulator and feels soft and squishy. If you like the feeling of being toasty and warm while sinking into thick blankets, down is the bedding material for you. There are also plenty of down alternative options for sleepers considered about allergies, budgeting, or ethical sourcing.
Vellux
Vellux blankets are designed by putting polyurethane foam between thin adhesive pieces of fabric. That inner layer is covered in nylon fabric. The result is an ultra-warm blanket that's still super lightweight. These are some of the best blankets out there for winter layering. Consider Vellux fabric if you're looking for something warm and soft.
Microfiber
Microfiber is a synthetic fiber that feels soft and plush. It's also very warm, and budget friendly. If you're looking for something lightweight and warm, but a little cheaper than a Sherpa blanket, microfiber is a great option for you.
Polyester
Polyester is another synthetic fabric, and it is used in almost all bedding! It is very common to find a polyester-blend comforter or duvet, as well as to find polyester in things like throws and coverlets. This fabric is easy to care for and affordable. Polyester blankets may trap heat more than cotton or bamboo blankets, so hot sleepers may want to avoid it. Sleepers looking for a true luxury feel might also want to stick to more natural fabrics.
Fleece
Fleece is a synthetic insulating fabric made of polyester fibers. It's super warm and insulating, and a great pick for warm throw blankets or lining your winter gloves. It's also a very common outer layer in heated blankets. If you're shopping for winter blankets, definitely consider fleece. On the other hand, stay away from this fabric if you're looking for warm weather options.
Wool
Wool is a natural fiber produced by various animals including sheep and goats. It's naturally moisture wicking and temperature regulating, making it a great option in all seasons. Most wool blankets tend to be made with winter months in mind, so will feel heavy and cozy. But lightweight wool options are also available. Wool may feel a little scratchy to some sleepers, so you may want to use wool blankets with a top sheet or coverlet to avoid irritating your skin.
FAQs
What is the warmest type of blanket?
Down comforters or down-filled duvets are the warmest (non-heated) blanket options on the market. Down blankets are great options for colder climates and very popular in the winter months.
What is the best type of blanket for summer?
Lightweight quilts or cooling duvets are the best options for the summer months. Check out our best cooling comforter recommendations for some recommendations.
What type of blanket is the softest?
Sherpa blankets are considered the softest blankets. They have a fuzzy, fleecy feel and are made of ultra-downy synthetic fibers.