Sleep headphones have many benefits. They can help you drift off to sleep as you listen to soothing sounds, and they can protect your partner from hearing your morning alarm. There are many sleep headphones on the market, but which one is the best for your needs?
To help you find out, I rounded up a list of the best sleep headphones. I'll go over each product's comfortability, ease of use, sound quality and more.
Our Top Picks for the Best Sleep Headphones:
How We Chose The Best Sleep Headphones
I've tested hundreds of mattresses and sleep accessories. Using my knowledge as Certified Sleep Science Coach, as well as my personal experience with these products, I created a list of the best sleep headphones. All of the products on this list scored highly in terms of comfortability, audio quality, ease of use, durability and pricing.
Best Bluetooth Sleep Headphones – Musicozy
Our Expert's Take
Want some sleep headphones that double as an eye mask? Musicozy might be the choice for you. A soft, fleece-like fabric surrounds the exterior, and the inner lining is padded for extra comfort. When securely fastened around your eyes, you shouldn't see any light peek through the edges. 
Pairing the Musicozy with your phone's bluetooth system is super easy. Once the headphones are completely charged, press and hold the on/off button until a flashing blue light appears. Then, go to the bluetooth settings in your phone and pair it with the Musicozy.
The sound quality is decent, considering how affordable these headphones are. You won't hear booming bass or crisp melodies, but you can still enjoy your favorite soothing sleep sounds and hear your alarm go off in the morning
Pros of Musicozy
Easy to pair with your phone's bluetooth system
Doubles as an eye mask
Stays secure throughout the night and feels very comfortable
Cons of Musicozy
Doesn't block outside noise unless there is music playing
It's not washable
The sound quality isn't amazing
Best Headband Sleep Headphones – Perytong
Our Expert's Take
The Perytong sleep headphones fit like a headband, with the speakers sitting by the ears. The outer material is thin, breathable and flexible, but if you tend to switch sleeping positions during the night, the headband might not stay put.
The sleep headphones are super affordable, but they don't have the best audio quality. And like many other headphones on this list, the Perytong headband won't block out ambient noise unless there is music playing.
Pros of Perytong
Has thin and flexible headband
Great for running and working out
Easy to pair with bluetooth
Cons of Perytong
May not stay secure throughout the night
Doesn't have great audio quality
Best Sleep Headphones for Side Sleepers – Cozyphones
Our Expert's Take
Made with soft and comfy fleece, Cozyphones are great for side sleepers. There isn't a lot of bulky material near the sides, making it comfortable for people who rest in this sleeping position.
The Cozyphones sleep headband is a great size for most adults, but if you are a smaller person, they might slip off during the night. It's also important to note that the Cozyphone headband is not compatible with bluetooth. Instead, you'll need to connect the headphone jack to a phone or music player.
Pros of Cozyphones
Made with soft and comfortable fleece
Great for side sleepers
Sold at a low price
Cons of Cozyphones
Doesn't connect to bluetooth
Some people may need to use it with an external adapter
Too big for some people
Best Amazon Sleep Headphones – Fulext
Our Expert's Take
Whether you wear it while running or sleeping, the Fulext headphones are comfy and easy to use. Much like the Perytong headphones, these fit like a headband and connect directly to bluetooth. The material is breathable and stretchy, so they shouldn't make you feel hot or stuffy at night. 
For the price, the audio quality is decent. It's a great choice for people who sleep next to partners with different sound preferences or sleep schedules.
Pros of Fulext
Can be used for working out
Easy to use
Comfortable and breathable
Cons of Fulext
Doesn't have great audio quality
Not noise-canceling
Best Earbud Headphones for Sleeping – MAXROCK
Our Expert's Take
The MAXROCK earbuds feel much more comfortable than the free headphones given out on airplanes, and they only cost about $12. They don't offer amazing audio, but the grips around the outside of the speakers help them stay put.

Back and stomach sleepers may find they can sleep in these headphones comfortably, but the MAXROCK earbuds aren't suited for side sleepers. Over time, the earbud could start to push into the ear canal and cause pain and pressure. It's important to note: Because the earbuds can cause wax buildup, you should only wear them for a few hours at a time.
The MAXROCK earbuds connect with a simple audio jack, so if you have a newer smartphone, you will need to pair them with an external adapter.
Pros of Fulext
Very affordable
Stay put easily
Great for traveling
Cons of Fulext
May require an external adapter
Not good for side sleeping
What Happens If You Sleep with Headphones On
If you're regularly sleeping with headphones on, it's important to be careful. If you play music at too loud of a volume, you could cause long-term hearing damage. Earbuds, such as the MAXROCK, should not be worn for long periods of time because they could cause earwax buildup. 
How to Sleep with Headphones On
For some people, sleeping with headphones on can feel uncomfortable. For the best results, make sure to wear well-fitting headphones. Musicozy's adjustable strap can fit around any face shape, and Perytong's elastic headband is stretchy enough to accommodate people of all sizes. We also recommend sleeping with wireless headphones, especially if you plan on using them every night.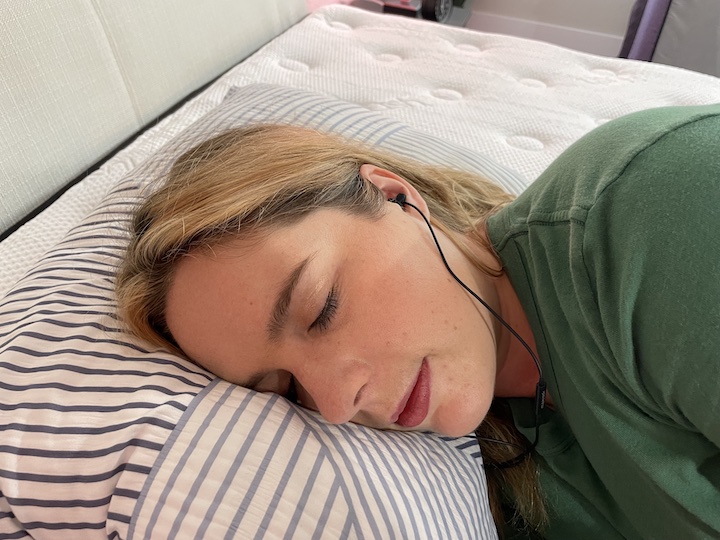 Most sleep headphones work best while back sleeping. That said, there are a few products that work for side sleepers, such as the Cozphones. These thin speakers are surrounded by soft fleece, which helps cushion the ear and offers more comfort for side sleepers. It's also helpful to sleep with a high-quality pillow that will keep your head and neck supported.
How to Wash Sleep Headphones
Most sleep headphones, including all of the products on this list, should not be cleaned in the washing machine. Additionally, all headband and sleep mask headphones cannot be spot cleaned, because water could damage the hardware of the speakers and render them unusable. If you get the MAXROCK earbuds dirty, you can clean them with a dry cotton swab or microfiber cloth. 
FAQs
Do sleep headphones work?

Sleep headphones work, and they're great for people who want to listen to sleep sounds without annoying their partner. They are also helpful while traveling because they can muffle the sounds of traffic and wind.
Is it bad to sleep with headphones on?

It's okay to sleep with sleep headphones that are built like headbands and eye masks, but it's not recommended to sleep in ear buds for an extended period of time. It's also important to play music at a low volume. If the sound is too loud, it could cause long-term hearing damage.
Can sleeping with headphones on cause cancer?

At this time, there is no evidence that sleeping with headphones on causes cancer.