Pet dander, dust, and seasonal allergies don't just make us cough and sneeze – they can also disrupt our precious sleep! If you need some relief from allergy symptoms, you may want to use an air purifier.
But which one should you get? We're here to help you figure that out! We tested some of the most popular options on the market and rounded up a list of the best air purifiers. Whether you need something small or large, there's a product that will work for you.
How We Chose These Products
Here at Mattress Clarity, we have personally tested hundreds of mattresses, pillows, and sleep accessories. Using our hands-on experience and vast knowledge about sleep accessories, we rounded up a list of the best air purifiers. Each product was assessed based on ease of use, effectiveness, and pricing.
The Best Air Purifiers
Best Air Purifier For Allergies – Dyson
When allergies strike, you'll want to find relief quickly. The Dyson Pure Cool™ Purifying Fan has a 360 degree filtration system, and when used with the provided HEPA filter, can eliminate up to 99.97% of pollutants.
Best of all, the Dyson air purifier comes with a convenient remote control, so you can easily adjust the fan setting from across the room. Plus, it has a sleek design with a high-end LED display! Unlike many other air purifiers on the market, you won't feel the need to hide the Dyson away in a corner.
What Makes The Dyson Stand Out?
It's a luxurious air purifier with a sleek design and handy remote control.
It has 10 fan settings, and the highest setting can remove almost 100% of pollutants.
The Dyson comes with two HEPA filters, which help remove allergens from the air.
Best HEPA Air Purifier For Allergies – Honeywell
Thanks to its HEPA filters, the Honeywell InSight air purifier can remove 99.97% of allergens in rooms that are up to 500 square feet! Plus, it has a Turbo Power fan that helps eliminate smoke, pet dander, and pollen. If you need help getting rid of a specific odor, such as kitchen and pet smells, you can order some of Honeywell's specially formulated air filters.
The Honeywell air purifier is easy to set up. It comes with all of the necessary filters, and because it is made with high-quality materials, you won't need to worry about someone knocking it over and breaking it.
What Makes The Honeywell Stand Out?
It's made with sturdy materials and should last a long time.
The Turbo Power fan and HEPA filter helps remove nearly 100% of allergens in rooms up to 500 square feet.
You have the option to order specially-designed Honeywell air filters that remove kitchen and pet odors.
Best Air Purifier For Pets – Winix
Trying to eliminate pet dander and odors? You may want to get the Winix air purifier. This machine has a PlasmaWave setting, which helps efficiently get rid of odors and pollutants. Plus, it comes with a HEPA filter that helps remove nearly 100% of allergens.
Although it's a bit difficult to set up, the convenient remote control allows users to adjust the settings from far away. Not sure what setting you should put it on? Just place it on Auto Mode and the Winix will adjust the fan for you.
What Makes Winix Stand Out?
It's sold at a lower price point, but it still helps remove pet dander and odors.
It comes with a remote control, and it has an Auto Mode setting.
The PlasmaWave setting and HEPA filters help dissipate 99.97% of allergens.
Best Air Purifier for Bedrooms – BlueAir
The BlueAir purifier has a stylish design, and it easily fits on top of a dresser or nightstand. If you're a light sleeper like myself, you can easily put the BlueAir machine in night mode. This setting has a low fan speed and makes less noise.
The automatic setting is great for daytime use because you can set it and forget it! The particle sensor detects the amount of pollutants in the air and adjusts the fan speed accordingly.
What Makes BlueAir Stand Out?
It has a cute and compact design, so it easily blends in with other bedroom decor.
The night mode makes less noise, which is helpful for sensitive sleepers.
You can place BlueAir in automatic mode, and the machine will adjust the fan speed depending on the amount of pollutants in the air.
Best Affordable Air Purifier – Levoit
Not only is the Levoit air purifier small and convenient – it costs less than $50! At 10.4" tall, this tabletop air purifier is perfect for cozy cubicles and small dorm rooms.
Another perk: The Levoit air purifier has a tiny popout drawer that houses an aromatherapy pad. Simply add five to seven drops of your favorite essential oil to the pad and start the machine. Soon, your room will be filled with a soothing fragrance.
It's best to clean the Levoit pre-filter every two to four weeks. When it's time to replace the main filter, a trash can icon will illuminate on the top of the machine.
What Makes Levoit Stand Out?
It has three fan settings and comes with an aromatherapy pad.
The small size is perfect for dorm rooms and offices.
The Levoit air purifier is sold at a budget-friendly price.
What Does an Air Purifier Do?
Air purifiers help cleanse indoor spaces by eliminating dust, allergens, and dander. Most air purifiers use fans to pull particles into the filter. Then the machine will push purified air back into the room. However, there are other types of air purifiers that remove allergens in different ways.
What is considered a safe air quality?
The air quality index (AQI) is a standard for measuring air quality and safety. To find out more about air quality, we consulted AirNow. According to its website, AirNow is a partnership between a few different government agencies, namely the US Environmental Protection Agency, the National Parks Service and the Center for Disease Control (CDC) to name a few.
AirNow developed a six-tiered, color-coded index as a way to easily understand what is considered a safe air quality. Each color has been assigned a numerical value as well. Generally speaking, a score of 100 or less, or a green or yellow level, is considered "safe." But I'll break down the full system below:
Green (0-50): The air quality is safe and poses no risk
Yellow (51-100): The quality is considered "moderately" safe, and shouldn't pose much of a risk, except to those with sensitivities to air quality
Orange (101-150): The air is considered unsafe to specific groups. People with sensitivities may be affected, while the general population should be safe.
Red (151-200): The air is considered unhealthy and members of the general population may start to see negative health outcomes, like difficulty breathing, while those with sensitivities will likely experience more severe issues
Purple (201-300): Air has been deemed very unhealthy and many people of the general population will experience health risks if exposed for too long
Maroon (300+): The air is considered hazardous and governments will call for a state of emergency. Everyone is like to be affected to some degree
Air purifiers can help keep a safe air quality within your home by eliminating pollutants. Some purifiers on this list, such as the Dyson air purifier, can even gauge the air quality within your home.
RELATED: Should I sleep with an air purifier on?
Types of Air Purifiers
Which type of air purifier is right for you? Let's take a look at the different options on the market.
HEPA Purifiers, like the Dyson and Honeywell, use special filters that can eliminate 99.97% of dust, mold, and other allergens.

UV Air Purifiers help remove bacteria, pathogens, and viruses with ultraviolet light.

Ionic Air Purifiers help remove smoke, viruses, mold, and other pollutants by emitting negative ions into the air. The ions make pollutants heavier and cause them to fall on surfaces around the room. It's important to note, however, that ionic air purifiers can't remove odors.

How Do Air Purifiers Compare to Other Products?
When you're dealing with annoying allergens, it can be difficult to know which product will best ease the symptoms. To make things a bit easier, we'll compare air purifiers with other popular products: humidifiers, dehumidifiers, and ionizers.
Air Purifier vs Humidifier
Both products can be helpful for people with allergies, but they serve very different functions. Air purifiers remove pollutants, while humidifiers add moisture into the air.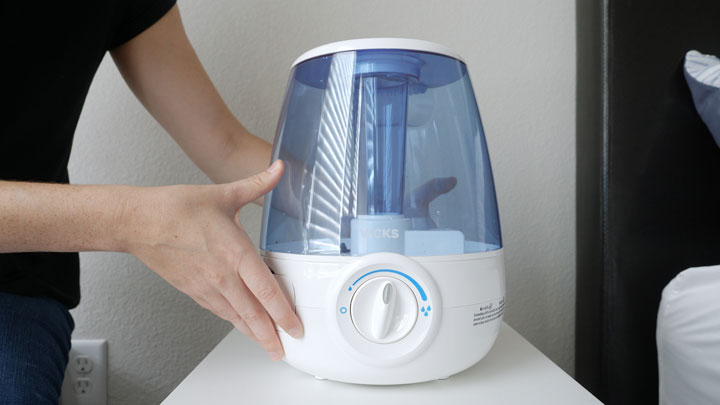 If you're congested, a humidifier can hydrate your airways and help you breathe better. Many people place humidifiers next to their beds at night when they have a cold. Air purifiers also help people breathe better, but they do this by removing the pollutants that cause mucus buildup and sinus pressure.
Take a look at our list of the best humidifiers for some great options!
Air Purifier vs Dehumidifier
Dehumidifiers remove excess moisture from the air, which helps eliminate mildew odors and household dust. Air purifiers also help eliminate odors and dust, but they do this by removing the particles from the air.
Dehumidifiers may work better for people who live in humid environments or those who have recently dealt with leaks and floods. We recommend air purifiers for people who are sensitive to pet dander, smoke, dust, and other allergens.
Air Purifier vs Ionizer
Technically, an ionizer is a type of air purifier. It cleanses the air by emitting ions, which causes pollutants to become heavy and fall to surfaces around the room. Traditional air purifiers use fans to pull pollutants into filters, and then they push clean air back into the room.
Many people prefer ionizers because they don't require air filters. However, ionizers don't remove odors. And because they pull pollutants toward the surfaces in your house, you will need to clean quite often.
Air Purifier Pros and Cons
Like all products, air purifiers have pros and cons. Let's take a look:
| | |
| --- | --- |
| Pros | Cons |
| They can remove over 99% of pollutants, which is particularly helpful for people who have allergies. | They only cover small areas, so you may need to place several air purifiers around your house. |
| They help eliminate odors from the home. | Air purifiers require frequent maintenance and cleaning. |
| They are available in a range of prices, from budget-friendly to high-end. | They can be loud, and some people may not like the way they look in their home. |
What to Look for in an Air Purifier
When shopping for an air purifier, there are a few key elements to consider:
Size – Many small air purifiers, like the Levoit, only cover about 200 square feet. If you need a machine that will work for a large bedroom, you may need to get a bigger air purifier such as the Honeywell.
Filters – If you frequently deal with allergies, you may want to get a HEPA air purifier. These machines get rid of the most pollutants from the air.

Fan Settings – Some products, like the Winix, have powerful fan settings that can quickly remove dust and dander from the air. If your allergies are particularly troublesome, you may want to opt for an air purifier that can rapidly eliminate the irritant.

How to Use an Air Purifier
All of the air purifiers featured on our list arrive ready to use with filters in place. Simply plug the machine into a wall outlet and choose your desired fan setting. Many products, like the Dyson and Winix, have auto settings that adjust the fan speed depending on the amount of irritants in the air.
Though it may be tempting to tuck your air purifier into a back corner, it's important that the machine is placed a few inches away from the wall so the fan can efficiently pull pollutants into the filter. You also don't want to place an air purifier next to a large piece of furniture, because that can disrupt airflow.
How Long to Run an Air Purifier
It's best to run your air purifier at least 12 hours a day. This allows plenty of time for the machine to gather all of the pollutants that float throughout your home.
Air Purifier Safety Tips
Most air purifiers are completely safe to use on a regular basis. However, some air purifiers contain ozone, which can damage lungs. Ozone-producing air purifiers are banned in many places, so they are not very common.
How to Clean an Air Purifier
Many HEPA filters need to be replaced every 12 months. However, if you have a washable filter, you can soak the filter in warm water for a few hours and then rinse with cold water. If pet hair gets stuck inside the filter, you can gently remove it with a soft brush.
If your machine has a pre-filter, like the Levoit, you may need to clean it every two to four weeks with warm water and a soft brush.
How Many Air Purifiers Do I Need?
Each air purifier's coverage is slightly different. Some, like the Honeywell, work for rooms up to 500 square feet. Others, like BlueAir, are better suited for small bedrooms and offices.
We recommend placing an air purifier in your bedroom because it can promote a more restful night's sleep. If you want to remove pesky odors, it can also be beneficial to place a small air purifier near your kitchen or living room. The answer ultimately depends on your individual needs and preferences.
FAQs
Before wrapping up, we'll answer some of the most frequently asked questions about air purifiers. Keep reading for more info!
Do air purifiers help with allergies?
Yes! Air purifiers help remove dust, dander, mold, and other common allergens. If you need even more help with your allergy symptoms, consider getting one of the best mattresses for allergies.
Do air purifiers help with mold?
Yes! Air purifiers can capture mold spores in the home and prevent them from spreading.
Do air purifiers help with smell?
Air purifiers help eliminate odors by pulling pollutants out of the air and trapping them into a filter. The machine then spins out fresh and clean air.
Do air purifiers help with dust?
Yes – air purifiers help eliminate dust from the air.
Are air purifiers FSA eligible?
Air purifiers may be FSA eligible if the purchaser provides a letter of medical necessity stating that the machine is used to help treat or diagnose a medical condition.
Do plants purify the air?
How often should you change your air purifier filter?
Generally, you should replace your air purifier filter every 12 months.