A whopping 41 percent of Americans sleep in the fetal position – on their side with their torsos hunched and knees bent – according to the National Sleep Foundation. And another 15 percent sleep on their sides with their torsos and legs straight.
The good news is that experts say that sleeping on your side can have some health benefits, from blocking heartburn and reducing the chances of snoring. Not to mention it's better on your neck than other positions, according to a report from Prevention.
With so many people favoring this sleep position over others, it should come as no surprise that there are plenty of pillows dedicated to side sleepers out there. I've highlighted my top picks below ones that should cover a variety of sleep preferences and will make recommendations on what to look for if you're in the market for a pillow suited for side sleeping.
Shredded Memory Foam

Coop Home Goods Original

The Coop Home Goods Original pillow is adjustable and you can add/remove as many large chunks of memory foam as needed. The cover is soft and machine washable and the pillow comes overstuffed for extra firmness.

Plush Down with Support

Brooklinen Down in Mid-Plush

The Brooklinen Down pillow in Mid-Plush is a  down pillow has a feather core surrounded by down for a plush feel but enough support for a side sleeper.

Solid Latex

Z by Malouf 100% Natural Talalay Latex

The Z by Malouf pillow is made up of 100% natural Talalay latex (ventilated for breathability). It's light and bouncy with quick responsiveness. It's a great foam option for those looking for a side sleeping pillow that's not memory foam.

Best Cooling

TEMPUR-Cloud Breeze Dual Cooling

The TEMPUR-Cloud Breeze Dual Cooling pillow is a large solid piece of Tempur foam (memory foam) that's dense and medium to firm. It has a cooling gel pad on either side that makes it great for hot sleepers.

Budget Friendly

Beyond Down Gel Fiber

The Beyond Down Gel Fiber pillow from SleepBetter is a polyester microfiber pillow that comes with a wide gusset and plenty of filling to support side sleepers. It's fully machine washable and affordable as well.
Coop Home Goods – Original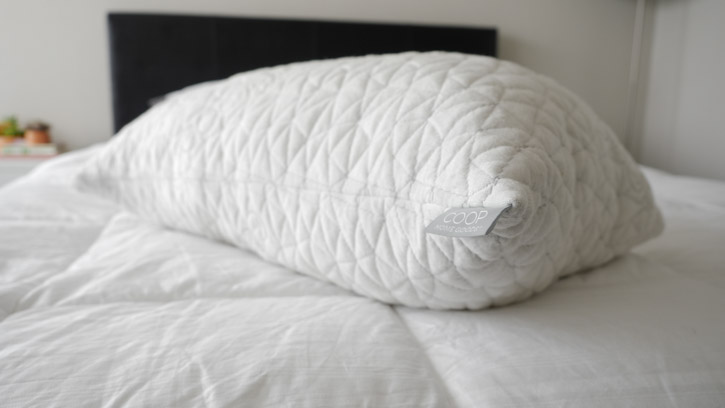 There are many adjustable shredded memory foam pillows on the market. What makes Coop Home Goods pillow so nice for side sleepers are the larger chunks of memory foam within the pillow.
These larger foam pieces help give the pillow an overall loft and supportive feel. Since it is adjustable, there is a zipper that allows you access to the filling where you can add/remove as much of it as you like. This will allow each person to find their ideal neutral head, neck and spinal alignment.
To keep the pillow lofted and firm, you will need to put it in the dryer and fluff it on occasion.
Pillow Details:
Filling: Shredded Memory Foam Mix for comfort & shape-ability, will not go flat
Cover is 60% Polyester, 40% Bamboo-Derived Rayon – designed to keep you cool through the night
Made in USA
Standard size: 20″x 26″ | Queen size: 20″ x 30″ King size: 20″ x 36″
5 Year Limited Warranty
Machine Washable
Hypoallergenic and Dust Mite Resistant
Comes in Standard, Queen and King sizes
Read the full Coop Home Goods pillow review, here.
Brooklinen Down in Mid-Plush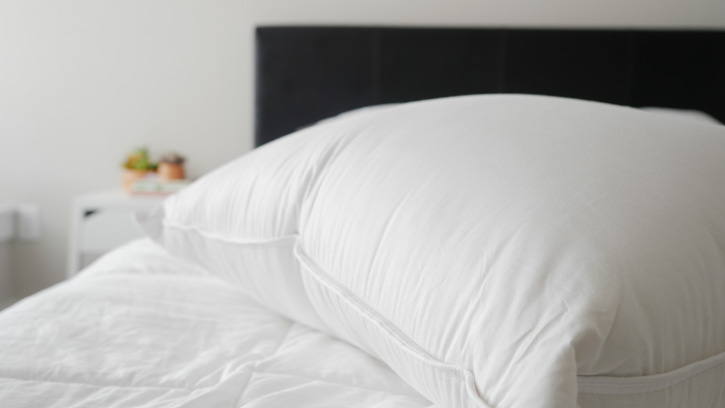 Brooklinen's Down pillow in Mid-Plush (also comes in Plush and Firm) is a different kind of down pillow. While it retains its soft and cozy down feel it doesn't fall flat as much as a typical down pillow. That's because it has a feather core that keeps it firm and down surrounding it for added plushness.
It's truly the best fit for some side sleepers and those who sleep in multiple positions. It's also hypoallergenic and antimicrobial (according to the brand) and has a 60-night trial period.
Pillow Details:
Firm feather core chamber with soft down surround
400 thread count 100% cotton shell
Oeko-tex® certified to be free of harmful chemicals
Hypoallergenic with anti-microbial treatment
Made in Canada
60-night trial
Comes in Standard (20″ × 26″) and King sizes (20″ × 36″)
Care (from Brooklinen): We recommend washing our pillows as seldom as possible so as to not disturb the texture and fluffiness of the down fibers. If a product is stained, we recommend spot washing it with Woolite or Oxyclean around the stained area. Should a pillow need to be washed, we recommend washing on a low and gentle cycle and tumble dry on low.
Price: $69 for Standard and $89 for King
Canada Goose Down Certified
Comes in

Plush
Mid-Plush (My review)
Firm
Z 100% Talalay Latex  by Malouf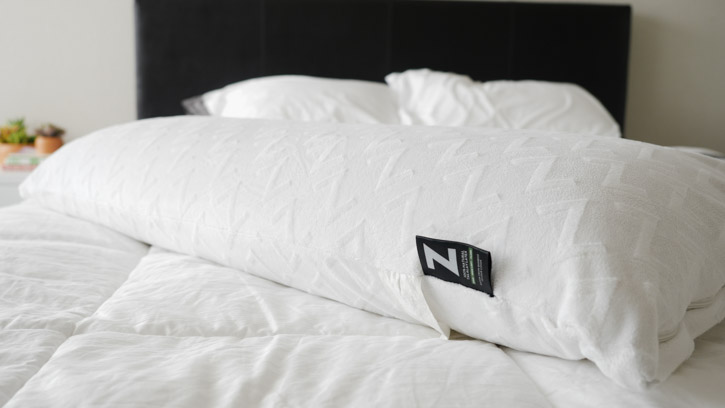 The Z 100% Talalay Latex pillow is a versatile pillow for side sleepers who like the feel of latex foam. It's available in a variety of sizes, lofts, and densities – including high loft and low loft. The bonus is that the pillow is naturally mildew proof, dust mite resistant and hypoallergenic.
The cover is super soft against the side of your face. It's also removable and the cover is washable. I chose the high loft and plush feel and feel like it's a good fit for side sleepers who need some extra height.
Pillow Details:
Pin-core design configured to cradle your head while providing your neck and shoulders with needed support
Firm density is optimal for back and side sleepers
100% pure natural Talalay Latex – No synthetic additives
Unique foam consistency and zoned technology provides zoned support and superior pressure relief
Naturally mildew proof, dust mite resistant and hypoallergenic
Soft, removable velour cover made from rayon from bamboo blend (75% polyester, 25% rayon from bamboo)
Comes in Standard, Queen and King sizes
Options: high and low profiles; and firm and plush densities
TEMPUR-Cloud Breeze Dual Cooling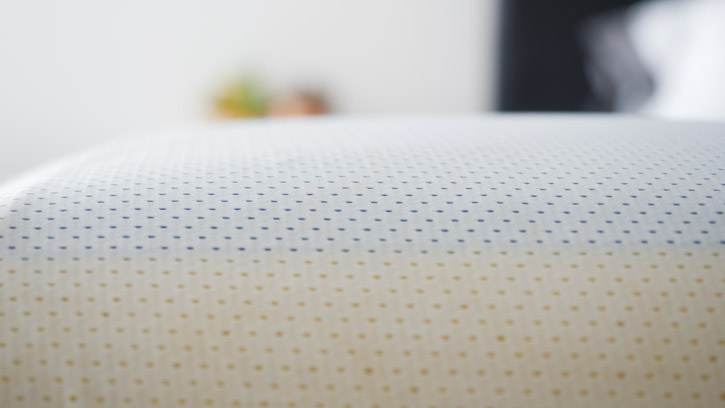 The TEMPUR-Cloud Breeze Dual Cooling pillow is a big name for a big pillow. It is a solid piece of memory foam that won't go flat and is well suited for people with broader shoulders or heavier frames.
The cotton cover is removable, machine washable, and dryer-friendly. There are gel pads on either side of the pillow that are cool to the touch and remains cool throughout the night.
Pillow Details
Filling: 96% Molded Visco Elastic Polyurethane Foam Pad (molded memory foam), 4% Gel Pad
Tempur-Breeze Gel Layer on both sides of the pillow
Weight: 7 lb
Cover: 100% Cotton
Netting: 100% Polyester
Removable and washable cover
Designed for back, stomach, and side sleepers
5-year limited warranty (no returns)
Dimensions:

Queen: 27″ x 19″ x 6.4″ (about 7 lb)
King: 35″ x 19″ x 6.4″
See our full TEMPUR-Cloud Breeze Dual Cooling pillow review. 
Beyond Down Gel Fiber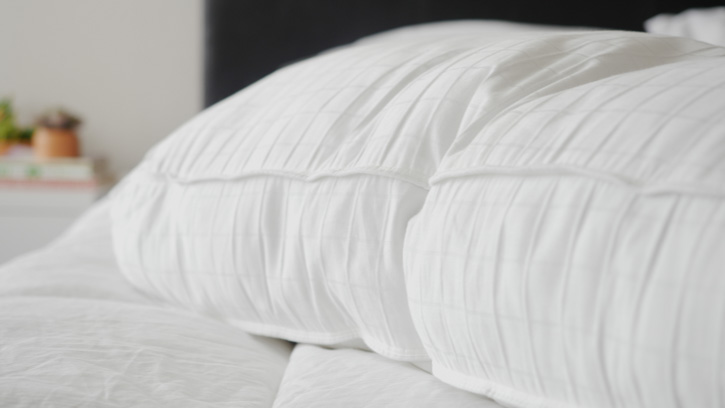 The Beyond Down Gel Fiber pillow is filled with gel coated polyester fibers that mimic the feeling of down. Softer filings like these can sometimes be tricky for side sleepers, who tend to need some loft and support for the head and neck.
What makes the Beyond Down pillow such a nice fit is that it's got a large 4.5" gusset and overstuffed feel so your head sinks into the pillow but it's still enough support to get proper alignment and to stay comfortable all night.
The plus side of using a down alternative pillow is that it's hypoallergenic, easy to machine wash and dry and tends to be more cost-effective (in general).
Pillow Details:
Filling: gel fiber that mimics goose down (100% polyester fiber)
Cover: 300 thread count, 100% cotton 
4.5-inch gusset, with double needle corded edges
Designed for side sleepers but can be comfortable for all sleep positions
Hypoallergenic
Made in the USA and imported
Comes in Standard, Queen, and King
Care: machine wash and dryer friendly
Click here to see the entire Beyond Down Gel Fiber pillow review.
What Side Sleepers Should Look For
Picking a pillow that will boost the quality of your sleep is not that different from looking for the right mattress – it's all about finding something that will promote neutral neck and spine alignment. When your body is properly supported in this way, you will avoid waking up with stiffness and joint and neck pain.
The main thing to look for when picking a pillow for side sleeping is something that supports your head and neck but keeps it in neutral alignment with your spine.
"Side sleepers need a thicker pillow than back and stomach sleepers to fill the 4- to a 6-inch gap in between their shoulder and the mattress," says Dr. Michael Breus, a clinical psychologist who specializes in sleep disorders, in an interview with Prevention. He says your spine should form a straight line from your nose to your sternum.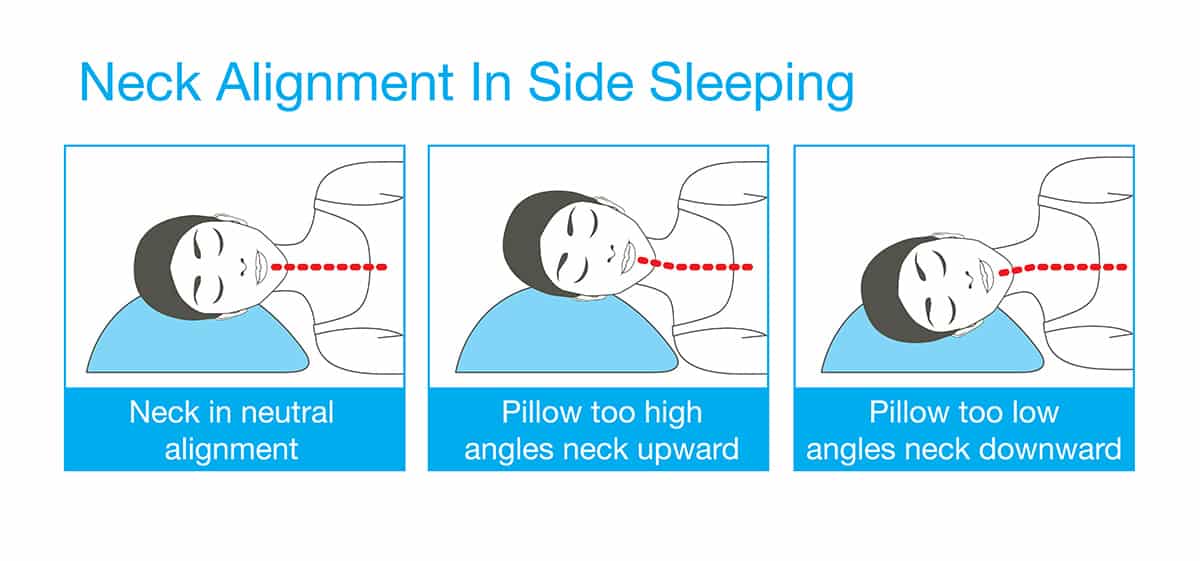 solar22/Shutterstock
If it's hard to tell if your neck is neutrally aligned when you're using your pillow, have someone take a photo of you from the front. From there it should be clear whether your head is at an angle upward, downward or in a straight line (as is ideal).
Keep in mind that some pillows have fillings that will flatten or change shape during the night. It could be worth finding ones that offer return policies or trial periods so you can test it out for a few nights before deciding which is a good fit.
Overall
It's possible to find the perfect pillow for you if you take the time to do a little research and self-assessment. Think about what sleep positions you find yourself in at night, what materials and fillings you like in your pillow and what your current pillow is doing for your quality of sleep.
If you are a side sleeper, focus on finding a pillow that supports your head and neck so that there's a straight line from your nose to your sternum – an indication of a neutral neck and spinal alignment.
Test out different pillows with good return policies until you wake up feeling comfortable and happy – good sleep is in your future!
Featured image: wavebreakmedia/Shutterstock
The following two tabs change content below.
Katie Golde
Katie manages the day to day operations of the Mattress Clarity news site and reviews sleep products in addition to writing and editing sleep news.She hails from Austin, where she lives with her growing family. She has a master's degree in Journalism from Northwestern University and has a background in health and science content. Her work can be found in print and online publications like Discover Magazine, USA Today and The Huffington Post.
Latest posts by Katie Golde (see all)