Americans are getting more sleep than they were in 2015 and sleep for an average of more than seven hours per night, according to a new report.
Last month, sleep tracking app Sleep Cycle celebrated its 10-year anniversary by launching the Sleep Cycle Institute. In the Institute's inaugural report, Sleep Cycle shared insights into the sleep habits of its nearly three million active users over a three-year period.
"As an application with a background of perfecting the art of gathering data and turning it into a readable analysis, all find[ings] that can tell us a bit more about how the world sleeps and bring some added attention to sleep worldwide [are] interesting to us," Malin Eriksson, Director of Public Relations and Partnerships for Sleep Cycle told Mattress Clarity via email.
The Sleep Cycle application works on your smartphone (or other compatible devices) by acting as an alarm clock that wakes you up in your lightest phase of sleep. It monitors your sleep via a microphone and accelerometer (which tracks movement) and wakes you in your lightest stage using a predefined, 30-minute window of time.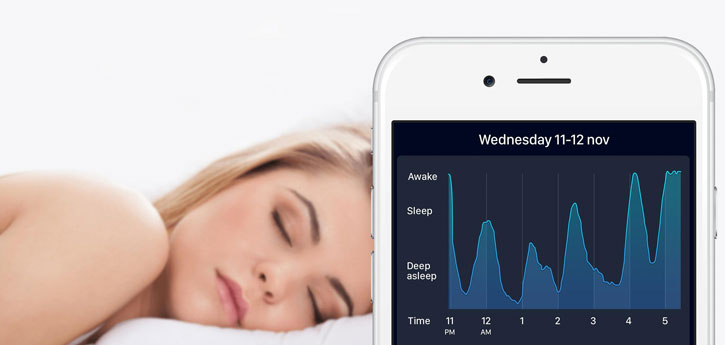 How American Sleep Cycle Users Sleep At Night
The new Sleep Cycle Institute's report focused on the sleep data collected anonymously (with permission) from Sleep Cycle's more than three million active users. In total, Sleep Cycle says it assessed more than 148 million nights of sleep.
Here are some of the findings released in the report:
Users spent an average of 7 hours and 18 minutes in bed each night.
The average bedtime was 11:39 p.m.; the average wake-up time was 7:09 a.m.
Users spent an average of 23.95 minutes snoring.
Users reported an average sleep quality of 74.2 percent and rated their wake-up mood at an average of 57 on a scale of 100.
In general, women got 14 to 20 minutes more sleep nightly compared to men (depending on age).
Americans may also be getting more sleep than in the past. The data suggested that the American population got six minutes more sleep in 2018 than in 2015. Users had an average of 7 hours and 21 minutes in 2018, which is up from 7 hours and 15 minutes in 2015.
Data analyzed from the app found that exercise was a major factor in users' sleep length and quality. Those who exercised reported sleeping better (regardless of gender or age), and exercising during the day resulted in an average of 10 extra minutes of sleep.
Meanwhile, late-night eating and stress were correlated with poor sleep. People who reported having a stressful day and those who tended to eat later in the evening both demonstrated poorer sleep quality.
"Perhaps surprisingly, daytime coffee or tea drinking also correlates to higher sleep quality," Sleep Cycle wrote in a release. "Americans sleep an average of six minutes longer when they drink tea or coffee, and their sleep quality increases by 0.5 to 1 percent."
Take an in-depth look at our story on sleep trackers and sleep apps.
Looking Ahead To Future Reports
The report discussed here is the first of many planned reports from the Sleep Cycle Institute.
According to Sleep Cycle, the Institute is "comprised of multidisciplinary health and wellness experts who examine Sleep Cycle's internal data from millions of active users to gain deeper, quantitative insight into how lifestyle choices affect the quality of our sleep and how that, in turn, affects our overall health."
Sleep Cycle's next planned report will most likely focus on sleep and cognitive performance, Eriksson told us.
What can readers take away from the most recent report? Prioritizing your health, particularly your sleep health, pays off, Eriksson said.
[Editor's Note: The content provided on this site is for general informational purposes only. Any information provided is not a substitute for professional medical advice. We encourage individuals to consult with the appropriate health expert if they have concerns.]
Featured image: LightField Studios/Shutterstock
The following two tabs change content below.
Katie Golde
Katie manages the day to day operations of the Mattress Clarity news site and reviews sleep products in addition to writing and editing sleep news.She hails from Austin, where she lives with her growing family. She is a Certified Sleep Science Coach and has a master's degree in Journalism from Northwestern University and has a background in health and science content. Her work can be found in print and online publications like Discover Magazine, USA Today and The Huffington Post.
Latest posts by Katie Golde (see all)