Minority teens may be sleeping less due to daytime discrimination, a new study says. Based on actigraphy data and self-reports, researchers from Fordham University and Auburn University found that experiences of discrimination negatively affected sleep duration, alertness, and daytime functioning in minority adolescents.
While previous research has linked discrimination to poor sleep quality in minority adults, this study centered on a sample of Black, Asian, and Latinx youths.
We spoke with study author Tiffany Yip, Ph.D., professor of Psychology at Fordham University about the research.
"Discrimination experiences influence how kids form a sense of identity," she told us. "The study really focused on whether or not we see similar disparities in sleep among adolescents like we have observed in adults. Does discrimination explain or account for some of these disparities?"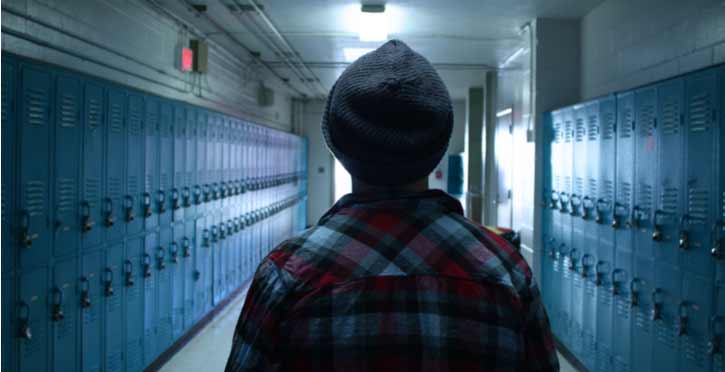 Matthew Manyak/Shutterstock
Discrimination And Sleep
Yip and her colleagues looked at a cohort of 350 minority adolescents aged between 13 and 15 years old. The researchers examined the sleep patterns and discrimination experiences of the Black, Asian, and Latinx teens for a 14-day period.
The adolescents wore wrist actigraph sleep trackers each night. According to the study, which was published in Child Development, the actigraphs monitored "sleep duration, sleep onset latency, and sleep onset." In addition, the subjects filled out daily diary reports in which they subjectively gauged their sleep disturbances and daytime wakefulness.
Subjects also reported on daytime experiences of discrimination. The researchers asked them to answer "yes" or "no" to the following prompts:
Treated with less courtesy or respect than other people
Received poorer service than others in restaurants or stores
People acted as if I was not smart
People acted as if they were afraid of me
I was threatened or harassed
After compiling the subjective and objective data, the researchers found that, when teens experienced an increase in discrimination throughout the day, they slept worse that night.
There were some clear differences between the different ethnic groups. For instance, the Asian teens slept 35 minutes more per night than Black teens. The Latinx teens slept 36 minutes longer than Black teens.
Looking at the diaries, the researchers also saw some differing reports regarding sleep quality and sleep disturbance. The Asian teens reported the most daytime dysfunction. According to Yip, this included trouble concentrating and difficulty staying awake.
For Yip, the results fit in with other research regarding the influence of discrimination, ethnic identity, and sleep. During our discussion, she cited a study in which Black babies and toddlers were shown to sleep less than white babies. Her study also references research regarding the negative impact of discrimination on minority adults.
"It's suggesting if we connect the dots between all these studies, that these sleep disparities are present early on and perhaps persistent through adulthood," Yip explained. "And so that raises all sorts of interesting questions in terms of what sorts of health incomes these disparities might be related to. What are the consequences of these disparities from infancy to adulthood?"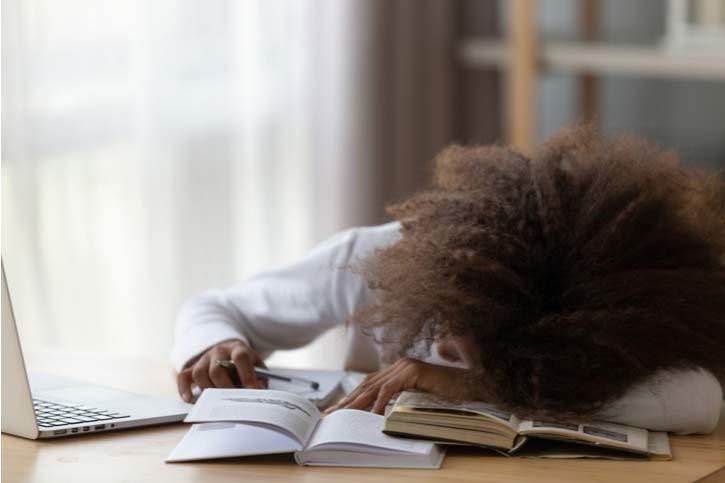 fizkes/Shutterstock
Teens And Sleep
In a recent study, the Centers For Disease Control found that 73% of all high school students are not sleeping the recommended number of hours per night.
We spoke with Omrit Silberstein, PsyD, clinical psychologist, a specialist in sleep disorders, and a member of the Mattress Clarity Expert Network. She told us the main reasons that teens do not get enough sleep often include:
Busy schedules. Many adolescents have multiple social obligations, academic demands, and extra-curricular commitments. Some also work. It is a lot to manage, can be stressful, and is clearly time-consuming, thereby pushing bedtime to a later hour.
The use of screens and technology in the bedroom. Phone use or watching shows at night decreases total sleep time, while the blue light emitted from screens is another known sleep disruptor.
Natural shifts in circadian rhythm. Adolescents usually tend to feel sleepy later at night, so they'll fall asleep later, while school start times remain unchanged. This can lead to sleep deprivation (and catching up on sleep on the weekends).
Commenting on this new study, Silberstein told us that environmental factors can also have an impact on teen sleep.
"I think it is important to keep in mind that sleep, like other 'health behaviors,' is impacted not only by one's biological makeup and physical environment but also by one's social and cultural environment," she said. "Since sleep difficulties can be easily triggered by stress in some individuals, providers should assess for the experience of discrimination when considering various risk factors."
Yip told us that this is just the first year of a four-year study, and there is more work to be done.
"Through high school, how do some of these patterns that we see in terms of discrimination and sleep impact physical health outcomes over four years?' she said. "How do they impact psychological health outcomes as well as academic outcomes over time?"
RELATED: The Parents' Guide To Ensuring Your Teenager Gets Enough Sleep
[Editor's Note: The content provided on this site is for general informational purposes only. Any information provided is not a substitute for professional medical advice. We encourage individuals to consult with the appropriate health expert if they have concerns.]
Featured image: PKpix/Shutterstock
The following two tabs change content below.
Marten Carlson
Marten is a staff writer for Mattress Clarity News. He covers the mattress industry as well as sleep science news. He is specifically interested in the connection between sleep and overall health.Marten has written for media publications like Consequence of Sound and received a master's degree in Film Studies from Emory University.He comes from Franklin, Indiana, and spends all the time he can writing, directing, and acting in films. He has directed genre short films and features. His newest film, Starlets, recently premiered at the River Town Film Festival in Clinton, NJ. He also stars in the upcoming thriller, Sour Bear. His next film, At The Hop, is a hot rod actioner with a horror twist.
Latest posts by Marten Carlson (see all)