It looks like Colorado Springs, Colorado, is the best American city for sleep, according to Tuck Sleep, an online community focused on sleep, health, and wellness.
Tuck released the findings from their geographic study of sleep earlier this year and ranked the top 150 best and worst cities for sleep. Also taking top marks are:
Sioux Falls, SD
Boise, ID
Portland, OR
Lincoln, NE
"Colorado is likely one of the happiest and healthiest states in the nation, with an unemployment rate of just 2.3 percent and only 20 percent of its citizens classifying as obese.," wrote Tuck in their study report. "Plus, Colorado Springs is a Cleanest City, has one of the lowest sleep deprivation rates, and is located near the Dark City of Westcliffe and Silver Cliff."
In order to rank the cities in terms of sleep, Tuck said they considered a wide range of factors related to sleep. Some of these included: obesity rates, unemployment rates, commute time, air quality, and light pollution.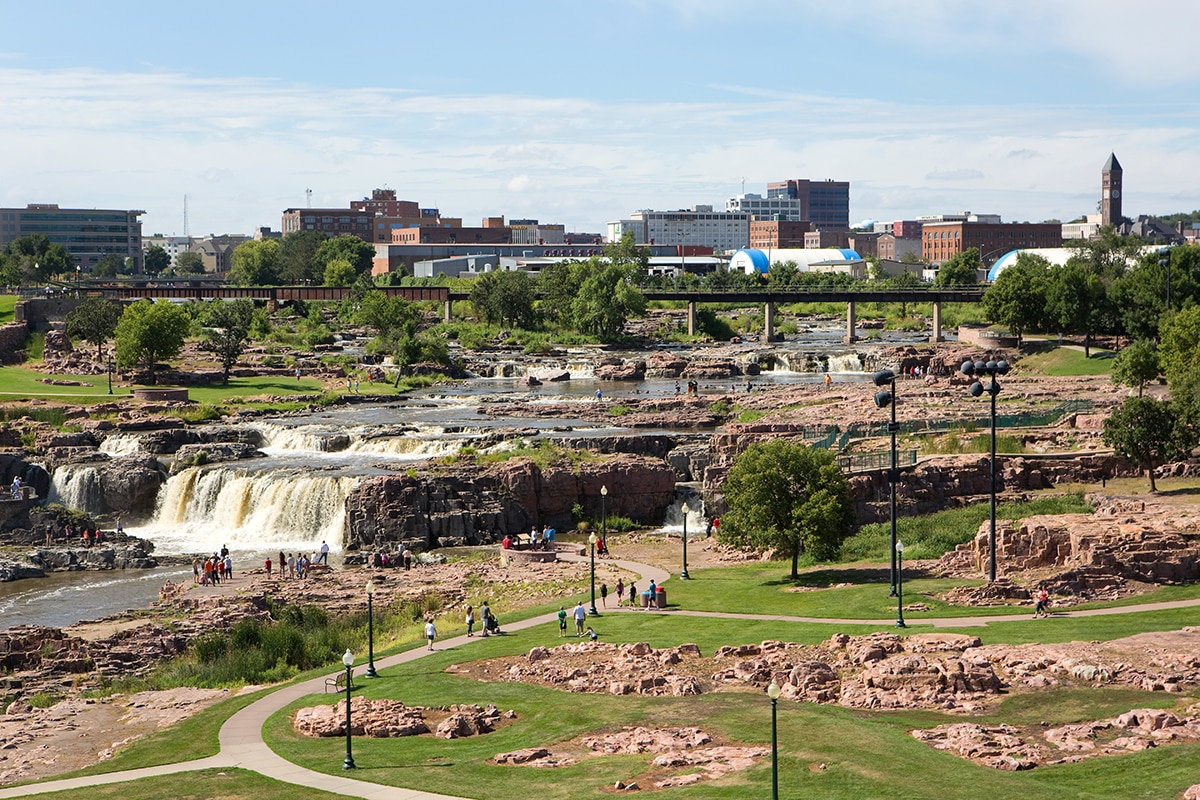 Falls Park in Sioux Falls, South Dakota – Steven Frame/Shutterstock
"A variety of factors impact how well we sleep, from our personal health and happiness to environmental factors like air and noise pollution. Each person is different," Tuck wrote. "For example, a person with allergies will sleep better in a cleaner city, but pollution might not be such a big deal to a person without allergies."
The Top Five worst cities for sleep included:
Detroit, MI
Newark, NJ
Birmingham, AL
Cleveland, OH
Philadelphia, PA
"Over half of adults in Detroit report getting fewer than 7 hours per sleep on a regular basis," reported Tuck in their study. "Besides that, it's experiencing high levels of construction, which worsens congestion, traffic times, noise pollution, and everyone's mood. It's also one of the Most Polluted Cities in America, as well as one of the most obese, with nearly one-third of residents qualifying as obese."
In a release, Tuck said this study is the first in a larger series that the company will undertake in 2018 to highlight sleep quality worldwide.
"We want to bring sleep to the forefront of health and wellness and starting with a city by city analysis sparks that conversation," said Keith Cushner, General Manager and founder of Tuck in the release.
A list of all 150 cities that made the list can be found here.
Featured image: Sarah Fields Photography/Shutterstock
The following two tabs change content below.
Katie Golde
Katie manages the day to day operations of the Mattress Clarity news site and reviews sleep products in addition to writing and editing sleep news.She hails from Austin, where she lives with her growing family. She is a Certified Sleep Science Coach and has a master's degree in Journalism from Northwestern University and has a background in health and science content. Her work can be found in print and online publications like Discover Magazine, USA Today and The Huffington Post.
Latest posts by Katie Golde (see all)